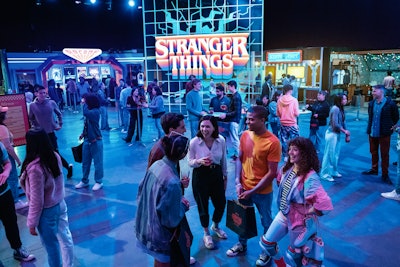 Photo: Courtesy of Netflix
While the concept of location- and IP-based experiences isn't necessarily new, during the pandemic, the idea seemed to really catch on, with more and more entertainment companies and brands wanting to connect with fans in unique ways—even those that were already experts at experiential storytelling.
For example, Disney Animation: Immersive Experience recently debuted in Cleveland. It showcases 100 years of iconic animated movies—from Snow White to Encanto—and the creators behind them. The show is equipped with 60 projectors, bubble machines, and interactive animated floors. The company and its partner Lighthouse Immersive plan to launch the experience in eight more cities later this year, including Las Vegas, Boston, Minneapolis, Detroit, Denver, Nashville, Columbus, and San Antonio, with more to come.
According to a report by The Insight Partners, the location-based entertainment market is expected to grow from $1.4 million in 2022 to $2.9 million by 2028, with virtual reality anticipated to contribute significantly to the growth. More brands are deciding to invest in permanent or long-running experiences—like Hasbro City in Mexico City, which will be the toy brand's first indoor theme park—rather than just one-off activations or pop-ups because, not only are they able to increase fan engagement through these experiences, but they can also score ancillary income from popular franchises and products.
These experiences also offer an alternative to traditional entertainment options like movie theaters, concert halls, sports venues, and the most recent fad—Instagram museums.
"We are seeing a really strong demand right now for what we call IP-driven experiences. These are experiences that leverage big and famous IPs like Stranger Things or the Friends experience or the Harry Potter experiences. There's a lot of demand for that," explained Mariano Otero, vice president and general manager of Americas at Fever, the event discovery platform.
Netflix and Fever recently partnered to create a Stranger Things experience that's now happening in Montebello (located east of downtown Los Angeles), Atlanta, and Paris. "I think we're going to see more and more of these things coming to our town, to our cities. It's not just going to be New York and LA. It's going to be every city in the U.S. Because you can really get strong demand in even some of the smaller cities. I think we're going to continue seeing a lot of that. I think that's where the innovation is going to come from," Otero said. noting how these concepts will impact the immersive experience industry as a whole.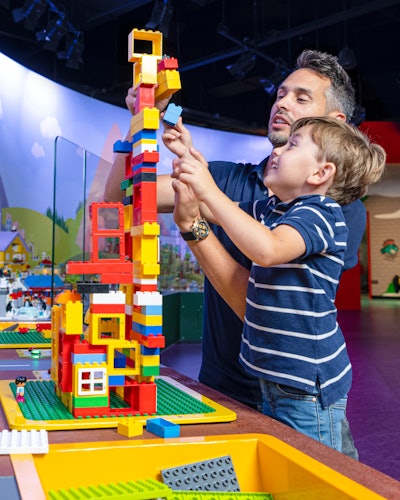 Shawn McCoy, executive vice president of JRA, part of RWS Entertainment Group, explained that "companies like Hasbro and Mattel have great history and success in developing products that are based upon beloved characters, worlds, and stories, so developing attractions based upon these elements is a natural evolution in bringing these brands to life." The new Mattel Adventure Park, the first Mattel branded theme park, is set to open in Glendale, Ariz., later this year. It is slated to feature rides like "Thomas Adventure Train: Treasure Hunt" and a Hot Wheels one that lets guests get behind the wheel of a custom-designed Hot Wheels car in a 4D motion experience.
Although brands have partnered with experiential places in the past, like Hasbro and Universal Studios teaming up to create a Transformers ride, McCoy said that "there is great value and synergies for these companies to develop and oversee their own attraction portfolios."
McCoy pointed to Monopoly Lifesized, an immersive, physical version of the iconic game played on a 49-foot-by-49-foot board in London that's produced by The Path Entertainment Group, as a good example of an "authentic and innovative" experience using immersion, social play, and interactivity.
He added that "it's important to remember that these companies are not only creating products and attractions, but also blockbuster movies, exhibitions, live shows, and more. So from both a business and creative standpoint, it's very important that all these offerings are aligned, not only to achieve an overall corporate strategy, but also to ensure consistent brand positioning to consumers."
From an experiential side, McCoy said, "these companies also understand their own characters, worlds, and stories better than anyone, so they can drive the creative process in a manner that ensures that each attraction stays true to the unique history and DNA of any brand featured."
Even theme parks are branching out. Universal Parks and Resorts is planning to build a year-round horror experience within a 110,000-square-foot space that's part of a new 20-acre expansion of Las Vegas' immersive Area15 entertainment district. The concept will bring both classic and modern horror Universal film characters to life, including Frankenstein, Dracula, The Mummy, and the Wolf Man, as well as "modern horror and suspense stories through collaborations with such high-profile filmmakers as Jason Blum, James Wan, and Jordan Peele," the release stated. This will be the first time that Universal has created a permanent horror experience beyond its theme parks.
The company also announced that it's building a new theme park in Frisco, Texas, that will target families with young children.