Upfront Update: Who's Doing What During the TV Networks' Big Sales Week
April 30, 2009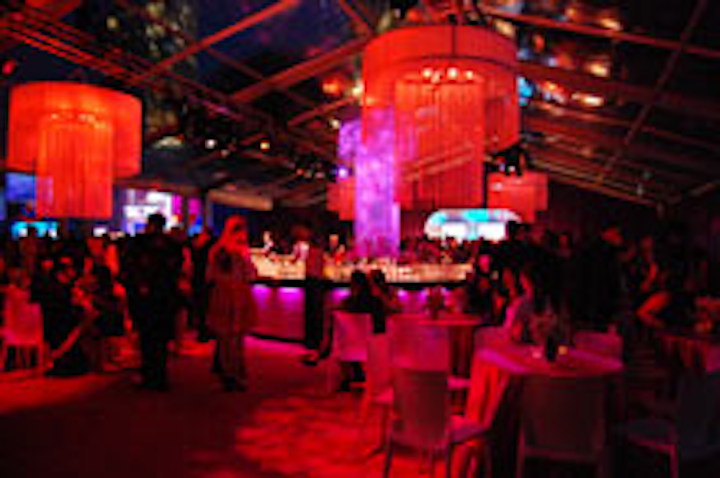 Photo: Jessica Torossian for BizBash
Cable upfront presentations have been under way since mid-March, but May heralds the arrival of the network presentations, with their heavy delegations of out-of-town media buyers and—when it suits them—some fairly elaborate parties. Upfront Week itself is little more than two weeks off, starting with Fox on Monday, May 18, and concluding Thursday, May 21, with the CW. Although events look to be subdued once again, they're looking up from 2008.

Last year NBC sent the already W.G.A. strike-addled upfront schedule into a tizzy by abandoning its long-established Monday presentation and opting for a series of meetings in early April. Sort of sticking to its guns, the network is still meeting with buyers early, but not as early as last year. After a small pitch at this year's Super Bowl, NBC's big sell takes place next week in its 30 Rockefeller headquarters, with a series of meetings and conference calls on May 4.
But the peacock still can't say goodbye to Upfront Week completely. After last year's carnival-style "NBC Experience"—which received mixed reviews from attendees—the network will instead hold a seated event called "A Night of Comedy" at Town Hall on Tuesday, May 19, with performances by NBC faces Jay Leno, Conan O'Brien, and Jimmy Fallon. Since NBC made the controversial decision to sacrifice its 10 p.m. hour of programming every weeknight for a new prime-time venture with Jay Leno, the event is aimed to boost confidence in the change.

Tuesday is a first for an NBC event, and likely due to Fox's decision to move to Monday this year. But the network has no plans to rock the boat otherwise. This year's Fox festivities look to be the same as the last two, with a presentation at New York City Center and after-party at Central Park's Wollman Rink on the evening of May 18. 

Sharing Tuesday with NBC's comedy night is the network most committed to modesty, ABC. Its Lincoln Center presentation will be even earlier this year, starting at 3 p.m., and Jimmy Kimmel is the only talent scheduled to attend. The early presentation will be followed by an on-site cocktail reception for select attendees.

CBS will stick to Wednesday again this year, but doesn't plan to be as reserved as it was in 2008, when it abandoned its longtime Tavern on the Green soiree for a series of private cocktail hours and dinners. Tavern on the Green is still out of the picture, but following the network's presentation at Carnegie Hall, guests will head west for a party at Terminal 5.

The CW moves back to Thursday this year—after sharing Tuesday with ABC in 2008—but will keep events earlier in the day to accommodate people wishing to skip Friday in favor of an early start to the Memorial Day weekend. (There won't be any upfront-related events on Friday this year.) The network booked the WaMu Theater at Madison Square Garden for a morning presentation and the Gramercy Park Hotel for an after-party.
   
And, as it has been for the past few years, Upfront Week is also littered with a handful of offerings from broadcast cable entities such as ESPN, Turner Entertainment, and the Cartoon Network.
Featured Venues/Suppliers: