Lessons From Linux: How to Foster Collaboration at Meetings and Conferences
Here's a look at how the Linux Foundation helps developers work together on the leading open-source system in the world.
September 4, 2013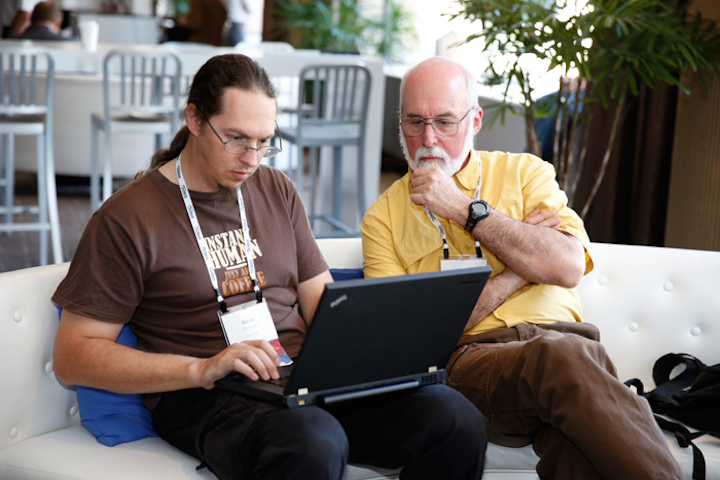 Photo: Courtesy of The Linux Foundation
The computer operating system Linux powers 98 percent of the world's supercomputers, most of the servers that keep the Internet humming, and tens of millions of Android mobile phones and gadgets. As an open-source system, Linux relies on the collaboration of programmers around the world.
Gathering those programmers is the job of the Linux Foundation, which runs a series of large and small events, including LinuxCon, which will draw approximately 1,500 people in New Orleans September 16 to 18. A key task for organizers is fostering a sense of collaboration at these events, so attendees can discuss issues and develop solutions.
"When you're talking about people who are working primarily virtually across the globe, the opportunity for face-to-face collaboration doesn't happen often," says Angela Brown, the foundation's Los Angeles–based event director. That makes it especially important to help attendees to make the most of their on-site experience.
In the six years that Brown has run LinuxCon, other groups have approached the foundation about producing events for other types of collaborative projects, a service she and her team of four event staffers now perform for non-Linux events including Cloud Open and the Open Daylight Summit.
Here are Brown's tips for fostering a strong sense of collaboration at events, meetings, and conferences.
1. Create a comfortable space
When choosing venues, Brown says, "One of the things we always key in on is we need a ton of foyer or lounge space." This lets her set up lots of pockets of casual seating where people can gather in small groups and huddle and talk, either between presentations on the agenda, or in lieu of the programming. "There's always going to be people who are going to choose to have that face-to-face collaboration instead of sitting in sessions."
2. Set the room
The Linux Kernal Summit is an unconference, with no set agenda or formal education program. "We could never seat people theater-style," Brown says. Instead, she sets rooms with round banquet tables with only five chairs at each table, which helps developers break into smaller groups and gives them plenty of space to work. "They typically have computers open the whole time, they're typically coding as they're working." Push-to-talk devices with microphones help them facilitate discussions with larger groups.
When developers might be sitting and working together for more than 12 hours each day, they need certain amenities, too. "We have to have power strips everywhere," she says, and dependable Wi-Fi is a top priority.
3. Know your audience.
LinuxCon draws different constituencies, including developers and C-level executives from Fortune 100 companies, who want to get together with their peers. "The physical spaces where people are going to feel most comfortable doing that are going to be different," Brown says. Developers want big, linen-free tables to "get together and hack away," she says. But for the executives, she'll make sure there are lounge areas with comfortable sofas.
4. Keep open time in the schedule
At events that have formal education elements like keynote presentations and education sessions, the event team makes sure to build periods in the schedule for what they call "hallway track time"—spontaneous conversations and meetings that happen outside of the formal sessions. Typically breaks last at least 30 minutes, lunches run 90 minutes or two hours, and there's usually at least an hour between the last session of the day and the start of the evening events.
5. Let attendees organize themselves
Brown takes an element of unconferences for events that have a more formal schedule to help attendees discuss topics that organizers might have overlooked. They leave periods in the schedule open for "birds of a feather" or "BOAF" sessions. To create these, attendees can post notes with discussion topics on a board, and then event staffers assign them rooms and time slots.
6. Introduce the newbies
At larger events where attendees might find it daunting to walk into a room full of strangers, the foundation will host a "first timers reception" the night before the conference begins. In addition to new attendees, the Linux Foundation will invite its staff and some key, experienced attendees—people the first timers probably wouldn't meet otherwise. "They really come away with that feeling like they already have a foot in the door," Brown says.
7. Break up the group
At larger conferences, the foundation will often host a number of smaller related events for different communities within the schedule of the overall event. A smaller event might be a one-day seminar focused on a specific platform, or a hackathon related to a project. "It allows people to rally around a common goal or project they're working on," Brown says. "All of a sudden this 1,500-person conference becomes 100 people collaborating." The foundation might incorporate a lunch for women—often an underrepresented group in tech circles—to meet and network.
Likewise, for a party during LinuxCon this month, Brown chose the House of Blues, partly because it has a number of smaller rooms to break up the party into smaller groups of attendees, who will walk to the venue in their own Mardi Gras-style parade.
8. Limit the noise
Keeping the conversations going into the evening events is important, as well. "We never do entertainment or bands or loud music," Brown says. That doesn't mean the parties are boring. The foundation team focuses on finding interesting venues—a place with great views, for example, or somewhere that would typically be hard to get into.
"A lot of these folks are foodies, so we'll go crazy on food and beverage," she says. Experiential food stations allow guests to mingle while they eat. For a party at the restaurant and live music venue Doug Fir in Portland, Oregon, the foundation brought in classic video games.
9. Know when to break rules
"We don't always stick to all of these things," Brown says. To celebrate the 20th anniversary of Linux in 2011 in Vancouver, the foundation hosted a Roaring '20s-theme event in a '20s-style venue, with a costume shop for period-appropriate clothes, a live band, a photo booth, and dancers who worked the crowd to get people dancing and interacting.