Why Las Vegas's Most Unlikely Festival Stands to Make the Biggest Impact
Here's how the founder of the ambitious Life Is Beautiful Festival is tackling the numerous challenges associated with launching a music, food, art, and learning event in downtown Las Vegas.
September 19, 2013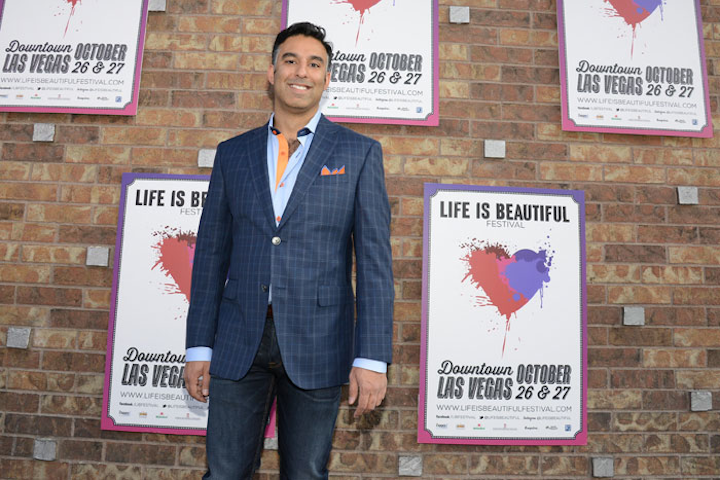 Photo: Scott Harrison/RETNA
The Life Is Beautiful Festival will launch in downtown Las Vegas next month, bringing a slate of music, food, art, and learning programming to a part of town once considered a has-been. Now, the new festival—a centerpiece of the Downtown Project, led by Zappos C.E.O. Tony Hsieh and meant to revitalize the area and build community—is among the projects bringing it squarely back in vogue. Festival founder Rehan Choudhry, who is also the C.E.O. of Aurelian Marketing Group, talked to us about why its mission is much bigger than ticket sales, why it's one-of-a-kind in the marketplace, and the logistics of the hugely ambitious new undertaking.
Why is the Life Is Beautiful Festival different from anything else out there?
There are three ways in which I feel like we're charting a new path. One is in the programming style: We're a music, food, art, and learning festival. We're putting a lot of emphasis on the way we curate all four categories, and all four have equal weight. All four focus on talent that would allow them to stand alone. So you're speaking to category enthusiasts and the collision opportunity is tremendous—the collision between four different audiences with completely unique perspectives. To put them together allows you to have foodies leaning about music, not at a food and wine festival—but at Lollapalooza, or our version of it.
I think what's going to end up happening long-term is you're going to find that the generational impact or impact on people's lives can be much stronger, versus a traditional festival, which is more pop-up in nature.
Secondly, we're doing this in the heart of downtown Vegas. We're fencing off 15 city blocks to create the festival. Downtown Vegas is the darling of Vegas, it's where the future of Vegas is being grown. And this is also where the history is; it's not in the Strip. In a lot of ways, it's using the city to bring the festival back to the roots of Vegas.
And the last part is in the partners that came together to create it. Festivals are usually entertainment companies partnering together, but in our case, [Aurelian] is a marketing agency at its core, and then you've got a music booker [Another Planet Entertainment] and then you've got [Zappos's] Tony Hsieh and Fred Mossler, who are a tech- and arts-centric venture fund. They refer to themselves as a "community-based investment fund." So they're taking $350 million of their own money and investing it downtown with the purpose of making it an arts and tech center in the next five years. And Joey Vanas, of First Fridays, has by far the best experience with the local population. It's people who don't [exclusively] know about stages and parties trying to build a community. This is a first for everyone.
People ask me all the time, "Why do you think you're uniquely qualified for this?" And I say I am uniquely qualified because I'm not at all uniquely qualified. There's a sentiment in the festival industry that you have to have 20 years of experience, but having a fresh perspective means you have an inspired group of young and energetic people who know what their dreams look like and nothing's going to keep them from doing it.
It involved us stepping past a lot of naysayers. I remember the head of a major concert promoter telling me from the first 30 seconds it was a dumb idea. No one's going to want to come downtown. No one's going to get it.
Apart from those naysayers, what's been the biggest challenge of starting the project from scratch?
The biggest challenge for me so far has been trying to communicate to an audience that is largely unfamiliar with festivals. For us to be successful, we need to sell half our tickets locally. Outside of EDC [the Electric Daisy Carnival], which is its own unique beast, this isn't a festival community. So to launch a festival here is difficult to begin with, but then it's trying to sell the idea of a new festival that people are going to try to fall in love with.
What I thought was going to be a challenge from the beginning was working with the city to accomplish something like this, and with any other city it would have been in. But our city government is shockingly progressive. The mayor was on board the second we announced it. To have the support of the city government rather than that group just being enforcers is a good feeling.
How does it fit into the Downtown Project, and how is it a community-building effort?
From a size and scope perspective, we're the largest partner for the Downtown Project, the largest business coming out of the project this year. It's a really strong statement that [Hsieh] has taken such a stake in us—and such a risk in us.
From a community perspective, there's nothing bigger going on in the city this year. And it's not a city that's known for going small. So to have an event making such a loud statement [amid all the noise] is awesome.
The biggest challenge was that Vegas lacked a community for so long. We're the home for people who want to get away from their homes. It's a great financial and economic position [for the city] to be in, but it's become increasingly challenging to create a community. [Hsieh] recognized that when he moved Zappos's headquarters downtown and created the Downtown Project.
How many attendees are you expecting, and how close are you to the goal?
I've always said we're going to be in the 55,000 to 65,000 range, and I say that number based on sales projections. I don't give sales figures because I'm a hyper-superstitious person, but I can tell you I'm incredibly pleased with the first year, and it's going to be the most rockin' festival Vegas has ever seen. There's no question.
Do you expect to be profitable this year?
Festivals in general are a three-year profit turnover. Are we gunning for it? Absolutely. My perspective on this is if someone turns a major profit in the first year, they didn't go big enough.
But we're very focused on the financials. The vast majority of our attention is focused on putting on an amazing event, because that's what we can grow every year. It's hard to go from [just] a profitable event to a great event. But we are a very fiscally responsible organization.
What are you personally most excited about?
There's so much. I'm excited to see the Killers perform the biggest show they've ever played in Vegas, because Vegas is their hometown. That's going to be an incredibly emotional moment. And to see all of these chefs come in, and not just chefs that normally participate in festivals but those who have largely written off festivals as stale. So to see them invested in the idea that we're doing something original is exciting.
The art program I think is something that's going to live on in people's hearts the longest, because we're creating street art that will stay up after the festival—and that's going to be an unexpected piece of the puzzle.
And then the learning piece I think is going to be a real breakout category over the next few years. These young entrepreneurs that are changing the world and are going to come in and share that experience—that is really exciting.
Looking ahead, what are the plans for next year?
Right now, for year one we're just kicking the tires and we're going to see what this thing can do. The one thing that's helped me in the past is I don't do anything small and I take massive risks. We're going to treat every year for the next five years as if it's the inaugural year, like we're unveiling this thing for the first time. Anything less wouldn't be doing justice to community, fans, artists.