Holiday Party Playlist 2017: What Top DJs Will Spin—and Avoid—at Events This Season
Here are the songs that that will set the right tone at events this season, from holiday parties to New Year's Eve.
December 4, 2017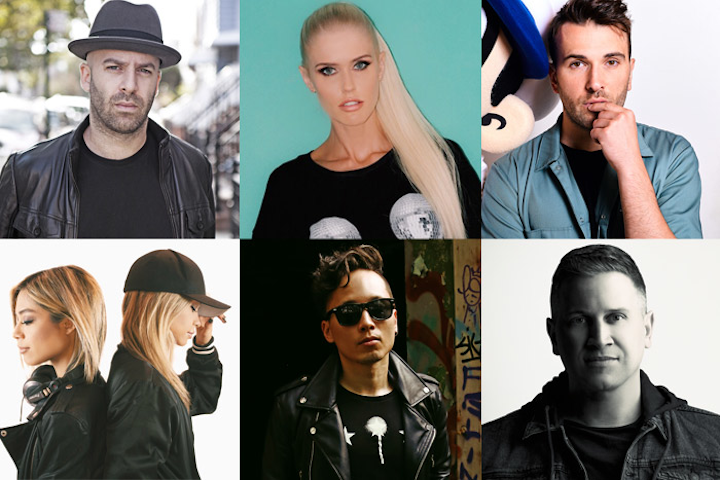 Photo: Glenn Nutley (Saint Clair), Christopher DeVargas (DJ Hollywood), Courtesy of DJs (all others)
Choosing an appropriate playlist for a holiday or end-of-year party isn't always the easiest task. With corporate and social bashes ramping up this month and continuing into the New Year, BizBash asked some of the top DJs in the U.S. what songs they're spinning—as well as advice on songs to avoid.
Tracks for playlist-curator inspiration this year include hip-hop and pop hits from Cardi B, N.E.R.D. and Rihanna, and Maroon 5 and SZA, along with holiday classics from Mariah Carey, Run-D.M.C., and Wham. But playlist curators might want to rethink including certain well-known songs from artists such as Taylor Swift, Baha Men, and Billy Ray Cyrus. And in the wake of the national conversation on sexual harassment and assault, planners might just want to avoid playing the traditional (if a little creepy) "Baby It's Cold Outside."
Tracks recommended by DJs can be found on the Spotify playlist at the bottom of the page. (You can choose whether lyrics are appropriate for the company crowd).
Saint Clair (Los Angeles)
Songs to Include:
"Lemon," N.E.R.D. & Rihanna
"No Limit," G-Eazy feat. A$AP Rocky and Cardi B
"Plain Jane," A$AP Ferg
"Bodak Yellow," Card B
"All I Want For Christmas Is You," Mariah Carey
Songs to Avoid:
"Achy Breaky Heart," Billy Ray Cyrus
"A Thousand Miles," Vanessa Carlton
"Who Let The Dogs Out," Baha Men
"MMMBop," Hanson
Cheesy E.D.M. music (aside from "Sandstorm," Darude)
Jerzy (Chicago)
Songs to Include:
"Rockstar," Post Malone feat. 21 Savage
"Gucci Gang," Lil Pump
"All I Want For Christmas Is You," Mariah Carey
"Merry Christmas, Happy Holidays," *NSYNC
"Christmas In Hollis," Run-D.M.C.
Songs to Avoid:
"Despacito," Luis Fonsi feat. Daddy Yankee
"Look What You Made Me Do," Taylor Swift
"Grandma Got Run over by a Reindeer," Elmo & Patsy
"Drummer Boy," Justin Bieber
"Lady Gaga," Christmas Tree
DJ Hollywood (Las Vegas)
Songs to Include:
"Last Christmas," Wham
"All I Want For Christmas Is You," Mariah Carey
"Christmas In Hollis," Run-D.M.C.
"Deck Da Club," Ying Yang Twins
"Christmas Rappin'," Kurtis Blow
Deux (Los Angeles)
Songs to Include:
"Pull Up N Wreck," Big Sean, 21 Savage, and Metro Boomin
"Rake It Up," Yo Gotti feat. Nicki Minaj and Mike Will Made It
"Plain Jane," A$AP Ferg
"Mi Gente," J Balvin, Willy William, and Beyoncé
"Bring Dem Things," French Montana and Pharrell
Songs to Avoid:
"Juju On the Beat," Say Hilfigerrr and Zayion McCall
"Look At Me," Xxxtentacion
"The Star-Spangled Banner"
Sinatra (New York)
Songs to Include:
"All I Want For Christmas Is You," Mariah Carey
"Lemon," N.E.R.D. & Rihanna
"What Lovers Do," Maroon 5 feat. SZA
"Wonderful Christmastime," Paul McCartney
"No Limit," G-Eazy feat. A$AP Rocky and Cardi B
Baby Yu (Los Angeles)
Songs to Include:
"Lemon," N.E.R.D. & Rihanna
"Ex," Ty Dolla $ign feat. YG
"Last Christmas," Wham
"Gucci Gang," Lil Pump
"Rockstar," Post Malone feat. 21 Savage
Songs to Avoid:
"Sunshine," Kyle feat. Miguel
"Friends," Justin Bieber feat. BloodPop
"I'm the One," DJ Khaled feat. Justin Bieber, Chance the Rapper, Lil Wayne, and Quavo
"Mask Off," Future"Slide," Calvin Harris feat. Frank Ocean and Migos 
Featured Venues/Suppliers: