This Week in Los Angeles: Fruit-Theme Photos Ops, Colorful Crafts, Kimpton's New Social Experiment
West Coast bureau chief Claire Hoffman recaps the week's biggest event news.
September 28, 2018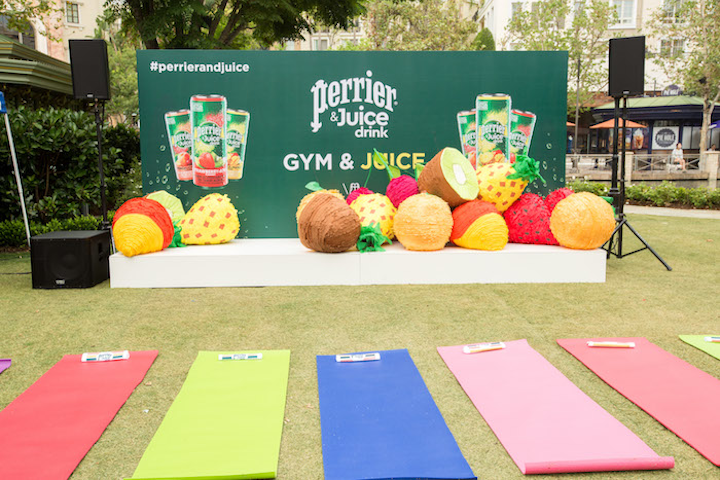 Photo: Casey Scott for Perrier
Welcome to BizBash's new Los Angeles-based column, where West Coast bureau chief Claire Hoffman recaps the week's biggest local news. Got a tip? Get in touch!
In Case You Missed It
We learned about Kimpton's new social experiment, which uses experiential components to foster a sense of community at the Kimpton Everly Hotel in Hollywood. We also took a look at the growing trend of positive-message walls at events, including six recent examples in the L.A. area. 
In the News
To celebrate its 100th anniversary, the Los Angeles Philharmonic and CicLAvia are hosting a massive public festival on Sunday. Curbed Los Angeles: "The supersized block party will feature concerts, art installations, and food trucks at six 'hubs' along an 8-mile route that will stretch from the Walt Disney Concert Hall to the Hollywood Bowl. … The entertainment line-up is extensive, with some 1,800 performers slated to croon and dance." https://bit.ly/2uuYRWz
The highly anticipated Hello Kitty Grand Cafe opened in Irvine on September 14. LA Weekly: "It's the brand's first permanent cafe concept, and offers both afternoon tea and a cocktail service in its private Bow Room. … The level of detail in everything is incredible, from the bar stools with bows on their back to the tea stand in the shape of Hello Kitty's head. It's all custom-made and all Hello Kitty–branded." https://bit.ly/2Dsm6s8
To improve guest flow in anticipation of the upcoming Star Wars: Galaxy Edge opening, Disneyland has been removing seating around the park. OC Register: "Eventually, Disneyland officials said, all of the removed seating will be replaced in other ways. … Even without the addition of Star Wars land, the 85-acre Disneyland has become increasingly crowded over the last 20 years, pleasing Disney corporate shareholders but creating logistical problems and complaints. It's the No. 2 most visited resort in the world." https://bit.ly/2NEYG7y
Moves & Milestones
BDS Marketing, a retail marketing and sale agency based in Irvine, recently acquired MAG, a full-service experiential marketing agency based in New York. 
Digital firm Moxie Marketing Agency has launched a new marketing resource for nonprofits, dubbed the Digital Marketing Academy. The online program is designed to coach nonprofits on how to grow and optimize their online presence. 
Venue Buzz
Fig & Olive's two-story Melrose Place location recently unveiled a $1 million renovation with airy new South of France-inspired decor. It's a play on the restaurant's original design, with warm limestone, white-wash stucco walls, terra cotta accents, and fresh green rosemary and olive trees. The 8,000-square-foot space also has an open kitchen illuminated with shelves of olive oils and a hand-crafted wrought-iron candle wall. The restaurant holds 450 for events, or 800 when combined with the courtyard space.

Overheard
"It needs to make you feel alive and sharp, like you're walking through The Wizard of Oz when it's black and white and all of the sudden it's life in color. Guttural, soulfully delicious. If you don't want to go sit in a corner while no one's looking and eat five of them in an unapologetic way, we're not there yet."
—Milk Bar founder Christina Tosi, speaking to Variety about what makes a good dessert. The chef opened the first West Coast location of her wildly popular dessert chain on Melrose Avenue on September 22.
On the Scene
To celebrate its new footwear collaboration with Vans, apron company Hedley & Bennett held a launch party on Tuesday night that was filled with crafty, colorful details. 
What's Next 
The Los Angeles Promise Fund's Girls Build Leadership Summit will draw 10,000 young women from local high schools to U.S.C.'s Galen Center tomorrow to learn about civic engagement. Shonda Rhimes will give the keynote, and students from Marjory Stoneman Douglas High School will speak.
Other event highlights to look for this weekend include Music Tastes Good, a combination food festival and music festival in Long Beach, and the Abbot Kinney Festival, which draws 120,000 people to Venice each year.
Later in the week, local event production firm Bianchi Productions will host a fall-theme launch party on October 4. The company was founded by Mandy Bianchi, a veteran of Sequoia Productions, Extraordinary Events, and G'Day USA.
Featured Venues/Suppliers: