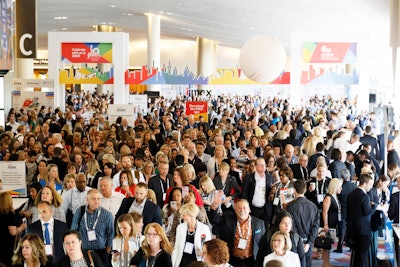 Photo: Courtesy of IMEX Group
LAS VEGAS—The ninth edition of the IMEX America meeting industry trade show took place September 10 to 12 at the Sands Expo Convention Center in Las Vegas. Despite the show taking place a full month earlier than its usual October date, IMEX Group chairman Ray Bloom estimated that the convention drew almost 14,000 meeting professionals from 150 countries around the world, while MPI's Smart Monday day of professional development drew about 900 people.
Perhaps the biggest news of the week was the debut of the Events Industry Council's new EIC Centre for Sustainable Events, a digital platform that will provide education, research, and resources on both eco-friendly practices as well as issues of social justice and community impact.
"[Producing] sustainable events is the only way to ensure that your business will continue to exist," explained Miguel Naranjo, program officer for the United Nations Framework Convention on Climate Change, who is involved in the center. During an IMEX press conference, Naranjo issued a challenge for the entire meeting industry to become carbon-neutral by 2050. "It's not an addition [to your events]—it's the only option," he said. "We need to act urgently."
The center's announcement was in keeping with many of the week's trends, which saw conversations centered around accessibility and inclusivity, the importance of embracing the local community, and the power of imagination and creativity. Presenters and attendees also focused on the impact of face-to-face gatherings, effective uses of technology, new venue trends, and more. Here are some highlights from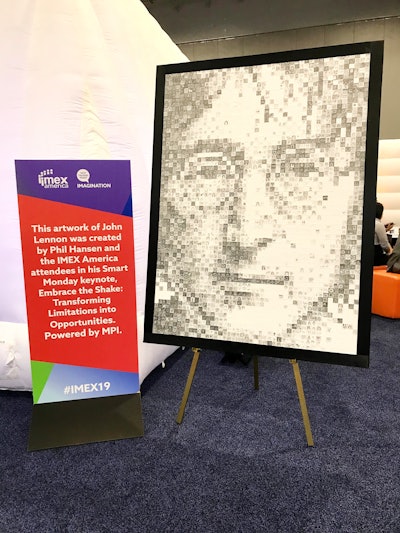 those conversations.
1. "Limitations are a source of creativity." —Phil Hansen
Hansen, a multimedia artist and author who delivered the keynote speech during MPI's Smart Monday, focused on how limitations and setbacks can promote fresh thinking and increased imagination. He told his own story of overcoming a tremor in his drawing hand ("embrace the shake," he titled the speech), and collaborated with the audience to create a mural of John Lennon—which tied nicely into IMEX's overall conference theme of "Imagination."
That idea of imagination—and tips for encouraging creativity and out-of-the-box thinking—continued throughout the week. Smart Monday included a series of creative experiential activities such as digital portrait painting and a string art wall, all designed to prompt attendees to ask "What if?" These imagination-driving experiences also extended to the main convention, which had a Discovery Zone on the show floor. Activities included flower-arranging stations, a "mystery tattoo" booth from Champagne Creative Group, interactive photo booths, and other multi-sensory displays.
"We are all improvisers in our lives," explained David Ahearn, co-founder of improv troupe Four Day Weekend during another one of the week's keynotes. The group emphasized the improv idea of "Yes, and…," where comedians are encouraged to build on each other's ideas. "The benefit of bringing 'Yes, and...' into the workplace is it generates better listening skills, more collaboration, and greater creativity," said Ahearn. "We strike the word 'no' from our vocabulary, because 'no' blocks progress and cuts off the conversation."
2. "Inclusiveness is a deliberate act we have to take." —Tracy Stuckrath
The ideas of inclusivity and diversity were also hot topics throughout the week. During a session on creating accessible meetings, Stuckrath, the owner of Thrive Meetings & Events, explained that planners need to anticipate a variety of inclusivity needs, from physical mobility to visual impairment to food allergies. Fifty-six million Americans have a disability of some kind, she noted, and many of those are invisible. It's crucial for meeting and event planners to ask questions about mobility, vision or audio issues, and dietary restrictions on registration forms.
"For food, you also need to ask how the allergy is triggered—ingestion, inhalation, or touch," added Stuckrath, and communicate that to the venue and catering team. Another thing to think about, she said, is that 33 percent of Americans do not drink alcohol. Consider offering options other than just water and soda.
Stuckrath explained that event planners should be thinking about other issues of inclusivity as well. Is your event friendly to introverts? Is it age-inclusive, with opportunities for different generations to mingle? Are customs from other countries and religions being considered?
Discussions on inclusiveness were also on display during Smart Monday, when MPI hosted a new women's leadership program called She Means Business, a partnership with IMEX and Nigeria-based TW magazine that drew more than 700 attendees. The daylong program included 10-minute TED-style presentations from women in business, plus sessions on gender equality and balancing career and family. Keynote speaker Mara Catherine Harvey from UBS Switzerland AG encouraged all meeting planners to ask, "'Where are the women in everything we do?' Make sure your RFPs ask where your suppliers stand on gender equality," she said. "You have the power. You need to use it."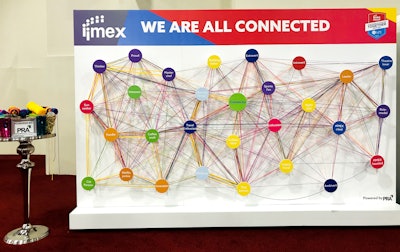 3. "Don't invest in tech without having a plan." —Tara Thomas
Technology was a big topic of conversation during the convention, with a dedicated tech education track covering the latest in project management, speech recognition apps, presentation tools, and more. Thomas, co-founder and C.E.O. of the tech-focused website the Meeting Pool, discussed ways that technology can increase workflow and productivity. She shared how technology can be combined with old-school productivity methods to help planners save time; the key is having a goal-oriented approach and carefully evaluating the benefits, rather than just incorporating technology for technology's sake.
EventMobi's Kate Gray made a similar point during another session. "You need to consider how to use your event app strategically," she said. "Turn it from a tool for attendees to a tool for yourselves."
The same ideas apply to social media. "You can't only be using social media for marketing," explained Little Bird Told Media's Alex Plaxen during a session co-hosted by Aventri's Michael Burns. Use social media to plan and promote, of course, but also to engage during events and to measure results afterward. According to the pair, the biggest things people want from social media today is realism and authenticity,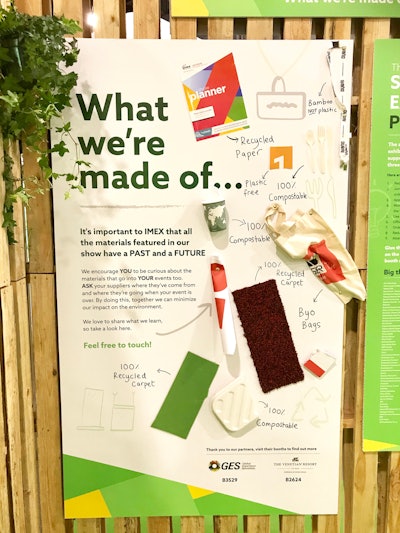 in-the-moment content rather than carefully produced posts, and AI-driven customer service such as chatbots.
Social media is also an effective way to keep conversations going after an event, added Burns. Creating a LinkedIn group for your attendees, for example, will help conversations and build a community.

4. "Sustainability and high-end experiences can co-exist." —Yalmaz Siddiqui
Siddiqui, the vice president of corporate sustainability for MGM Resorts International, stressed this point during the EIC Centre for Sustainable Events announcement, explaining that creating eco-friendly events does not mean sacrificing luxury or attendee experience. It's an idea that Hilton exemplified on the show floor, with an eye-catching booth featuring a digital waterfall display. Dubbed "Century Falls," the national park-inspired booth represented Hilton's water stewardship goals, which are to cut its environmental footprint in half by the year 2030.
IMEX Group, the convention's organizers, also aimed to lead by example with its sustainability efforts. "Our vision is to drive change in our industry in terms of sustainability," said the group's C.E.O., Carina Bauer, during a press conference. "We can be a showcase for what can be done, and also provide education."
The conference showcased those efforts through an interactive "Sustainability Village" on the show floor. The space explained how IMEX America is encouraging eco-friendly practices by using bamboo lanyards, compostable utensils, recycled carpets, water stations for refillable water bottles, and more. "The community needs to act in collaboration, not competition, to make a difference," said Bauer.
During the week, Hard Rock International also announced a new partnership with Clean the World. The hotel chain will host Hygiene Kit events, where MICE groups can work together to build kits of recycled soap, shampoos, lotions, and more; meeting groups can also choose to create women's, children's, and veteran-specific kits, that will later be donated to disaster relief efforts, homeless shelters, and other charities.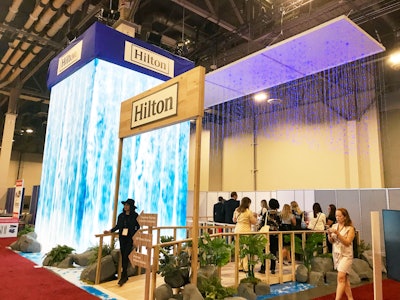 5. "The best part of business travel is experiencing other cultures." —Nicole Tilzer
Another topic of conversation was ways to embrace and amplify the local community—essentially, planning meetings and events that leave a positive impact on their locations. Tilzer, the director of Signia Hilton and Hilton Hotels & Resorts Brand Marketing, told BizBash how the hotel chain is doing this by highlighting local cuisine and cocktails.
"We want to infuse a sense of energy and a sense of place from wherever you are," she explained. "When you're at a meeting and you have downtime, you typically want to spend it going to a local restaurant or happy hour. We want to bring those experiences to life on the property with local food, local spirits, local culture."
In addition to lobby bars showcasing cocktails inspired by the hotel's location, and restaurants serving local food, Hilton is also infusing this sense of place into meeting breaks. At the Hilton Orlando, for example, there's a citrus break program incorporating Florida oranges. In addition to being a memorable moment, this allows local businesses to be supported and to tell their stories, said Tilzer.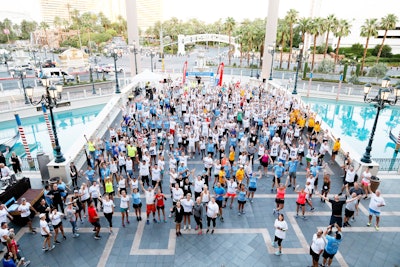 This idea of embracing the local culture will also be on display at the Drew, a new nine-million-square-foot Marriott resort slated to open in Las Vegas in 2022. In a press tour of the 4,000-room property hosted during IMEX, Marriott executives explained that the space will be inspired by its home city, with Mojave-desert-style decor and several casinos, restaurants, and theaters. People don't come to Las Vegas to do one thing, explained the brand, so the goal is to put the entire city experience under one roof.
Meetings can also support local culture in philanthropic ways. IMEX America organizers, for example, set up large bins throughout the show floor where attendees were encouraged to drop unneeded supplies; items in the bins were later donated to a local community organization.
6. "It's important to communicate with your company, and make sure they really understand the value of meetings and events." —Gerardo Tejado
During the show, Tejado, the new general manager of American Express Meetings & Events, presented American Express's 2020 forecast, which included data on meeting activity and industry trends. Findings showed that face-to-face gatherings—including meetings of less than 50 people—are still important, with a 1.6-percent increase expected in overall meetings spend in North America next year.
"There's optimism in the industry," Tejado told BizBash, explaining that C-Suite executives are understanding the value of face-to-face gatherings more and more. Tejado noted that 54.5 percent of meeting planners plan to prioritize attendee experience over logistics in 2020; the industry is acknowledging that interactive, personalized events can provide real value for attendees.
"If you can do personalization across the life cycle of an event, that's very important," said Tejado. Use technology to your advantage, and consider a pre-event survey asking what attendees want from a meeting. Use that information to engage with them in meaningful ways.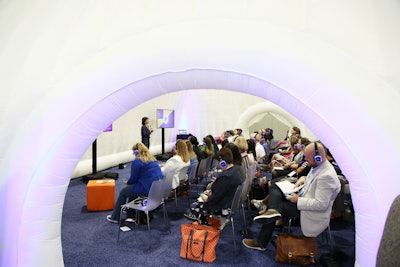 Next year, IMEX America will mark its 10th anniversary at the Sands Expo from September 15 to 17. The event's talking point for both 2020 and 2021 will be "Nature." "We'll be exploring what nature can do for us and what we can do for nature, and we'll be running this theme over two years to give it the traction it deserves," said IMEX Group chairman Ray Bloom.