What to Expect at BizBash Live: New York
The one-day show for event professionals includes education sessions with top event industry experts, a networking luncheon, and an exhibit floor.
October 21, 2019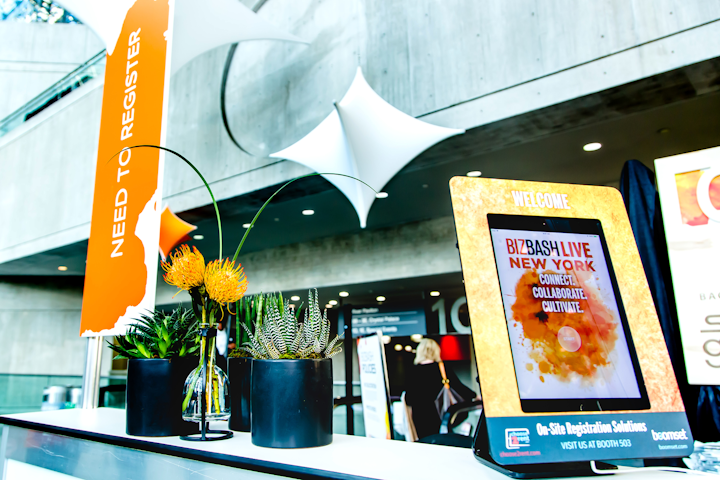 Photo: Haute Media
NEW YORK—BizBash Live: New York, an event designed to educate and inspire meeting and event professionals, returns to the city October 23 at the Javits Center.
Sessions during the Event Innovation Forum, a single-track education conference, and the Workshop Series of seminars will cover topics such as social media strategy beyond an instagrammable moment, event technology, high-end event design, and creating authentic brand experiences. The forum will also include a conversation with former Obama White House Social Secretary Deesha Dyer.

Registration for the Event Innovation Forum and the Workshop Series includes admission to the exhibit floor. Attendees have the chance to earn credit toward CSEP recertification through a partnership with ILEA, and credit toward CPCE certification through a partnership with NACE.

The schedule for BizBash Live: New York, including morning and afternoon sessions, a luncheon, and post-event cocktails, is below; registration is available here.
8:15 a.m.Registration Opens
8:30–9 a.m.Networking With Continental Breakfast and Coffee

9–9:50 a.m.Workshop Session 1
Embedding a Culture of Innovation Into Everyone's DNA
Duncan Wardle, Former Head of Innovation and Creativity, Disney
Going Beyond the Instagrammable Moment
Cara Kleinhaut, founder, partner, and co-owner, Agenc
Engaging Attendees Through a Sensory-Driven Narrative
Amy Shey Jacobs, founder and creative director, Chandelier Events
Putting it All Out There: Transparency & Technology in Events
Karen Gordon, V.P., Growth, Goodshuffle Pro
10–10:50 a.m.Workshop Session 2
(Some workshops repeat from Session 1)
Creating Presentations That Get You What You Want
David Adler, C.E.O and founder, BizBash
Pablo Povarchik, C.E.O. and co-founder, Wow Prezi
Walter Soyka, design lead, Drury Design
Going Beyond the Instagrammable Moment
Cara Kleinhaut⁠, Founder, Partner, and Co-Owner, Agenc
Engaging Attendees Through a Sensory-Driven Narrative
Amy Shey Jacobs, Founder and Creative Director, Chandelier Events
Putting it All Out There: Transparency & Technology in Events
Karen Gordon, Vice President of Growth, Goodshuffle
10:45 a.m.–5 p.m.
Exhibit Floor Opens

11:15 a.m.–12:45 p.m.
Event Innovation Forum Session 1
Theory of Creativity
Duncan Wardle, Former Head of Innovation and Creativity, Disney
Leveraging Technology to Drive Event Innovation
Bret Heiman, vice president, global partnerships, AEG Presents
From a Passive Audience to Courageous Heroes and Heroines
Andrew Lacanienta, assistant professor in the Department of Experience Industry Management, California Polytechnic University

12:45–1:45  p.m.
Networking Luncheon

1:45–2:15 p.m.
Lounge & Learn Sponsored Education

A.I. Chatbots: The Newest Fad or the Future of Customer Service?
Robert Caldwell, founding partner, 42Chat
2:30–3 p.m.
Lounge & Learn Sponsored Education

The Future of Event Staffing in the Gig Economy
Sarah Edelman, senior marketing manager, Instawork
2:45–4 p.m.
Event Innovation Forum Session 2
In Conversation: Lessons from Obama White House Social Secretary Deesha Dyer
Deesha Dyer, Harvard Kennedy School Institute of Politics resident fellow and executive director, beGirl.world
Born to Party, Forced to Work
Bronson van Wyck, founder, Van Wyck & Van Wyck
Standing for the Right Thing: Creating Authentic Brand Connections
Joe Panepinto, senior vice president and group strategy director, Jack Morton Worldwide
3:15–3:45 p.m.
Lounge & Learn Sponsored Education

Grow Up: An Eye-Opening Q&A with Aaron Kaufman
Aaron Kaufman, president, Fifth Element Group
4–4:30 p.m.
Born to Party, Forced to Work Book Signing
Bronson van Wyck
Lounge & Learn Sponsored Education

Producing Creative Experiences: From Concept to Completion
Simon Miller, creative director, Brand Activation Services
4:30–5 p.m.
Event Style Awards Winners Announcement
5:30–7:30 p.m.
After-Party at Lavan 541