Groupon Kicks Off Event Series With Ferris Bueller Screening at Wrigley Field
October 11, 2011
Ferris Bueller's Day Off was released in 1986, which means that the pop culture phenomenon turns 25 this year. To mark the iconic film's anniversary, Groupon took over Wrigley Field on October 1 for a screening party with 8,500 guests. The event was the first of a new series called Groupon Presents, which serves as a showcase of local culture and entertainment and offers concerts, fashion shows, film screenings, and other events for subscribers.
"We were really excited that the movie event was the kickoff for Groupon Presents," said Noelle Provencial, the company's experiential marketing and events manager. "Groupon celebrates Chicago every day with daily deals on the best things in your neighborhood—we make life less boring. We thought there was no bigger or better Chicago adventure than [the one featured in] Ferris Bueller's Day Off. If Ferris were real, he'd probably be working at Groupon today."
Staffers began load-in at 8 a.m. on Saturday, erecting three inflatable screens, each 20 feet high by 30 feet wide, in the iconic ballpark where part of the movie was filmed. "The toughest part was definitely working with the weight limits that are unique to the infield versus outfield," Provencial said. "That, and making sure the screens and scaffolding were securely tied down with water barrels. We were dealing with some pretty high-speed wind gusts."
Guests, who got their tickets (where else?) via Groupon, sat in the bleachers and in the outfield. "It was an interesting challenge to figure out how many people, with picnic blankets, etc., were going to fit in the outfield of Wrigley," Provencial said. "We ended up being really happy with how full, but not too crowded, it ended up being. I think that because it was a fairly chilly night—in the upper 40's—people cozied up to one another and didn't spread out as much as they might have if the weather were warmer."
Though the screening was the evening's centerpiece, plenty of other activities were available. Actors dressed as the film's main characters Ferris, Sloane, and Cameron posed with guests for photos. Nearly 900 guests participated in a round of "Row, Row, Row Your Boat," which helped the group achieve a Guinness World Record for, well, most people singing the song in a round.
Other music came from a marching band from Glenbrook North High School, where some of the movie was filmed. The uniformed band members marched onto center field before the film to play tunes such as "Twist and Shout"— a song that proved popular with the crowd. "I think my favorite part of the entire event was during the parade scene in the movie when Ferris sings 'Shake it up, baby,'" Provencial said. "When that scene came on, hundreds of people in the lawn and bleachers all stood up and danced the entire time. It gave me the chills." 
Photo: Jonathan Mathias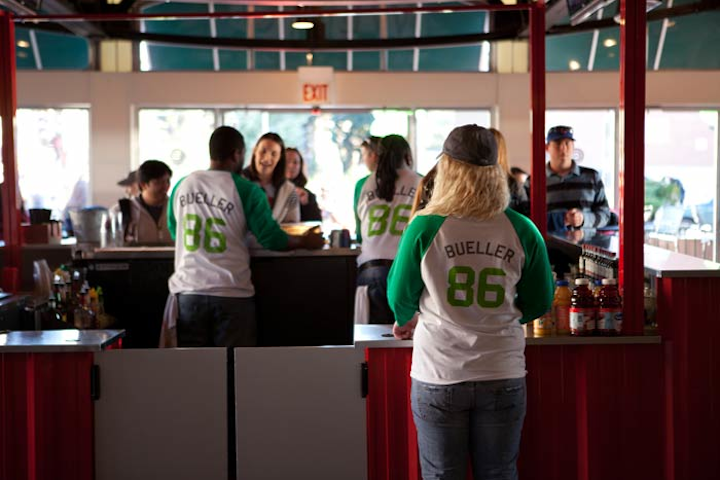 Photo: Jonathan Mathias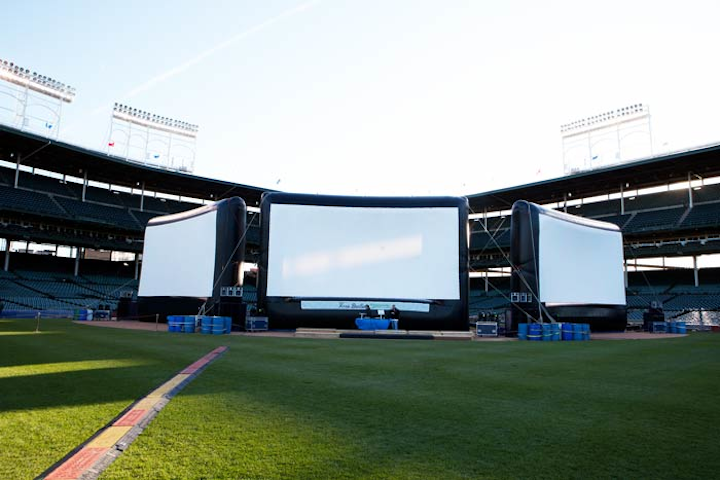 Photo: Jonathan Mathias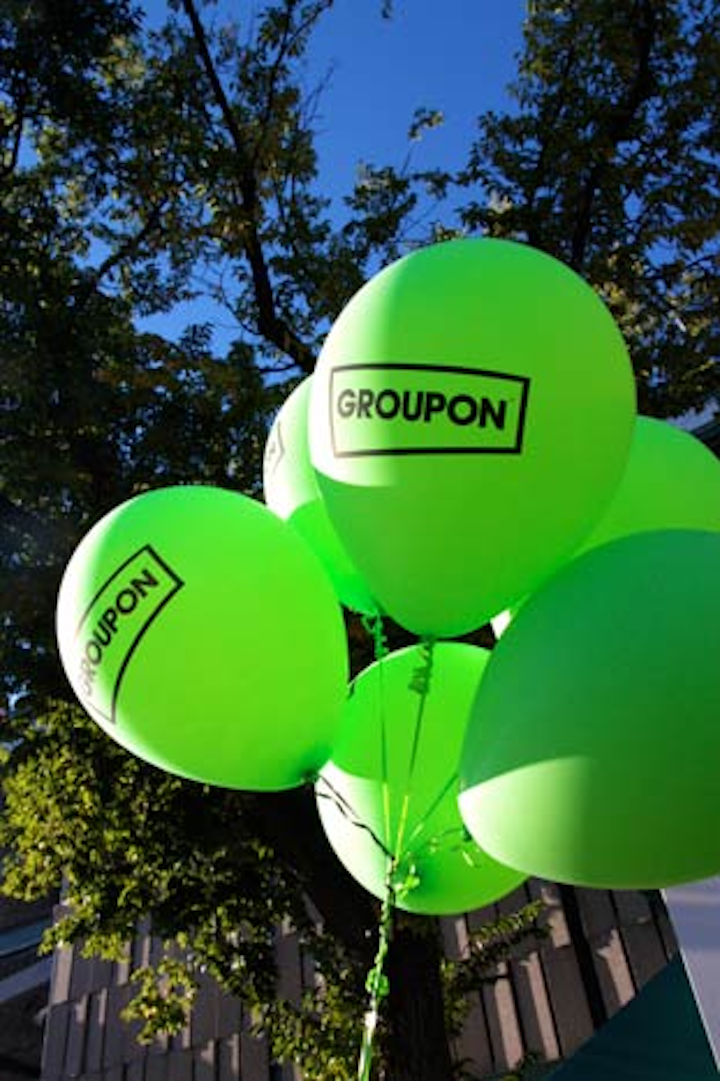 Photo: Brandon Tobin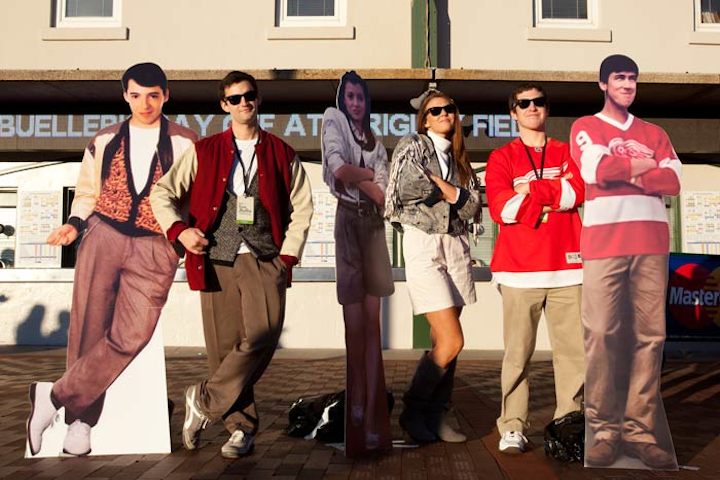 Photo: Anjali Pinto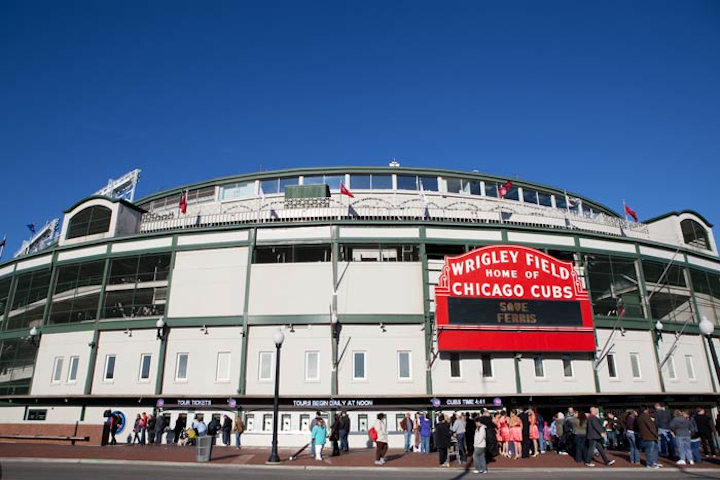 Photo: Jonathan Mathias
Photo: Brandon Tobin
Photo: Anjali Pinto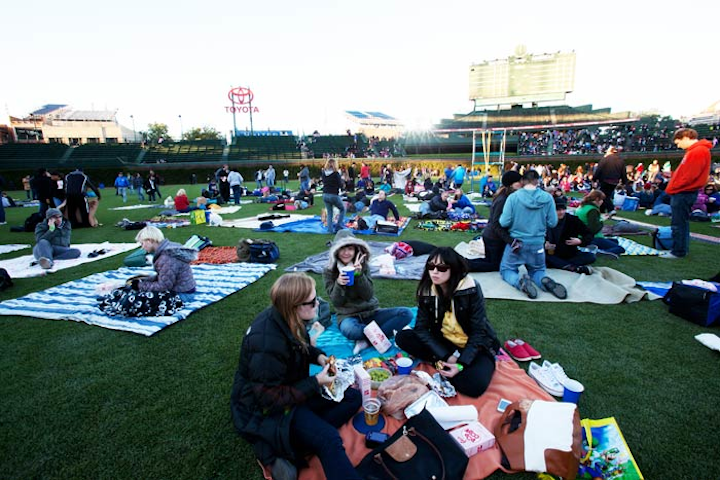 Photo: Anjali Pinto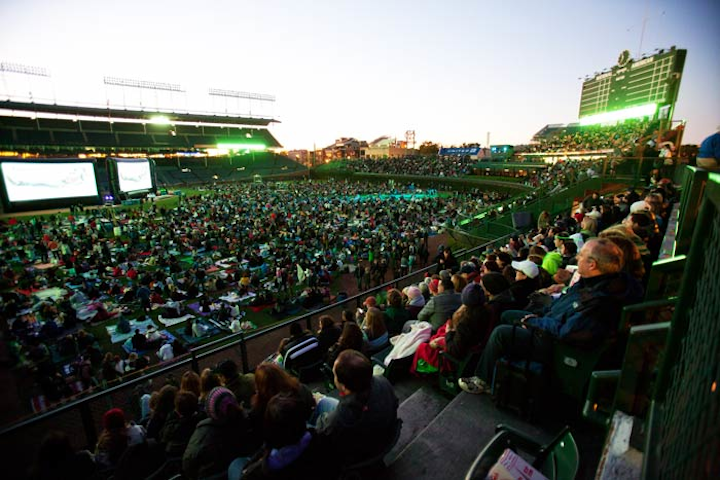 Photo: Anjali Pinto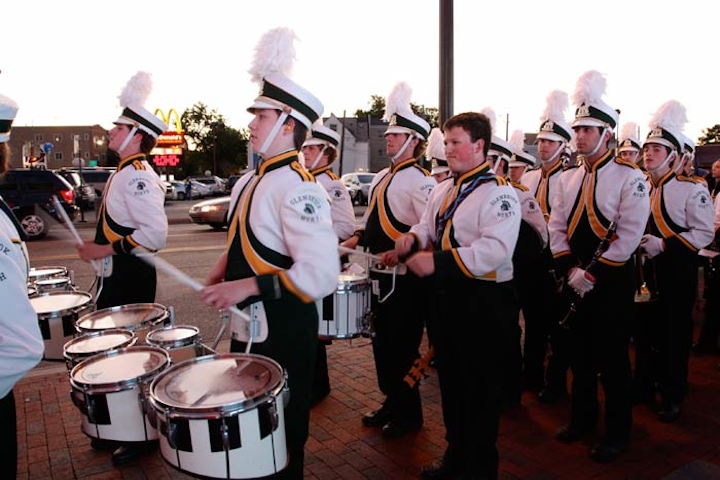 Photo: Brandon Tobin
Featured Venues/Suppliers: