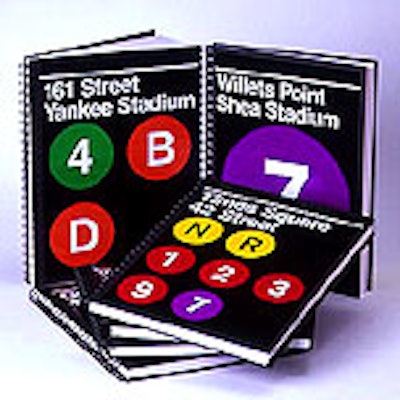 For gifts or creative invitations for a New York-themed event, several companies are now offering items with a bit of local color: the motley hues of the MTA subway signs. These companies offer a variety of merchandise printed with subway logos or created from recycled maps and tokens. Many of the gifts can be personalized with a logo for corporate gifts:
Romanoff Products
makes journals (shown at left), tumblers, t-shirts, storage bins and attach? cases inscribed with subway symbols.
New York City Subway Line
offers MTA-inspired shirts, caps and messenger bags.
Your Sister's Mustache
creates handbags, gift bags and accessories made from bonded, laminated and recycled subway maps.
Forest Saver
creates stationery and desk items from recycled subway maps.
Tokens and Coins
produces cufflinks and money clips from antique tokens.
--Samantha Melamed
Originally posted 07.30.01