How the New York Auto Show Used Vine to Reach Millions
The trade show tried a new strategy this year, using Twitter's video-sharing app to give the public an inside view during the two opening press days.
June 11, 2013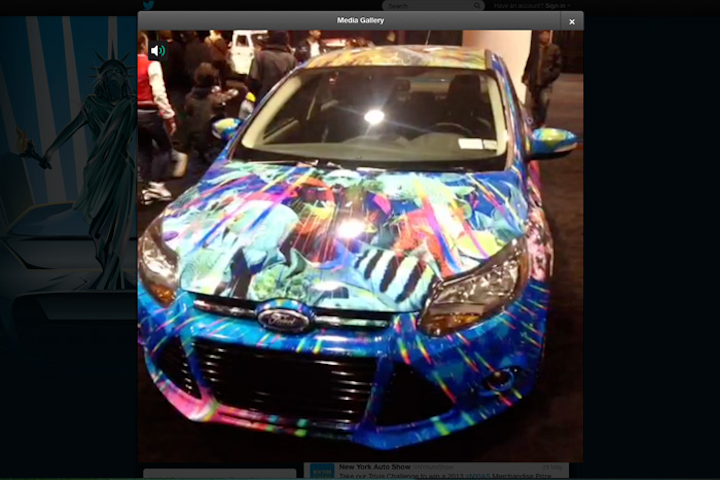 Photo: Courtesy of New York Auto Show
The New York International Auto Show opens with two days exclusively for the press, as automotive manufacturers unveil their newest models and concept vehicles. The activity that develops on social media and through traditional news outlets during those two days helps drive people to attend the show during the public days, which ran March 29 to April 7 at the Jacob K. Javits Convention Center. This year organizers used Vine, Twitter's video-sharing app, to boost the conversation on social media.
"Our big goal was to be part of that breaking news cycle and not just let that story be told by the press or by the manufacturers," said Angie Gannon, creative strategy supervisor for Situation Interactive, the show's digital marketing agency. "We wanted to use Vine to give people that inside look in a more detailed way than photography can."
Gannon's team produced a total of 73 Vine videos during the two press days and shared them through the show's Twitter and Facebook accounts. Some provided a look at manufacturers' debuts and announcements, such as one showing the new Range Rover Sport.
Most of the Vines were dubbed "360s"—videos of specific vehicles requested by fans on social media using the hashtag #NYIAS360, such as the close-up look at the Audi R8 requested by Twitter user @trexfbaby.
"We have this huge range of people that are interested in the show, and our job is to highlight that there really is something for everybody," Gannon said. "I think this campaign helped us do that because by specifically asking people what they wanted to see, it meant we were able to share content that was relevant to them and not just content that we thought might be interesting."
To manage the campaign, one person monitored the event's Twitter and Facebook accounts, compiling a list of requested Vines and responding to the online conversation, while two other people walked the show floor creating and posting the videos. The show's initial Vine, which invited people to request videos of specific cars, reached nearly 88,000 people on Facebook and received 702 likes, 78 shares, and 74 comments. Total figures for the 73 Vines include 310 shares and a reach of 1.8 million people on Twitter alone.
Situation Interactive also used Instagram, YouTube, Pinterest, and other social media outlets to promote the show, and Gannon said the entire social media campaign grew this year. "We just saw such enormous lift across all social areas, and Vine was certainly a contributor to that," she said. The show tracked an 80 percent increase in people talking about the show online, 50 percent more people using the official hashtag, and 30 percent more people using the show's Twitter handle compared to 2012.
Gannon said her company is exploring how to use Vine with its other clients, which include Broadway shows, museums, and sports brands such as Major League Soccer. "Vine is perfect for the social Web where everything is so fast and fleeting and you want something quick to grab someone's attention," she said.
Featured Venues/Suppliers: