How to Use Slack to Facilitate Networking at Conferences and Events
Find out how Social Media Marketing World used the messaging platform to help attendees find others with similar interests and issues.
May 3, 2016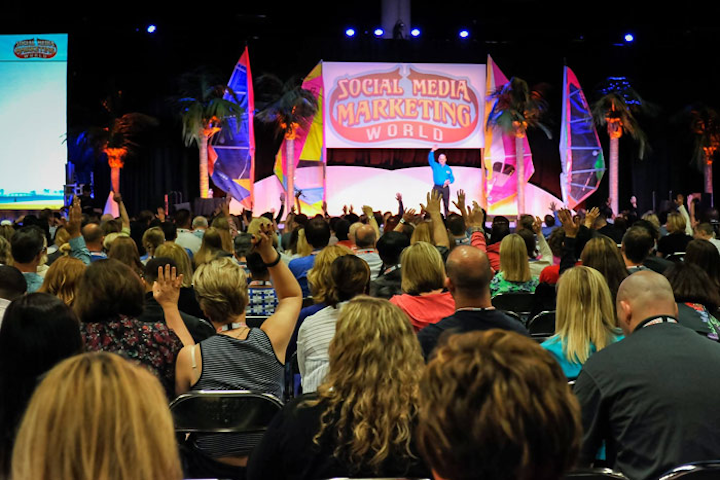 Photo: Courtesy of Social Media Examiner
As director of attendee engagement for Social Media Marketing World, Mike "Ambassador" Bruny is always looking for ways to help each of the 3,000 attendees have a meaningful experience during the three-day conference in San Diego. For this year's event, held April 17 to 19 at the San Diego Convention Center, Bruny tested a new tool to create connections among like-minded attendees: the messaging platform Slack. "My vision was how can I help you so you don't feel alone, and so you are connected with someone you want to be connected with," he says. 
In February, Bruny began informing registrants that they could create discussion groups—known as channels in Slack—on any topic that had at least five interested participants. Attendees could suggest channel topics by commenting in the conference's private LinkedIn group, responding to a survey, or emailing Bruny and his team members. Very quickly, he says, the requests started coming in. Some groups were industry-specific, for example channels for those working in education or banking, while others were location-based (attendees from Australia), and others were intended for content creators like bloggers and podcasters. Channels were also created for first-time attendees, for anyone attending alone, and for people staying at the satellite hotels. To generate interest, organizers posted information about how to sign up for Slack on the conference website and also shared the list of existing channels and of topics that had not yet reached the five-person minimum. By the time the conference began, they had 78 channels with more than 600 participants.
Most of the channels had a volunteer leader who served as the main point of contact with Bruny and who coordinated the online discussion. "The beauty there is they are all marketers, but there's the nuance of 'I'm in health care,' or 'I'm in real estate.' So by having a leader from within, they can get more specific, whereas I wouldn't be able to do that because I don't have that knowledge," he says. Channel leaders used a variety of techniques to engage participants, including weekly discussion topics, polls, video chats, and in-person meetups.
"We created these micro-communities, and people used them to find each other and to build real relationships," Bruny says. "One of the biggest questions I had was, once we step on site will people stop using it? And the answer to that was no." In fact, he says they had about 90 people join one of the Slack channels while at the conference, and most of the channels are still active now two weeks after the event ended.
For next year's conference, Bruny says he is planning to do more promotion of the Slack channels well in advance of the event.
Featured Venues/Suppliers: