Free Rides: How Major Events in Cities Are Making Attendee Transportation Easier
Events that draw mass crowds, including the Rogers Cup in Toronto and Dreamforce in San Francisco, have devised transportation strategies that include free subway rides and custom walking infographics.
July 18, 2019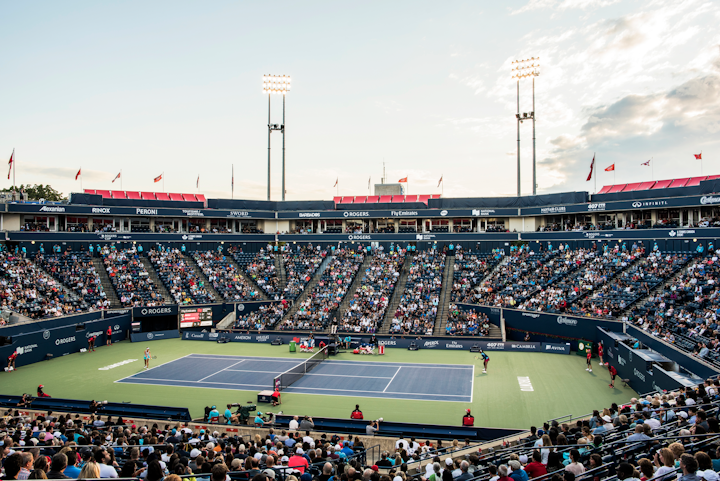 Photo: Courtesy of Tennis Canada
Whether it's a sporting event, tech conference, or music festival, a city event that draws mass crowds should have transportation strategies in place that ensure attendees can get to and from that event efficiently. Because in 2019, when events garner negative responses thanks to disorganized (or non-existent) transportation options, attendees will inevitably start drawing, well, Fyre Festival comparisons.
One recent example of transportation mishaps involved Miami's Ultra Music Festival in March. One of the largest electronic dance music festivals in the U.S., Ultra was evicted from its usual downtown venue and relocated to Virginia Key, an island accessible via one bridge, which is part of the city's Rickenbacker Causeway. The festival provided around 200 private charter buses as the main mode of transportation for ticket holders.
But on the first night of the festival, thousands of attendees walked miles home to their hotels and Airbnbs in the early morning hours. The festival didn't have a dedicated lane for festival buses open until 1 a.m., which left many who wanted to leave before midnight stranded. Ultra and the City of Miami changed the strategy for the remainder of the festival—bus lanes were opened much earlier and the event imrpoved communication and signage—but that didn't stop festivalgoers from tweeting complaints and videos of the disastrous first night.
The mode of transportation available for an event depends on the types of transit available in the host city. For the upcoming Rogers Cup in Toronto, organizers of the tennis tournament partnered with the Toronto Transit Commission to offer free subway rides home from the Aviva Centre stadium to people who present their ticket. (The annual tournament, taking place August 3 to 11, is one of BizBash's top 100 events in Toronto.)
Tournament director Karl Hale said the new initiative is possible thanks to the opening Pioneer Village subway station, which provides the most direct and fastest method of transportation to downtown Toronto from the stadium. 
"This is a best practice we have learned from attending other elite tennis events around the world. Our event in Montreal uses a similar process, but it wasn't until last year that this was even possible in Toronto," Hale said. "We hope the initiative will have a lasting, long-term effect. In the short term, though, it provides a new option for our guests and helps the tournament reach new demographics that were otherwise unable to attend."
Dreamforce, Salesforce's annual tech conference, draws an average of 170,000 visitors to San Francisco every fall. The massive conference provides free shuttles that stop at core hotels and key venues, as well as shuttles that take attendees to the Dreamfest benefit concert. But the method of transportation that organizers encourage the most is walking.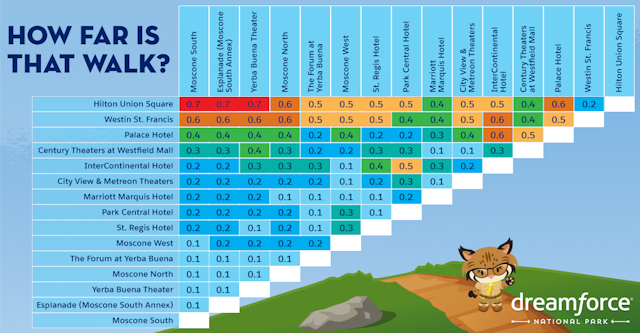 Dreamforce informs attendees the distance in miles between each conference venue with a colorful infographic.Graphic: Courtesy of Dreamforce

"San Francisco is a very walkable city and Dreamforce is in the heart of downtown, so we recommend that all attendees walk when possible," said Catherine Simmons, vice president of strategic events for Salesforce. "We also provide maps and directions for public transit, and encourage people to leverage local taxis and ride-sharing companies. We make sure that ride sharing companies are aware of the best drop-off/pickup locations. We also use pedi-cabs, which is fun for attendees and also sustainable."
For Dreamforce attendees who choose to walk, the conference offers a chart on its website that shows the distance in miles between each conference venue. The conference's Agenda Builder platform also offers travel time estimates between an attendee's scheduled sessions. A banner alert will appear on an attendee's enrollment page if there's a connection that could be tight. 
In New York, massive music festivals usually take place in public parks such as Central Park or Randall's Island Park, an island located between Manhattan and Queens. The annual Governors Ball music festival encourages attendees to use public transit and then walk the Triborough Bridge to the Randall's Island, but for those willing to pay a little extra, the festival provides limited tickets for ferry rides, which is the easiest way to get to and from the event.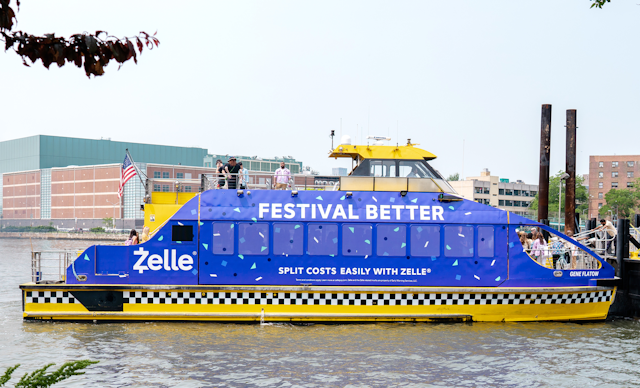 Zelle's branded ferry at the 2019 Governors Ball offered festivalgoers a party atmosphere on the way to the event, and a relaxing atmosphere on the ride home.Photo: Courtesy of Zelle

Governors Ball sponsor Zelle had its own V.I.P. ferry this year. This digital payment service's purple-painted boat had two types of experiences for festivalgoers. On the way there, the ferry offered a party atmosphere with a local DJ, photo booths, and a performance from brand ambassadors to hype attendees. On the way back, the ferry offered guests an opportunity to wind down by providing water and purple eye masks. 
While Governors Ball has numerous transportation options that tend to be efficient for getting on and off Randall's Island, severe weather can always be detrimental to a smooth operation. On the final day of this year's festival, evening storms forced organizers to cancel the festival early and evacuate the site. Ferry riders were stranded and had to wait until the storms passed, while people walking on the Triborough Bridge to the subway were caught in torrential downpours. 
For Hale and Simmons, communication is key when it comes to providing effective transportation strategy at events.
Simmons said it's necessary to provide as many transportation options as possible for guests, and to "make sure that directions are clear, and that all drop-off and pickup locations are easy to find and signage is highly visible."
"We try to communicate in as many forms as possible to our guests the various transportation options," said Hale. "Secondly, we consider and try to accommodate all forms of transportation. Finally, we over prepare for the peak times, when road and foot traffic is at its heaviest."