From Heat Waves to Blackouts: How Recent Events Handled Cancellations
Events in New York and Chicago have recently been canceled due to circumstances such as heat waves and power outages. While some events were rescheduled, other events were forced to refund attendees or host alternative programs.
July 25, 2019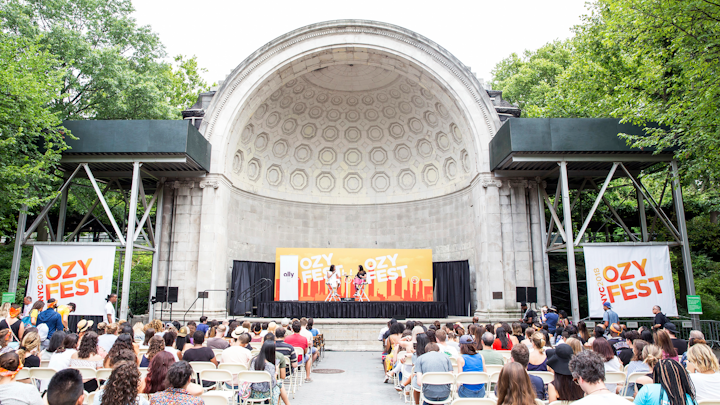 Photo: Joe Russo/Sipa USA via AP Images
Event cancellations and postponements due to unavoidable circumstances happen all the time. But this month, the event industry has seen an overt spike in cancellations of major annual events thanks to heat waves, blackouts, and, oddly enough, endangered birds.
Last weekend, a heat wave affected many parts of the U.S., with temperatures reaching the upper 90s and heat indexes rising well above 100 degrees. City officials in New York canceled numerous events, including the New York City Triathlon and Ozy Fest. The latter event, an annual cultural festival organized by Ozy Media, was slated to take place July 20 and 21 at Central Park's Great Lawn, much to the ire of many New York residents. The festival's high-profile headliners included John Legend, Megan Rapinoe, Trevor Noah, and Padma Lakshmi. 
As both Ozy Fest and the triathlon were slated to take place outdoors, organizers' contracts with the City of New York allowed city officials to make the final decision to cancel on the basis of weather hazards. In this case, the city canceled the events in the days before they were supposed to occur, as the National Weather Service issued an "Excessive Heat Warning," estimating heat indexes would rise above 105 degrees. 
After Mayor Bill de Blasio announced the festival was canceled, organizers posted on Ozy's website that it wasn't feasible to move the event to a different location on the same weekend, after reviewing options with the city. 
In a video posted to Ozy's website, co-founder Carlos Watson said the festival is working to find a new date for the event in Central Park this fall. Ozy also announced on its website and social platforms that all tickets would be refunded to the original form of payment by each ticket vendor. 
While Ozy Media declined to comment on the specifics of its contract with the City of New York, the Department of Parks & Recreation, which handles contracts for events in New York's public parks, provided BizBash information about the contract's force majeure clause. According to the contract, which was signed May 8, if Ozy Fest was canceled by the city due to severe weather, Ozy was entitled to a pro-rated refund of 75 percent of the fee it paid for each day the event was canceled. The contract also states that Ozy and the city aren't liable to each other for lost profits resulting in the cancellation.
If the event hadn't been canceled, Ozy would have been required to invoke a heat safety plan, according to the contract. In the week before Ozy Fest, organizers tweeted they planned to accommodate attendees by providing water, misting fans, and heat relief tents. 
The severe heat and potential thunderstorms on July 21 also gave cause for city officials to cancel the annual New York City Triathlon, which is part of the Life Time Tri series. Race organizers stated after "exhausting all options to mitigate athlete, volunteer, spectator, and staff exposure alike," they couldn't execute a safe event or provide an alternate race weekend. The triathlon's contract with the Department of Parks & Recreation also stated the event would not be rescheduled under any circumstances, "including cancellation due to inclement weather."
Despite the race cancellation, organizers were still able to hold the New York City Triathlon Sports & Fitness Expo (where race registrants could pick up their medals and T-shirts) and the Life Time Tri New York City Diaper Derby—a crawling race for toddlers—at the New York Hilton Midtown. On the day the race was supposed to take place, athletes, local coaches, and event staff instead gathered to distribute water and Gatorade at select locations across the city.
According to both Ozy Fest and the triathlon's contracts, both events were obligated to have insurance and show proof of insurance for commercial general liability, worker's compensation and disability benefits, and automobile liability.
Mayor de Blasio's office also informed New York street fair organizers that no permits would be issued for any outdoor events in the city last weekend. In an email, Mardis Gras Productions, which produces numerous street fairs throughout the year, said the decision was made last minute by the Mayor's Office to cancel their street fair on July 20 and 21, and it was out of their control. 
Chicago's annual beachside music festival Mamby on the Beach also was recently canceled, but not because of weather or a power outage. The Chicago Sun-Times reported organizers called off the festival due to a group of piping plovers, an endangered bird species, hatching on the Montrose Beach venue. Organizers battled with animal rights activists and the Montrose Lakefront Coalition to keep the festival venue, but ultimately decided to cancel the event, with rising waters in Lake Michigan also a contributing factor. 
"Despite working tirelessly with the Chicago Park District and U.S. Fish and Wildlife Services to find a new location, moving the festival at this late a date, while still providing a superior beach event experience, would be impossible and a disservice to fans and artists alike," organizers said in a statement. 
The festival, which is produced by Jam Productions and React Presents, was slated to take place August 23 to 24, drawing 20,000 attendees each day. Organizers said tickets would be refunded within five to 10 days after they announced the cancellation. 
The heat in New York wasn't nearly as dangerous on the evening of July 13, but many events in Midtown Manhattan and the Theater District were canceled due to a widespread power outage. StubHub reported that more than 1,500 ticket orders for 27 events that evening were affected, including a Jennifer Lopez concert at Madison Square Garden. 
Only two events of the 27 were rescheduled, including Lopez's concert, which was moved to July 15. For customers unable to make that show, the ticket exchange company automatically waived its sell fee when buyers re-listed the tickets on the website. StubHub's policy states that the secondary ticketer has to provide full refunds (including all fees) if a show is canceled; the company refunded more than $500,000 to ticket holders whose events were affected by the blackout.
Erik Marshall, a musician and partner at Hank Lane Music & Productions—an entertainment supplier that provides bands for live events and weddings—was playing a wedding in a Manhattan hotel when the power outage occurred. Marshall said after making sure his team was safe, they retrieved battery-powered instruments from an emergency equipment stockroom nearby, and continued playing.
Marshall said his team had a force majeure clause in their contract, but it didn't impact decisions after the event, as it was already in progress when the blackout happened. "The best advice to give other entertainment suppliers before they agree to play an event is to have a force majeure clause in their contract and understand what it means," Marshall said. "Having backup plans and battery-powered equipment never hurts, either."