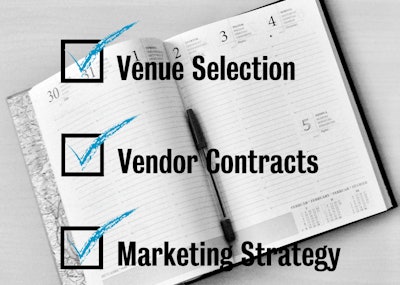 Photo: Michaela/Pexels
Planning an event requires obsessive devotion to deadlines. We asked event pros for their tips on timelines, from securing the venue to making a marketing plan, to ensure you're not scrambling at the last minute.
Choose your venue.
"Book your venue first because it is the framework of your event and will dictate how you approach all of your other event elements," advises Teri Kinne, founder of Teri Kinne Events in Los Angeles. "Book it a year in advance, that way you have first choice for the top venues. You can use the location as part of the marketing if it's a hot spot, and you will know what kind of vendors you'll need. An all-inclusive ballroom needs only music, flowers, and lighting added. A warehouse will need five times the vendors. Smaller venues like restaurants and empty spaces won't book more than a year out. If you're booking conferences at hotels, they will accept reservations over two years in advance."
However, securing a great venue at the last minute is possible. Kinne suggests, "One insider tip is if you get a pop-up event, sometimes you can book a premium space on a premium night, like Saturday, for below-market if it's less than three months out and they still have the date free."
Jan Michael Ramery, general manager at X7 in Miami says, "If you're planning a small or a large-scale event, booking nine months out to a year is highly recommended. Taking the time to do your research and gathering all necessary information will give you a better chance at making the right venue choice."
Decide on catering.
Kinne suggests choosing a caterer nine months in advance. "Food is one of the most important elements of your event. Once you save the date with your caterer, communicate the style of menu you're looking for such as exotic tasting stations or a traditional three-course seated meal. The caterer should send you menu options to choose from three months out. Select your options and have a tasting in the last 60 days before your event. I don't recommend making menu choices farther out than that, because product availability changes with the seasons and chefs change," she adds.
Dani Curiel, services manager at Whim Hospitality in Austin, Texas, advises, "You can continue tweaking the menu as needed throughout the process, but caterers should be a priority when booking your main vendor team right after venue and date are selected. Food and beverages are usually finalized with number of guests at the two-week mark."
Determine the event theme.
The theme should be finalized six months out, so you can begin outreach and confirmations of vendors, recommends Alyssa Rossetti of River Roast in Chicago. "It is important to create a plan based on event trends, location, and style of service. We host an event called Joy to July that we invite local meeting planners to promote our holiday packages and offerings, and our planning begins in January so we can coordinate linens, floral and decor, the band, and other partnerships. If we wait any longer, top vendors will be booked up."
Secure your rentals.
Securing rentals typically happens six months prior, according to Curiel. "Six months before the date, you should know your guest count, dinner service style, [and] venue, and should have a good grasp on your design plan to select rentals. If you book rentals farther out than that, you have the potential to change your mind or design plan. If you try renting closer to the date of the event, depending on the busy season, you run the risk of the rentals already being reserved and sacrificing your look because the inventory is unavailable," says Curiel. "Rental final counts are typically due two weeks prior to the event so you're only paying for what you need."
Contact all other vendors.
Plan to secure preferred vendors six months in advance and finalize all orders 30 days before the event, advises Kinne. She suggests that independent planners contact vendors immediately after signing a new client to have them hold the date. "This lets them know they are part of your team and they will give you preferred treatment," she says. "I always do that with my designer/florist especially. He consistently goes the extra mile for me and my clients, like when the client wants lanterns in the trees six hours before showtime."
Confirm the entertainment.
Speakers and entertainment can book up quickly, Rossetti suggests making inquiries early. "That typically happens four to five months out," she says. "Essentially the more lead time you have, the better chance you will have to get your top picks."
Outline your marketing and publicity schedule.
"Our public relations firm, Page One Public Relations, works about three months out when marketing and publicizing our in-house events," Rossetti says. Sending invites with ample time for follow up is also key. "When sending an invitation, plan for a month out with a follow up a week out to pick up last-minute R.S.V.P.s."
This story appeared in BizBash's Fall 2019 issue.