How The Atlantic Festival Created a Headline-Making Event
A dynamic speaker lineup—from Nancy Pelosi to Yo-Yo Ma to Arnold Schwarzenegger—gave the conference a sense of urgency.
October 21, 2019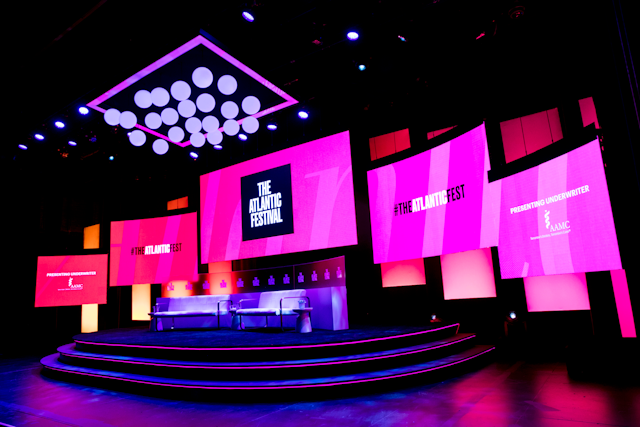 Design Foundry handled the event's design and production.Photo: Kristoffer TripplaarWASHINGTON—The Atlantic Festival took over a block of downtown D.C. in September, but the reach of The Atlantic magazine's multi-day speaker series went way further than that. On the opening day, September 24, Speaker of the House of Representatives Nancy Pelosi sat down to speak with the magazine's editor in chief Jeffrey Goldberg, just before announcing an official impeachment probe of President Donald Trump.
"There was such energy. The world was watching Nancy Pelosi that day," said Margaret Low, senior vice president of The Atlantic and president of AtlanticLive, which produces the festival.
The Atlantic Festival, reintroduced last fall from its previous incarnation as Washington Ideas Forum, often ends up at the center of the headlines. "Last year, the festival landed in between the [Brett] Kavanaugh hearings and the Kavanaugh vote. We were at the center of the action last year, with [Senators Jeff] Flake and Lindsay Graham," Low told BizBash. "This year we had the same incredible good fortune with the news gods just shining a light on us, which was extraordinary.
In addition to Speaker Pelosi, this year's lineup read like a who's who of bold-face names in the political sphere and beyond, featuring interviews with General Jim Mattis, YouTube C.E.O. Susan Wojcicki, cellist Yo-Yo Ma, and Disney C.E.O. Bob Iger. Former U.S. National Security Adviser Susan Rice talked about diplomacy, Arnold Schwarzenegger discussed gerrymandering, and N.B.A. commissioner Adam Silver sat on a panel about athletes and activism, amidst programming and conversations with more than 100 esteemed speakers.
"We are constantly trying to bring in the most fascinating people in the country and in the world," said Low, who with her team of 50 at AtlanticLive books the festival's more than 50 events, in addition to working with Goldberg and The Atlantic's newsroom to secure speakers. "We are always thinking about who has immediate relevance, who people in our audience and beyond would be fascinated to see," she said. "It's really a many, many months-long process booking the festival."
She added: "We had an extraordinary lineup but it's really one person at a time, it's a labor of love. It's high-touch. It just requires foresight and a lot of good fortune."
Another layer of complexity is that many speakers confirm late in the process, often the case in Washington. "Some of the biggest names confirm late. They don't know what they're going to be or what's going to happen. It's not always easy to get people to commit," she said.
But the list of buzzy speakers itself encourages sign-on, and speakers and audience members alike appreciate the fact that the festival's lineup feels like a live version of flipping through the pages of the magazine. "Importantly, and obviously, this is a politics and policy town, but I think one of the beauties of the festival is bringing people here who they might not ordinarily see—leaders and business and in tech and science, and the arts and culture. That's why the combination of Yo-Yo Ma and Nancy Pelosi was so magnificent," said Low.
More than 3,000 attendees visited the Atlantic Festival during its run from September 24 to 26 in Penn Quarter this year, with main sessions happening at the "Ideas Stage" at Harman Center for the Arts, Sidney Harman Hall. Events also popped-up at the "Facebook Exchange Stage" at next door restaurant Rosa Mexicano, while Kimpton Hotel Monaco played host to the Booz Allen Hamilton Innovation Stage, reception space the United Airlines Studio, and a bookstore.
Attendees checked in at Festival HQ at the Arena across from Sidney Harman Hall, a new feature this year, with registration desks and a photo booth that incorporated The Atlantic's cover. Also new this year: more multimedia effects on-stage during sessions and an emphasis on evening events, like a screening of documentary Why We Hate, musical performances at a "Yo-Yo & Friends" concert, and a special edition of Pop-Up Magazine to wrap up the festival. A new "Networking" ticket granted admission to programming beyond the main Ideas Stage, geared toward those who couldn't leave work to attend daytime events.
The AtlanticLive team is already considering next year's lineup, and Low has one piece of advice for anyone planning big, multi-day events. "The experience of what happens on the stage is vitally important, but the experience off the stage [for] the audience and speakers is just as important," she said.
VENDORS
Audiovisual Production: CMI AV, Frost DC (Welcome dinner), RCI Systems
Catering: Compass Coffee, Occasions Caterers, Susan Gage Catering
Consultant: Invisible Hand
Design, Decor, Production: Design Foundry
DJ: DJ Neekola (After-hours event)
Event Management: GroundWork Events
Floral: Allan Woods Flowers (Welcome dinner)
Makeup: Best Face Forward
Onsite Bookstore: Kramer Books
Photography: Kristoffer Tripplaar Photography
Printing: CSI
Registration, Mobile App, Website: Bizzabo
Security: LGC Security, Osen-Hunter Group
Staffing: GCG Event Partners
Tenting: Loane Brothers (Welcome dinner)
Venue: Kimpton Hotel Monaco, Rosa Mexicano, Sidney Harman Hall
Webcasting: Summit Webcasting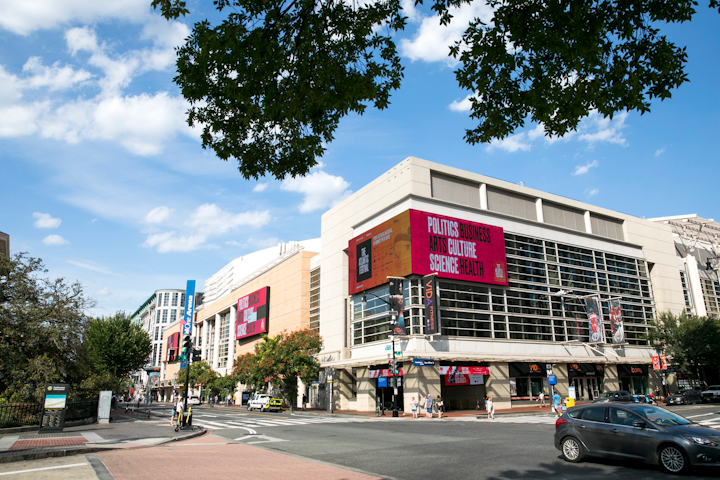 Photo: Kristoffer Tripplaar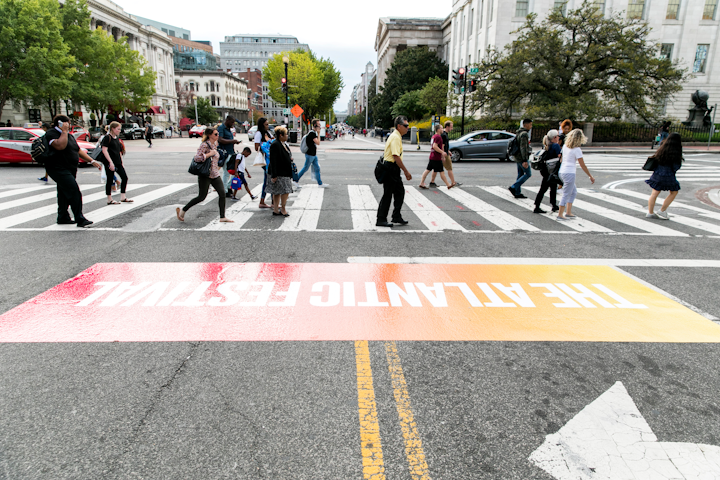 Photo: Kristoffer Tripplaar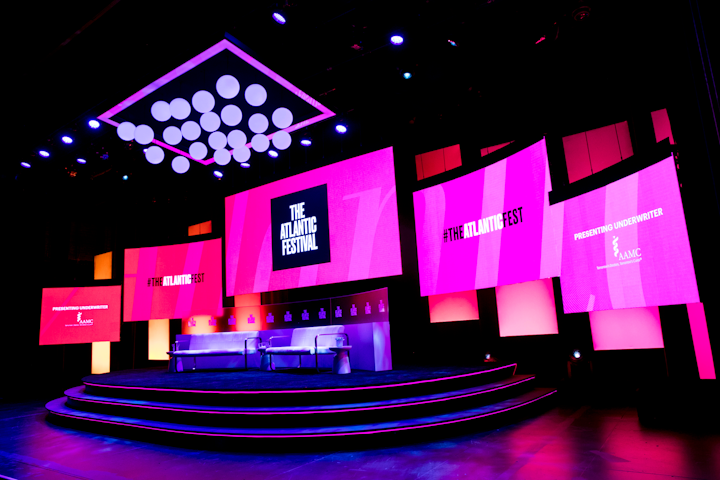 Photo: Kristoffer Tripplaar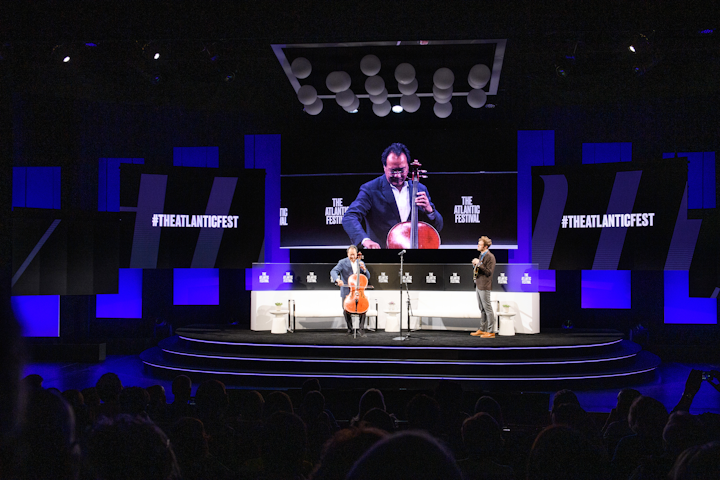 Photo: Kevin Dietsch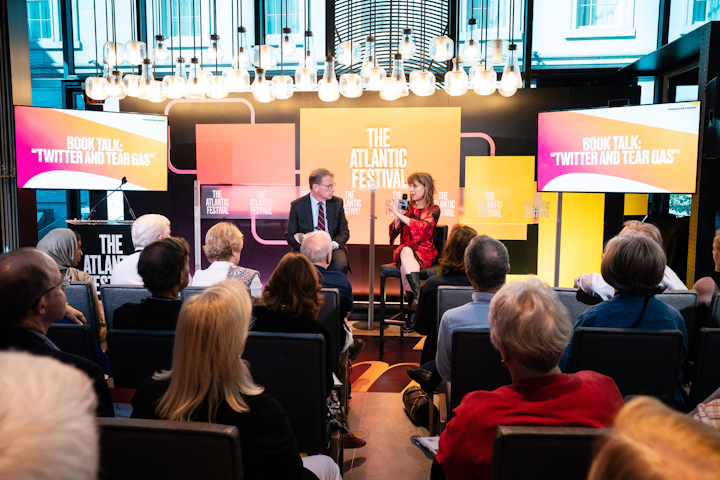 Photo: Kevin Dietsch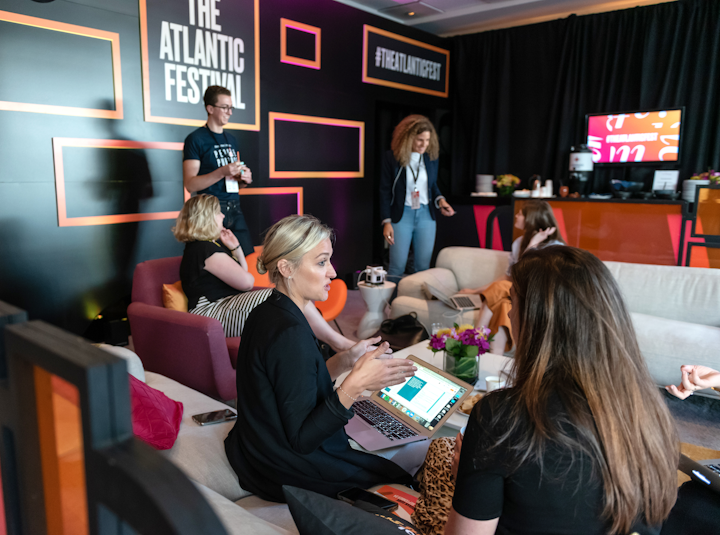 Photo: Kristoffer Tripplaar