Why This Virtual Food Festival Served More Than Just Desserts
Digital Dessert Goals offered an online version of the sweets-packed event complete with baking demos, panel discussions, and an ounce of awareness.
August 5, 2020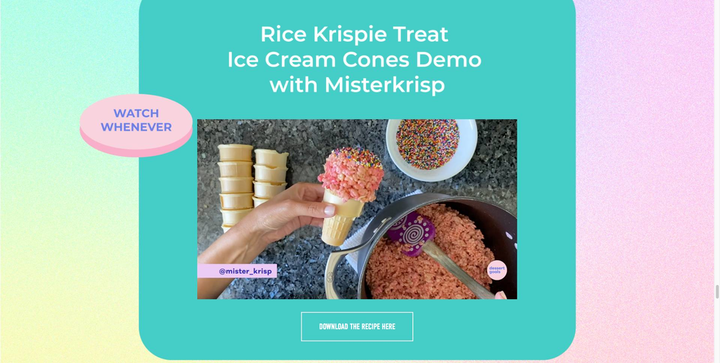 Photo: Courtesy of Dessert Goals
Like most recent in-person events, this year's Dessert Goals festival, which was originally scheduled to take place in New York in May, went digital. To do that, organizers of the sweet bicoastal festival had to figure out a way to translate that sugary goodness across the internet. 
"Educating our audience on what the experience will be like has been the biggest challenge," said Dessert Goals founder Miraya Berke. "Our past attendees think of Dessert Goals as eating desserts and taking beautiful photos in a high-energy environment. We've tried to bring over as many aspects of our in-person event experience to this safe digital event by featuring small businesses in the virtual marketplace with bright colors and engaging activities. But I do think it has been a challenge for people to comprehend what an online dessert festival is."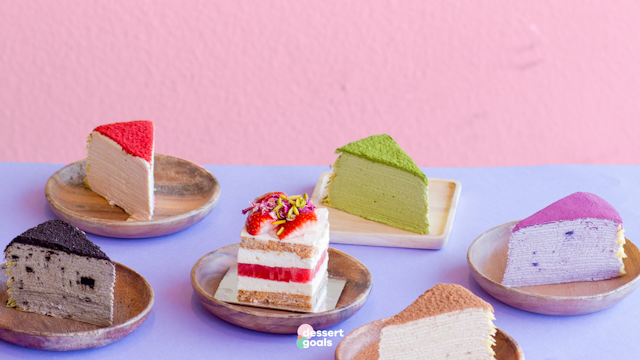 Branded Zoom backgrounds were made available to attendees.Photo: Courtesy of Dessert GoalsWith a Lisa Frank-esque "Creamsicle Dreamsicle" theme, the two-day Digital Dessert Goals, which was held July 31 and Aug. 1 and streamed via Vimeo and Zoom, featured panel discussions, baking demos, and plenty of opportunities to satisfy a sweet tooth—either virtually or via mail order. As part of admission, festivalgoers received access to a virtual marketplace with treats and discounts from over 20 vendors, plus recipes and shopping lists for the demos.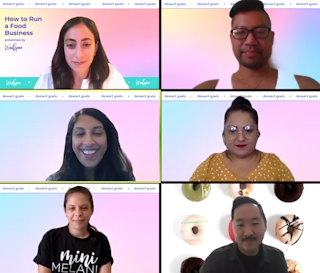 Panelists offered advice on how to run a food business.Photo: Courtesy of Dessert GoalsThis year's festival also went beyond bon-bons. In an effort to raise awareness and support causes central to the Dessert Goals community and the hospitality industry, the event was sprinkled with activism, including a conversation between Willa Pelini, co-founder of Bakers Against Racism, and Melanie Lino, co-owner of Lit Coffee Roastery & Bakeshop.
Founded by three Washington, D.C. chefs, Bakers Against Racism is a network of professional and at-home bakers who host micro bake sales across the country to raise money for the Black Lives Matter movement.
"I was so inspired and blown away by the enthusiasm and support from the baking community," Berke said about the Bakers Against Racism initiative. "They've reminded us how desserts can bring people together, and together we can make a change. The bake sale, so simple and nostalgic, became a catalyst for individuals to do their part by baking or purchasing baked goods, donating, and raising awareness to support the Black Lives Matter movement. We wanted to give Bakers Against Racism our platform to continue amplifying their message to our dessert-loving audience."
In addition, the interactive programming lineup, which was a mix of live and pre-recorded content, included sweets-related offerings such as a cocktail demo with Tipsy Scoop, a nail art tutorial with Sip Shop Eat, a panel on operating a food business, a live baking demo with Red Velvet NYC, and even a morning workout with Pound.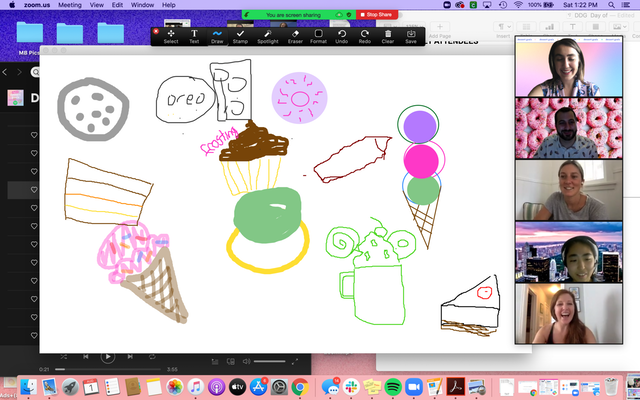 Attendees drew their favorite desserts in the Slack channel.Photo: Courtesy of Dessert GoalsAttendees who tuned in over the weekend also had access to a Slack platform that included different channels such as #demos and #panel-and-keynotes where attendees could connect with each other, as well as #share-your-Instagram and #meet-each-other where guests could promote their business, share their Instagram handle, and ask questions.
Berke also offered free festival access to 200 frontline workers and out-of-work hospitality industry professionals. "So many people have been impacted by COVID-19, especially in the healthcare and hospitality industries. We wanted to ensure that anyone who wants to attend Digital Dessert Goals is able to and that their financial situation isn't a barrier," she explained. "One of our goals with Dessert Goals has always been to create joy, and especially now we all need moments of fun. … [it] felt like a way for us to give back and spread more joy."
Tickets to Digital Dessert Goals will remain on sale through Aug. 8 on DessertGoals.com, and the programming will be available to view through Aug. 9. A dollar from every ticket is donated to No Kid Hungry.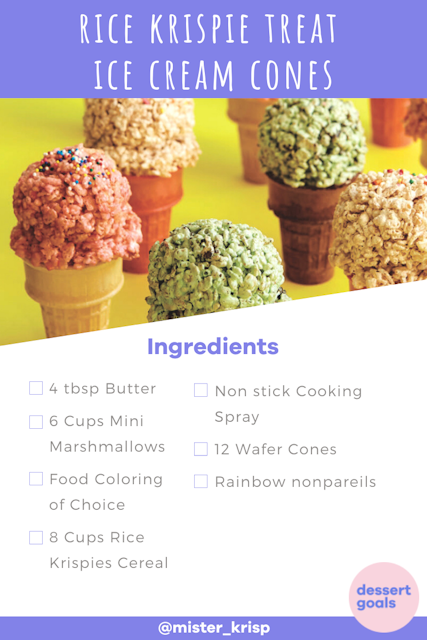 Attendees were able to download recipe cards for each of the demos.Photo: Courtesy of Dessert Goals