4 New Trends in Event Tent Flooring
March 7, 2013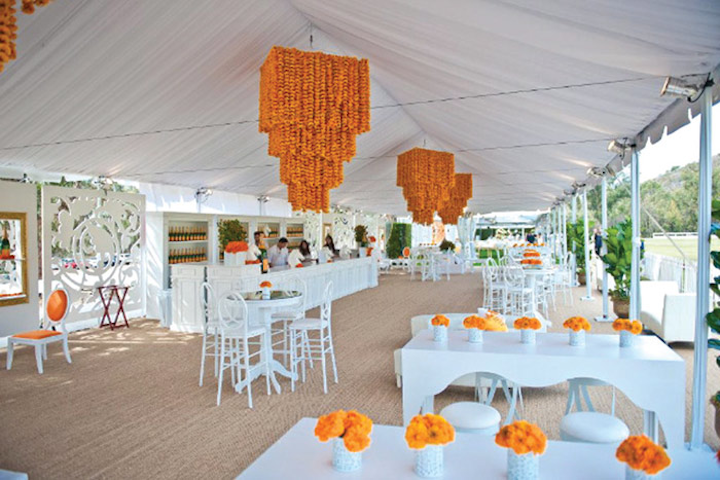 Photo: Courtesy of EventDeck
As stylish and functional options have grown in recent years, tent flooring has morphed from an afterthought to a sought-after accessory for event designers. Jeff Brown, owner of BrownHot Events in Los Angeles, argues that flooring is one of the most eye-catching elements of event decor. "Convention teaches us that if we distract the eyes upwards, guests won't notice what they're stepping on," he says. "But we beg to differ."
Flooring companies—not surprisingly—say event designers are paying more attention to what's underfoot. "Clients are designing to utilize flooring in more experiential ways by creating messages with it—using flooring to help convey a theme is big this year," says James Zacharias, senior events manager at Brumark. Likewise, Arnon Rosan, C.E.O. of Signature Systems Group, says, "From custom color carpeting and flooring, to logo rugs, to elevation changes that add architectural and textural variation, the tent floor has grown in importance."
Beyond its aesthetics, temporary flooring has other purposes. "It's one of those event elements where function and form must collide," Brown says. "Though its appearance is integral to the visual landscapes we're creating, the flooring must be durable, safe, and secure."
Flooring companies are responding to event designers' demands for style and function with new products that are aesthetically pleasing as well as durable, economical, and easy-to-install. Here are four trends and innovations in tent flooring.
1. Branded flooring
For trade shows and events, the standard gray portable floor look is out, and custom logo floors are in. "With the onset of better printers and base materials, we are able to provide more experiential flooring solutions," Zacharias says. His company's Flex Floor Clear Choice is a lightweight, rollable floor made of clear polyvinyl; the back side can be printed with full-color custom prints that are visible through the clear vinyl but protected from being walked or driven on. Companies are also creating more corporate logo rugs designed to be laid over standard temporary flooring for a custom look.

2. Interchangeable surfaces
Flooring companies are coming up with affordable ways to get multiple looks out of one subfloor. Brumark has developed and manufactured its Altitude raised flooring system, which features 3- by 3-inch panels covered with an interchangeable vinyl surface that can be reprinted. "The adhesive we use is releasable, which allows the vinyl tiles to be removed and reapplied, so the user can repair electrical holes or service multiple clients' needs and requests with one base floor," Zacharias says.

3. Concealed cords
Getting power to various areas of a tent used to involve running cords atop the floors and down the walls. New floor options such as ArmorDeck (which was used at the Olympic Stadium in London) are equipped with cable channel panels. "Before ArmorDeck was developed, it was hard to imagine something like it," says Terry Ross, owner of Crowd Control Depot, who reports a huge demand for the product since the company introduced it in 2011. "Up until now, the choice has been to run the cables above the floor or beneath it. With cable channel panels, planners can now hide the cables under the floor once it has been laid down."

4. Texture
New textured flooring options allow temporary floors to have a residential feel. For Veuve Clicquot's Polo Classic event in Pacific Palisades, California, last October, BrownHot Events used "Seagrass," a real sisal carpet option with a woven texture from Signature Systems Group. Also available is "Sisal Elegance," a carpet with an organic, woven texture that resembles real sisal at a more affordable price. Brumark's FlexFloor also offers the look of real wood and slate at a reasonable price with its Exotic Hardwoods and Stone Works collections.
Featured Venues/Suppliers: