Watch: How a Fashion Brand Turned its Holiday Catalog Into a Tech-Fueled Live Event
Guests at Roots Canada's fashion show could purchase items as models presented them on stage using an app that responded to ultrasonic sound waves.
December 6, 2017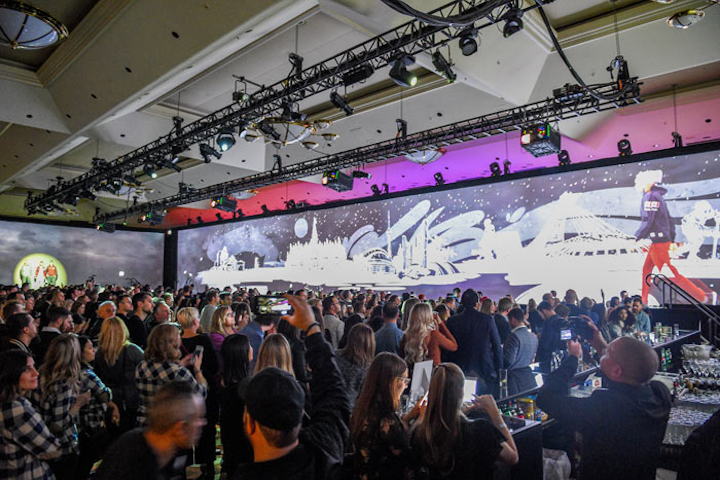 Photo: George Pimentel
Rather than passing along a traditional holiday gift guide to press and influencers, this year Canadian fashion brand Roots staged an immersive, 4-D event that combined fashion, live music, art, technology, and mobile e-commerce.
About 600 influencers and members of the press attended the brand's "Northern Light" event, which took place November 21 at the Fairmont Royal York Hotel. The event featured a mix of live and digital models walking down a runway set against the backdrop of three massive screens, which presented changing animations of Canadian landscapes. Roots' video design team—which includes Natalie Fagan, Andrea Suarez and Kelsey Parker—handled the event's decor and design, which aimed to bring to life the brand's 2017 holiday catalog and was developed by Blue Ant Media.
Guests were invited to purchase catalog items as soon as they appeared on stage through a custom app. At the start of the show, guests were prompted to take out their phones and open the "Roots Live" mobile app, which they could download prior to the event. Live music from artists including violinist Andrew Forde and singer-songwriter Ruth B. prompted the app to pick up on ultrasonic sound waves in the room—similar to the music-identifying app Shazam—and populate phone screens with the products appearing on stage. Attendees could purchase items immediately using Masterpass by Mastercard, or save them in the app to buy later. The app was developed by Soundpays, a Toronto-based software company that specializes in harnessing ultrasonic sound wave technology to create commerce channels that give users a "see now, buy now" element on their phones.
"We wanted to surprise and delight our guests of the event, and create a unique shopping experience, which was reflective of our brand and core values as a company and an industry leader," said Elyse Goody, manager of public relations and giving for Roots Canada. "We wanted to create a new commerce channel; one where users can instantly purchase products on their mobile device by detecting sound. The show was a way for us to experiment our capabilities within the digital space and utilize the technology of the 'Roots Live' app."
The brand also live-streamed the event on Facebook, which garnered 170,000 viewers worldwide—including viewers in the United States and Taiwan—and gained more than 11.5 million digital impressions. Goody said the brand plans to harness the technology in future campaigns and activations.
"We took a risk with the execution of this program and event, but we are truly excited by the results of the campaign thus far," she said.
See how Roots Canada brought its holiday catalog to life at the experiential show below.
Featured Venues/Suppliers: