White House Holiday Decorations: Bold and Festive, Creepy, or Just Plain Tasteless?
Event designers shared their thoughts on this year's White House holiday decorations, which drew varying opinions on social media, and naturally generated new meme content.
December 5, 2018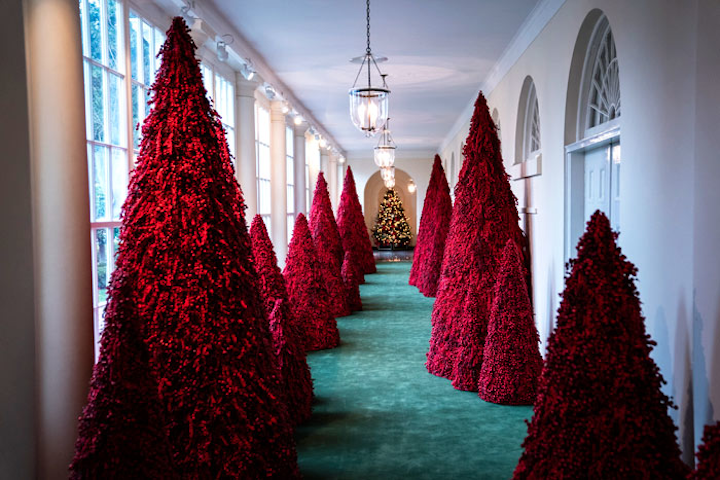 Photo: The Washington Post/Getty Images
Last week, the White House unveiled its 2018 holiday decorations, which reminded many people on social media of a film one would watch on Halloween rather than Christmas. The decorations are highlighted by a hallway lined with 45 red trees—made with Styrofoam and cranberries—which immediately spawned a Twitter meme that compared the trees to handmaids from The Handmaid's Tale, the hallway scene in The Shining, and even the Yip Yips from Sesame Street.
The Trump administration, known for having somewhat unconventional holiday decorations, conceptualized the theme of "American Treasures," which also feature ornaments promoting first lady Melania Trump's Be Best anti-bullying campaign; gingerbread replicas of Washington monuments; and a wreath created with pencils displaying the Be Best logo. The decorations were executed with the help of a team that included an Ohio florist, who was surprised by the negative opinions the decorations received online.
Given the reactions to the decorations, BizBash reached out to event designers from across the country to get their opinions on this year's decorations, how they would have handled the "American Treasures" theme, and general decor dos and don'ts for holiday events this year.
Christopher Confero
His thoughts on the White House holiday decorations: I truly think that the occupants of the White House guide overall opinion rather than the decor itself. It's art and design. It's relative to the eye of the beholder. If our current president were loved, the decor would be heralded as a triumph. But since most want to paint the first lady as a villain, the red trees are ridiculed rather than revered. While being charged with designing the White House Christmas decorations is the ultimate showcase, I feel the decor should speak harmoniously with the heritage of the house, rather than be a moment to showboat. With the exception of the East Colonnade disaster, I enjoyed all of last year's decor more than the current. The flocked trees in Cross Hall and the blue and gold tree in the Blue Room were all such beautiful statements but didn't distract from the historical surroundings.
How he would have handled the decorations: I can easily say I would have changed every single thing. While I adore the 2016 hanging ribbon treatment in the East Colonnade by my friend and colleague Bryan Rafanelli, I would take a more traditional approach—and traditional I am usually not. No matter who is sitting in the Oval Office, the decor is designed for the house itself. There is so much history and it should be respected. There is a way to showcase classic style and still have it speak to today. Though, the floral replicas of Bo and Sunny, the Obama family's pets, were brilliant.
His holiday decor dos and don'ts: Do what makes you happy. Do it well, but learn how to exercise restraint. The holidays are a time of such excess and that isn't why we celebrate. Trends aren't long lasting and end up being a waste of time and money. If you want to spice things up, add a new ribbon color to your mix. Don't buy a purple tinsel tree that you are only going to use one time. Invest in decorations with meaning and longevity. When you unpack those pieces each year, it will put a smile on your face and warm your heart.
Confero is founder of Confero, an event planning and design company based in Atlanta. Clients have included Louis Vuitton, Brownell Travel, and Grand Bohemian Mountain Brook. 
Erica Taylor
Her thoughts on the White House holiday decorations: Honestly, removing the political context that rightfully colors every action taken during this administration, I think this year's White House decorations were lovely and interesting. For example, the oversize red ornaments at the base of trees in the Cross Hall presented a unique way to incorporate ornaments without pushing things too far from tradition. I found the use of pine swags as a festive rope to protect the decorated tree in the Blue Room to be a very clever marriage of form and function. Indeed, the lasercut silhouettes of iconic city skylines in the East Room added a modern touch to the otherwise very traditional golden space. And even though the slogan makes no sense and we've seen little-to-no effort put toward it, the D.I.Y. touches touting Melania's Be Best campaign in the Red Room were well done and did convey the playful, childlike spirit they were going for.
Of course, the decor that got the most attention in the media and online was the collection of cranberry topiaries along the East Colonnade. I saw a range of colorfully Photoshopped references—everything from the trees as handmaids' uniforms to Carrie's bloody prom scene and the elevator opening in The Shining, which was a double-whammy for Stephen King. I actually thought the red trees were the most interesting and unique elements of the entire holiday tapestry. A big risk, to be sure, but playing outside of the safe and expected is what keeps design exciting.
My biggest issue with this entire production is that this year's design was entitled "American Treasures" with a lofty mission of "celebrating and displaying the country's unique heritage." But at the intersection of art imitating life, the holiday decor was revealed on the same day federal teams were tear-gassing families at the Southern border. The optics around that timing boggle the mind. So suddenly, the vibrant and colorful celebration of our nation of immigrants seems like a sad, shallow window display that could be blown over with a strong gust of wind. As edgy as I found the red trees to be, certainly, the Internet's cutting assessment that they are the stuff of Gilead nightmares seems completely accurate, topical, and well-deserved. Objectively, the decor was well done. But art and design never exist objectively.
How she would have handled the decorations: What a dilemma! As a designer, of course, it would be an incredible honor to be invited to decorate the White House. What a career milestone and opportunity to really elevate a brand. But under this administration, I don't think I could bring myself or my awesomely diverse team to walk through the doors. We pride ourselves on having built an army of artists largely comprised of powerhouse women, first- and second-generation immigrants, and members of the L.G.B.T. community. The current administration stands in stark opposition to the values that our creative community stands for. But again, taking my own deeply felt politics out of this or imagining this question in situ of a very different White House, I would have suggested more "breadcrumbs" of the cranberry topiaries throughout the other rooms as a visual thread. Having those elements live in artistic forms and vignettes elsewhere would have made the larger reveal of the tree colonnade less of a shock and more of a surprise-and-delight finale.
Her holiday decor dos and don'ts: Do have some fun with your decorations and flip traditions on their head. We are loving the trend of floral garlands on Christmas trees and playful sculptural menorahs. 
Don't use holiday decor to highlight the hypocrisy of your supposed values when you "really don't care." Also, don't be afraid to play with scale, especially if you have a large room or high ceilings as a setting. Bigger is better.
Do explore color blocking to make a big visual impact. Don't feel beholden to pine and fur trees. Cacti, palms, and fig trees deserve holiday love, too.
Do throw the "Be Best" slogan in the garbage in 2019. It is meaningless and superficial. 
Do include colorful elements that feel festive to you even if they aren't traditionally holiday details—we love holiday disco balls, peacocks, origami paired with conventional pine, and holly boughs.
Taylor is partner and chief marketing officer at Tinsel Experiential Design, a New York-based event design, production, and planning agency. Clients have included Vogue, Spotify, Mercedes-Benz, and Samsung. 
Jeffry Roick
His thoughts on the White House holiday decorations: There is no fluidity to the design. We think the self promotion of Melania's campaign is done in bad taste. It should be about the holidays and nothing else. The red trees immediately have a negative connotation of gore. It is not friendly. Sadly, they look as if they are covered in blood. Perhaps with lighting they could have to come to life.
How he would have handled the decorations: We would have kept it fluid on the design with a flow from one room to the next. The theme of Christmas should be joyful, celebratory, and not of self promotion. We do like the gobo projections utilizing the height of the ceiling and drama it creates, the traditional ornaments, and the trees done in traditional red and green and gold.
His holiday decor dos and don'ts: Don't do red trees without lights.
Do be consistent with the overall design, keep it joyful and festive, and start with a theme; whether it is color, or an era such as traditional or contemporary, and then start to design the whole space as one. 
Don't go off track from your overall design.
Roick is the director of McNabb Roick Events, an event design and management company based in Toronto and New York. Clients have included JPMorgan Chase & Co., Citi, American Express, and Chanel. 
Kristin Banta
Her thoughts on the White House holiday decorations: Though I'm not usually one to support much of anything about this particular administration, overall I think this year's holiday decor treatment offers a successful bridge between traditional and modern. It is both fashion-forward and fresh.
How she would have handled the decorations: I do not agree with the inclusion of propaganda from the Be Best campaign within the holiday decor composition; however, I absolutely loved the red trees—couture, modern, dramatic, and highly memorable. The fact that red was the color selected for the trees—as opposed to the expected white—along with the absence of any ornamentation, and then placed repeatedly down the length of the hall, was a simple choice but an explosive design statement. I would not have changed a thing.
Her holiday decor dos and don'ts: Do explore unexpected materials and simplifying your holiday decor, using only one or two elements done en masse for drama and effect.
Don't feel restricted to tradition—get creative.
Banta is the creative director of Kristin Banta Events, a Los Angeles-based event planning and design company that has recently produced and designed events for Bumble, NextVR, and the film Crazy Rich Asians. 
Debi Lilly
Her thoughts on the White House holiday decorations: The White House holiday decor is so iconic. Each year we wait with baited breath to see what they've designed for the season. I loved many elements, including the glowing gold and white florals in the State Room, and the nod to their New York roots with the urban nativity scene in the East Room. And who doesn't love long gallery hallways filled with sparkle and shine?
How she would have handled the decorations: I would have warmed some things up a bit. A little dose of hygge cozy would have been the perfect welcome, wintery vibe in the East Colonnade full of red berry trees. I love the idea, if my own design were requested, of layering in thoughtful regional touches to be inclusive to every part of our country. For example, rooms reflecting Pacific Northwest or New England with gathered, repurposed snowy pinecone and birch bark topiary, ornaments, and Instagram-worthy moments. Southwest would have silvery air plants, succulents, and manzanita "chandelier." And the West Coast would be farmers market produce chic—towering pyramids of Satsuma mandarin and American grown florals.
Her holiday decor dos and don'ts: We love fresh, fun twists on traditional holiday decor. Towering balloon sculpture trees in mint and blush, and ombre florals down the dining table or mantle. It's finally peony season again—so add that pop of pretty pink in everything.
Lilly is chief eventeur at A Perfect Event, a Chicago-based event planning and design firm. Clients have included Oprah Winfrey, Lamborghini, Dom Perignon, and the American Heart Association.
Jacquie Romano
Her thoughts on the White House holiday decorations: I saw the backlash against the red trees and have to say, I agreed with it. When we design a festive holiday space (even if it's unconventional) our top priorities are the guest's experience and our thematic design execution. For guests, a hallway filled with massive red trees can translate as overwhelming rather than welcoming—a hallmark of the season. "American Treasures" is a dynamic theme choice with a lot of potential, but plain red trees missed the mark.
How she would have handled the decorations: If I were designing the White House holiday decorations, I would definitely make it a celebration of colors. Red and green are obvious choices, but I personally prefer to take risks while designing. Instead of going a more traditional route, I would embrace a neutral base for the holiday staples and add pops of color to highlight all the details. Not only are the details the most important part of design, but a colorful palette of pinks, yellows, light blues, and metallics would be a way to embrace all of the different celebrations of the season. Colorful accents aren't just festive—they are cheery and fun!
Her holiday decor dos and don'ts: I am all about a good pun, and my cup is literally runneth over when it comes to putting a spin on the holiday classics. Incorporating puns, whether in cocktail napkins, photo moments, or even in decor, will have your guests laughing all the way.
Romano is project manager at Sequence Events, a New York-based events agency. Clients have included TEDx, Lego, and Foot Locker. 
Jaime Geffen
Her thoughts on the White House holiday decorations: My overall opinion is that I do love the richness and the colors. She used reds, greens, blues, and other jewel tones to warm the space. Last year, the hallway trees were cold and sterile; this year the color really popped. However, I am not sure the style of the trees really works with the rest of the decor. They are very modern and the other decor is traditional.
How she would have handled the decorations: Jewel tones are my favorite for the 2018 holiday season. So yes, I would have incorporated the same color scheme but I would have made the overall look and feel a bit more chic and modern. One way to do this would be to use more metallics, sparkle, and some interesting geometric shapes, while also adding some whimsical elements.
Her holiday decor dos and don'ts: Create a "wow" factor for your event, which will turn into an Instagram-friendly moment.  In my opinion, the gingerbread house at the White House is just that "wow" moment. I think it was incredibly appropriate to update the traditional gingerbread White House by adding replicas of the Lincoln and Washington monuments, as well as the Jefferson Memorial and the U.S. Capitol.
Don't try too hard. It is okay to take a little decorative risk but do not opt for over the top extravagance. You want it to feel warm and inviting for your family and guests.
Geffen is the owner of Geffen Events, a Los Angeles-based experiential design and production firm. Clients have included Disney, Amazon, Netflix, and U.C.L.A.NoImage
Bridget Frizzie
Her thoughts on the White House holiday decorations: The decor this year is very modern, elegant, and powerful. Red has traditionally been an iconic color of the season—here we see it used in a very contemporary fashion, like previous executions by designers such as Jeff Leatham in 2015, when he produced all-red decor at the Four Seasons Hotel George V, Paris to rave reviews.
How she would have handled the decorations: As with every project we take on at Kehoe Designs, the design and feel all begins with the wishes of our client. Once we understood the end goal, our creative team would get to work on bringing that vision to life as well as adding the Kehoe Designs' signature twist. As a color consultant, I can say red is the right color for these times. In addition to being one of the primary colors associated with the season, it's also associated with the American flag. It's a color that raises your temperature, and has life-sustaining connotations. I think we would have supplemented one or two areas that would have added a multidimensional technical element—to create a fully immersive experience for those visiting the White House this holiday season.
Her holiday decor dos and don'ts: We are designing such an array of holiday design styles for our clients. There really is no right or wrong.
Frizzie is creative director of Kehoe Designs, a Chicago-based event design company. Clients have included the N.F.L., C3 Presents, and the Sheraton Grand Chicago.
Featured Venues/Suppliers: