Odyssey America Goes Medieval With Castle Setting
Regal decor, actors in period costume, and a feast fit for a king created a stately ambience at the reinsurer's client appreciation dinner.
February 15, 2006
Odyssey America Reinsurance Corporation
hosted a client appreciation dinner at
Casa Loma
, a medieval-style castle commissioned by Toronto industrialist
Sir Henry Pellatt
and completed in 1913. With soaring battlements and secret passageways, Casa Loma is a one-of-a-kind structure borne out of Pellatt's great appreciation for European art, architecture, and all things military. Odyssey administration manager
Sheila Jones
tapped
Amanda Navarra
, vice president of
Presidential Gourmet Fine Catering
, to help her plan the dinner. Not surprisingly, they elected to go with a medieval theme.
Caterwaiters from Presidential passed appetizers such as boursin cheese,.phparagus, and truffle wrapped in phyllo purses as guests poured in past the
Adventures in Catering, Chaos A La Carte
film crew shooting footage for a segment on the catering company. Actors in period costume—including a court jester—from
Arato Events
strolled casually throughout, chatting and acting like they lived there.
Dinner, served in the library, was presented on rectangular tables laid end to end banquet-style.
Designing Trendz
supplied table runners made of billowy cream-coloured fabric. Other decor included floral arrangements atop silver candelabra centrepieces interspersed with matching floral arrangements at table height.
The original decor plan called for open candles on the tables, but venue management ordered them removed in accordance with its no-open-flame policy. Fortunately, the venue was able to substitute hurricane lamps, allowed because the candle flame is encased in glass. The menu included roasted pork loin with apple and chestnut stuffing, leg of lamb studded with garlic, and roasted turkey legs.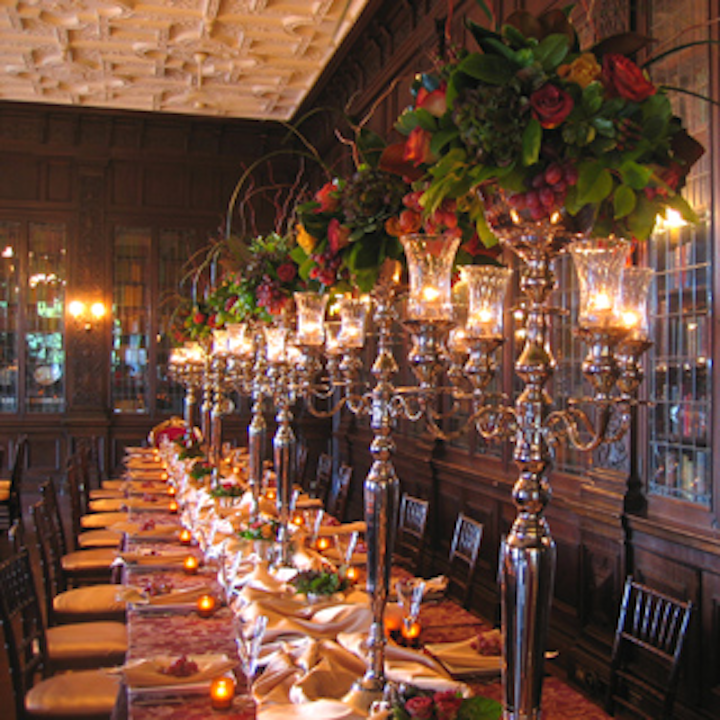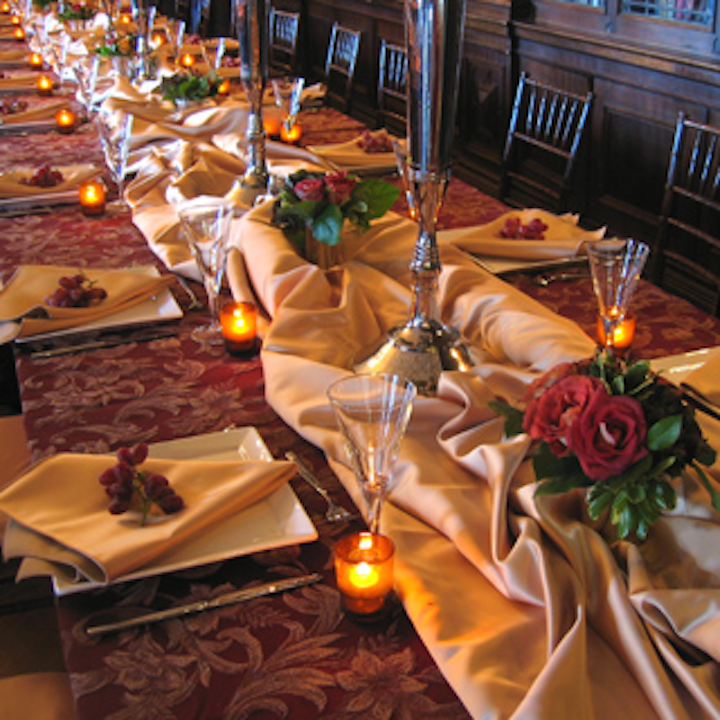 Featured Venues/Suppliers: