Belvedere Installs 20-Foot Tree-Shaped Lights in New York to Promote World AIDS Day
December 5, 2012
Despite its celebrity guests, trio of specialty cocktails, and free one-hour Chromeo concert, Belvedere's promotion in New York on November 29 was more than just a branded holiday stunt. Committed to achieving an AIDS-free generation by 2015 in partnership with (Red)—the campaign founded by Bono and Bobby Shriver to fight H.I.V. and AIDS in Africa—the vodka brand staged an awareness-oriented takeover of the meatpacking district that turned Gansevoort Plaza into a winter weather nightclub.
"Only a Scotsman would plan an outdoor concert at the end of November," joked Belvedere president Charles Gibb during his speech from inside a heated V.I.P. reception at the adjacent restaurant Bagatelle. "But cold is just a sensation that reminds us we're alive."
As the second year in Belvedere's four-year campaign with (Red), last Thursday's event aimed to generate buzz around a limited-edition red metallic bottle of the brand's unfiltered rye vodka, half of all sales from which benefit the Global Fund to Fight AIDS. According to Gibbs, Belvedere's fourth-quarter holiday, gifting, and duty-free sales in 2011 supplied more than two million days' worth of life-saving drugs, affecting the lives of an estimated 3,500 H.I.V.-positive mothers in Africa.
"I'm really proud that the brand I'm responsible for was able to do something as meaningful as that," said Gibbs. "It gives me a huge sense of personal satisfaction, gives my employees a sense of worth and value in the community, and it gives everyone a sense that Belvedere is a brand that cares deeply about big issues in today's world."
The meatpacking celebration was Belvedere's flagship event in the lead-up to World AIDS Day, with similar events taking place in a dozen locations around the world, including Los Angeles, England, Germany, Australia, Hong Kong, Singapore, Brazil, and Canada. To attract revel-seeking New Yorkers to its cause, the brand commissioned Loop, a London-based artist team whose work has been exhibited at the MoMA and the Victoria and Albert Museum, to create 20-foot-high treelike sculptures from parametric LED lights. The illuminated, arched designs acted as a centerpiece to the high-energy set from electro-funk DJ duo Chromeo. Loop's sculpture remained erect in the plaza through December 1, when Belvedere hosted a follow-up event called "(Red) on Ice" in collaboration with the Standard hotel.
Unsurprisingly, shutting down a well-trafficked section of the city requires a significant number of government positions—"a huge number," if you ask Gibbs. To accommodate residents of the cobbled-stoned neighborhood, Belvedere met with the Meatpacking District Improvement Association and the City Council to establish appropriate noise regulations and curfew hours.
The event wasn't designed to be an all-night rager, like some alcohol-centric parties. Rather, Belvedere had a different intention in mind: "It's about people celebrating but at the same time realizing that there's a serious message underneath," said Gibbs. "That's the great thing about (Red)."
Photo: Bryan Bedder/Getty Images for Belvedere Red Night Lights for World AIDS Day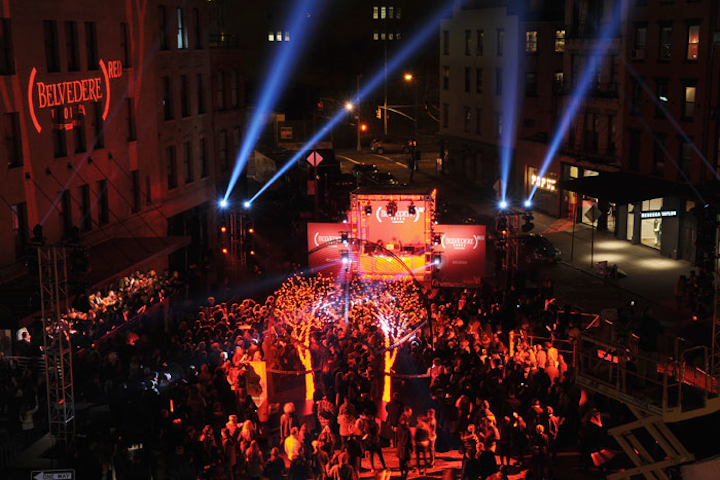 Photo: Craig Barritt/Getty Images for Belvedere Red Night Lights for World AIDS Day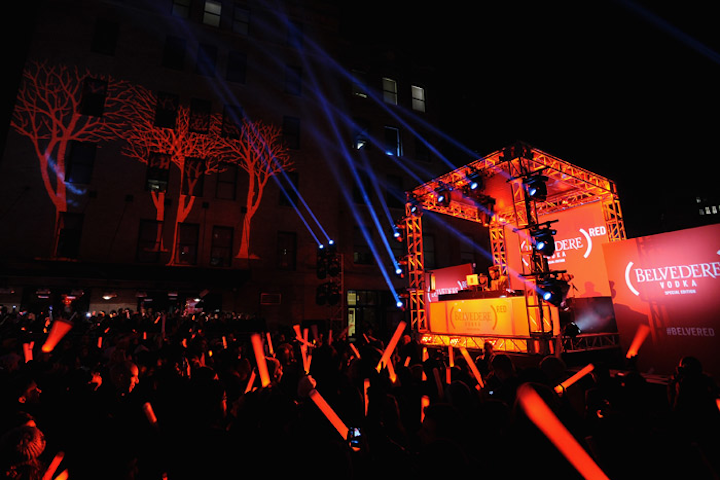 Photo: Bryan Bedder/Getty Images for Belvedere Red Night Lights for World AIDS Day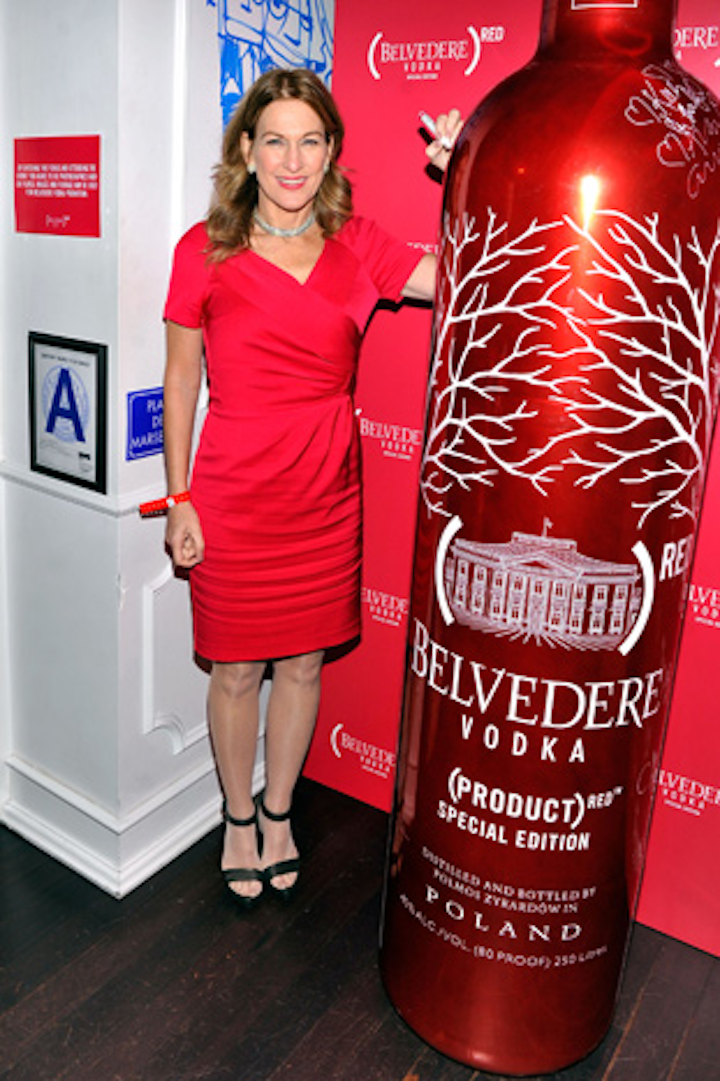 Photo: Stephen Lovekin/Getty Images for Belvedere Red Night Lights for World AIDS Day
Featured Venues/Suppliers: