What It Took to Produce the San Francisco Symphony's Biggest Gala Yet
For its 108th season, the symphony paid tribute to longtime conductor Michael Tilson Thomas with playful details and surprise and delight moments. Here's how producers Blueprint Studios pulled off the seven-hour affair.
September 17, 2019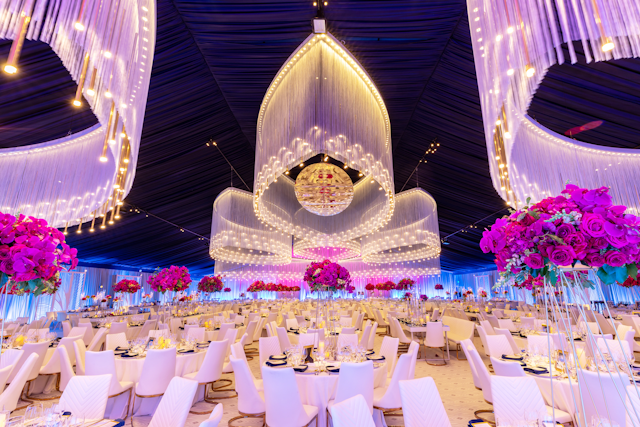 The Patrons Pavilion featured custom-fabricated fringe chandeliers, weighing 12,000 pounds, highlighted by more than 3,000 cascading gold pendants. White leather seating and tall floral arrangements completed the look.Photo: Irja Elisa for Show ReadySAN FRANCISCO—There's a reason the San Francisco Symphony's Opening Night Gala is annually listed as one of our Top 100 events. The seven-hour gathering is an ambitious undertaking, featuring four simultaneous dinners, several cocktail lounges and receptions, and a concert and after-party—all with different, dramatic decor from longtime designer and producer Blueprint Studios.
The 108th season kick-off on September 4 was no exception. The evening honored beloved symphony conductor Michael Tilson Thomas, who is celebrating his 25th and final season as music director, and drew 3,000 members of San Francisco's elite including House Speaker Nancy Pelosi, California Governor Gavin Newsom, and former Yahoo C.E.O. Marissa Mayer.
So, how does Blueprint Studios pull it off? BizBash spoke with creative director Shannon Gurley, who oversees the evening's design and production. She shared details about the process and lessons that other planners of large-scale galas can use.
Rethink the event every year—and always keep the client at the forefront.
The San Francisco Symphony works with new gala chairs every year, both to help with ticket sales and promotion and to keep the event fresh. This year, Rachel Bowman and Nicole Lacob served as co-chairwomen, and were involved in conversations with Blueprint Studios from the beginning.
"We definitely start from scratch every year," explained Gurley. "It's a combination of our inspiration, the things that we're drawing from the industry, from the world, from trends and how we want to interpret that year's concepts, in addition to the fresh ideas the chair people bring to the table."
This year, said Gurley, the overarching idea was to create a colorful, upbeat "love fest" for Tilson Thomas, with plenty of winks and nods to his career and favorite things. "We wanted to give fresh eyes to what an event gala should be, to avoid a stuffy feel," she added. "We wanted to just make the overall experience an expression of love and excitement, of color and joy."
Tilson Thomas's favorite color—blue—helped inform the decor, as did his personal style and sense of artistic expression. Designers also wanted to incorporate his love for his husband and longtime professional partner, Joshua Robinson, and their poodle. Decor highlights included a V.I.P. lounge featuring Pop Art interpretations of Tilson Thomas and his family, plus a 12,000-square-foot Patrons Pavilion with 3,000 cascading gold pendants and a colorful Cuba-inspired block party.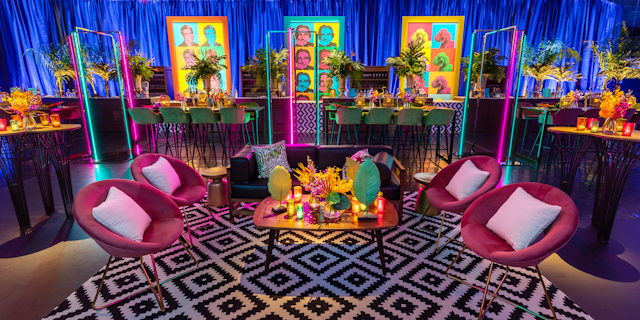 The lounge featured Pop Art interpretations of Michael Tilson Thomas, his husband, and their poodle Maydalyn.Photo: Irja Elisa for Show Ready
Work to keep every guest entertained and comfortable all night.
With such a lengthy event, one challenge is keeping guests engaged and happy the entire time. Producers devised a variety of surprise and delight moments mixed with small, personal details. "The keyword is overall experience. From the moment people arrived at the hot-pink carpet, little moments of surprise were evident everywhere," Gurley explained, noting that several people have contacted her to say they'd noticed certain fun Tilson Thomas-inspired details in post-event photos that they had missed before. 
"They say, 'I didn't see this before and now I see it—and it made me even happier that I was part of it,'" she said. "I think that's really what keeps people engaged."
One of the more memorable surprises came from a 100-person marching band, which lined the street playing Abba songs as guests walked from the cocktail reception to dinner. "To have those really playful moments, and then still walk into an incredibly elegant event space, helped balance the overall expectation that people truly do want to not only attend a black-tie affair—they also want to have fun and be playful and have joy," said Gurley.
The Patrons Pavilion tent, which hosted the evening's largest seated meal, was also designed with the attendee experience in mind. Massive, custom-fabricated fringe chandeliers created a starry night effect, while reflective elements in the middle of the room allowed guests seated along the perimeter to see everything. "The [chairwomen] really wanted every attendee to feel immersed within the tent, to feel like the tent was giving everyone a great big hug from Michael Tilson Thomas," said Gurley. "We wanted to make sure that no matter where you sat, you felt like you were very much part of that family."
Have a well-organized team.
The 2019 event was reportedly the most successful gala in the symphony's history—so it's no surprise that the event takes a massive team to pull off. In addition to co-chairs Bowman and Lacob, who led a committee of more than two dozen people, Blueprint Studios took an all-hands-on-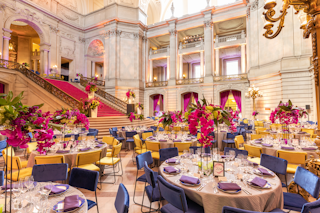 For the dinner held inside San Francisco City Hall, Blueprint Studios used textured table linens and hot-pink velvet draping and carpet.Photo: Irja Elisa for Show Readydeck approach.
"We started designing about eight months out," noted Gurley. "Meeting the chair people, learning about their style, getting to know them, seeing how our creative interpretations really match their personal aesthetics and design."
From there, Blueprint worked with longtime vendor partners Hensley Event Resources and Got Light to turn their plans—which, most ambitiously, included the collection of 12,000-pound chandeliers suspended in the tent—into reality. "It's the wonderful partnership that we have with all of the different companies that really allow us to produce a fantastic event," said Gurley.
Then, the night of the event requires hundreds of staffers. "It's the one event each year that we actually empty the Blueprint offices and everybody comes down and helps," she noted. "And that's really exciting as a company too, to invite our entire team to come and be part of it. It literally takes all of us to get it done."
That extra help is essential when the Patrons dinner tent is flipped from an elegant, 820-person seated dinner to an after-party—all within a 45-minute span. "Every single table and over 700 chairs were emptied out, and we added 16 bars, a dance floor, a stage, and a DJ booth," said Gurley. "Also, 14 restaurants came in and served their after-party bites and snacks."
The outdoor arrivals area was also flipped. At the beginning of the night, the Grove Street space had a pink carpet and images of Tilson Thomas throughout his career; it transformed into a neon-lined, Havana-inspired block party with dancers, a live band, and a 1955 Chevy Bel Air car that people could take pictures with. 
Scroll down for a look inside the gala's design-forward spaces.
Vendors
Catering: McCalls Catering & Events
Design, Florals, Furniture Rentals, Printing, Production: Blueprint Studios
Lighting: Got Light
Photography: Show Ready
Tabletops, Tenting: Hensley Event Resources
Venues: Davies Symphony Hall, San Francisco City Hall, Zellerbach Rehearsal Hall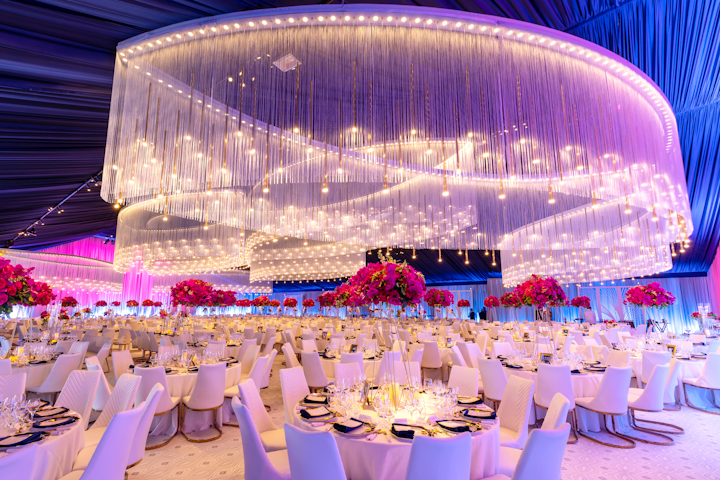 Photo: Irja Elisa for Show Ready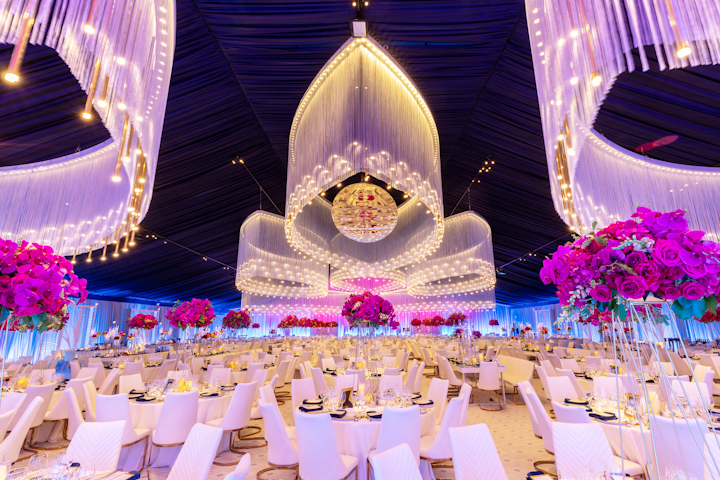 Photo: Irja Elisa for Show Ready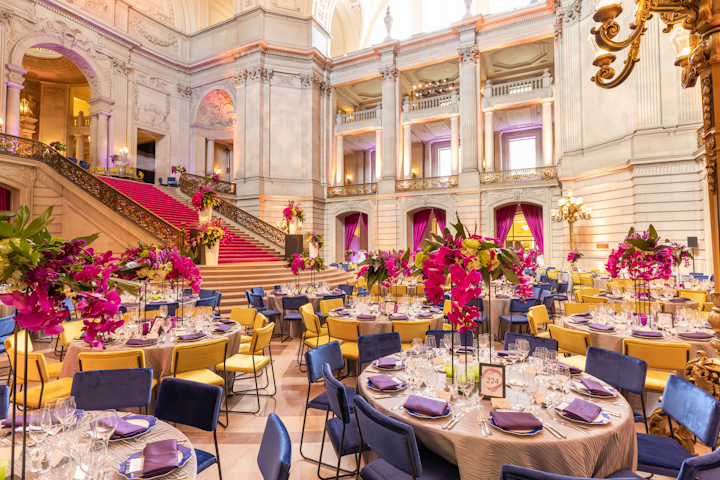 Photo: Irja Elisa for Show Ready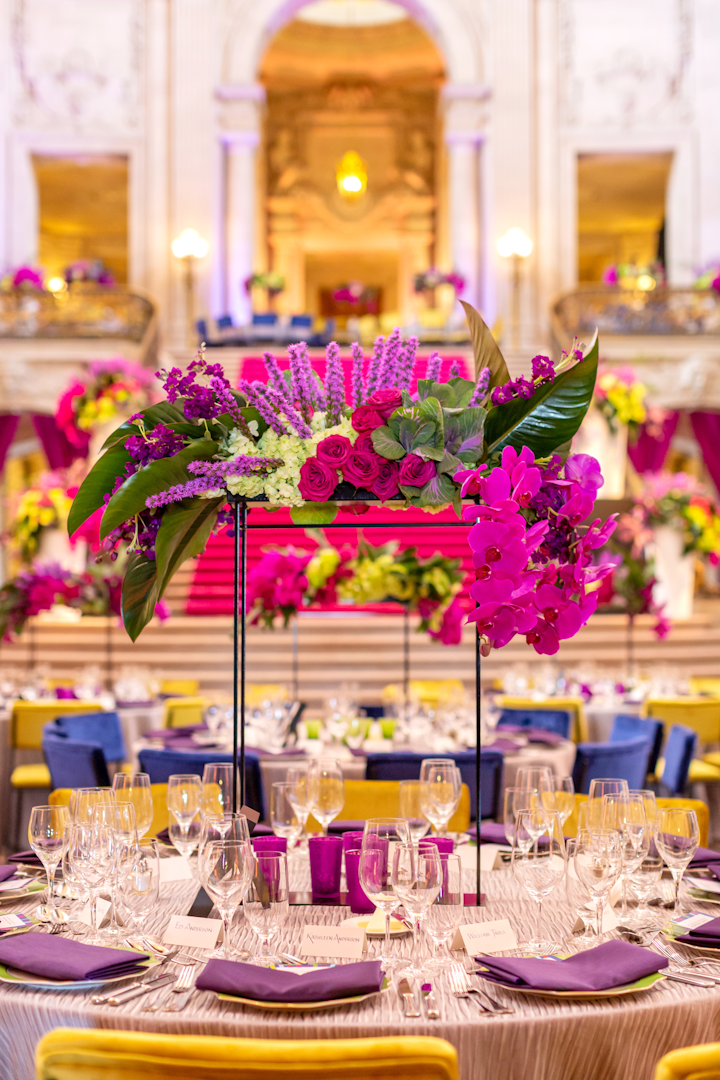 Photo: Irja Elisa for Show Ready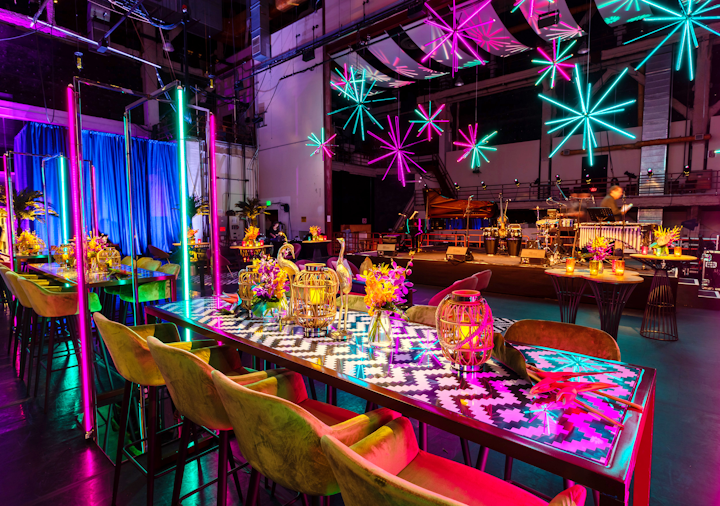 Photo: Irja Elisa for Show Ready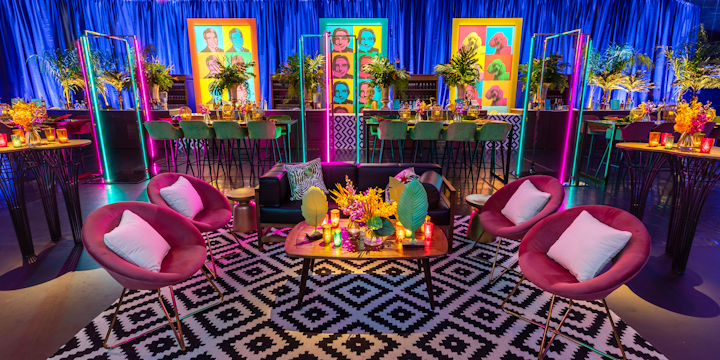 Photo: Irja Elisa for Show Ready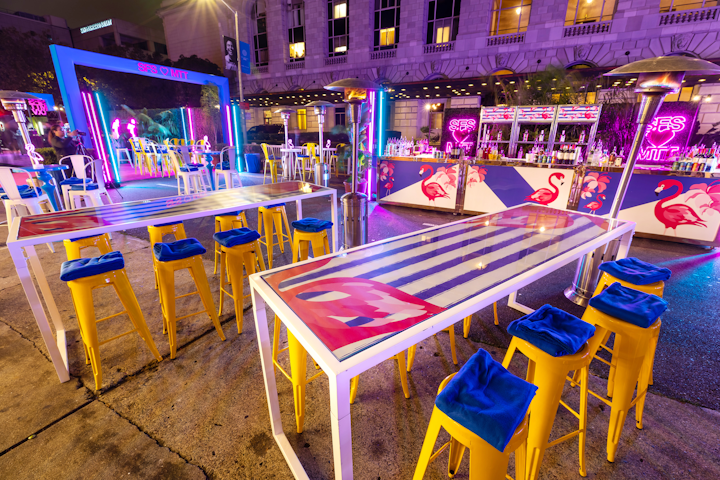 Photo: Irja Elisa for Show Ready