6 Stylish Tabletop Looks to Inspire Your Small Dinner Parties
Going small doesn't mean you have to sacrifice style, as a Beverly Hills-based event firm proved for a recent photo shoot.
July 21, 2020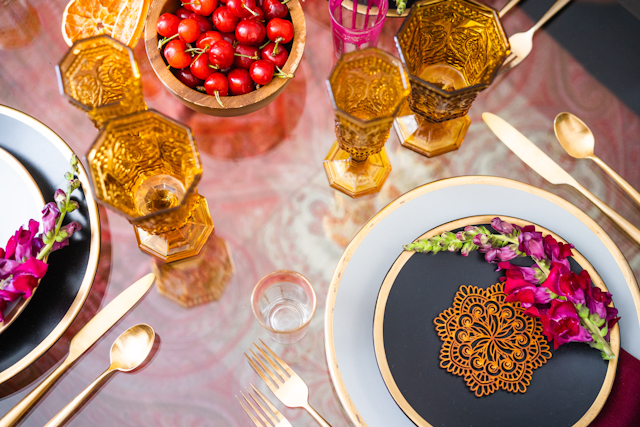 "Adding gold and rich jewel tones transported me back to the exotic cities of Fes, Marrakech, and Tangier," Wilson said.Photo: Richard Luu, Capturecraft PhotographyLOS ANGELES—When COVID-19 caused widespread event cancellations, the team at Beverly Hills-based boutique event agency Plan A decided to get creative.
"Since Plan A produces large corporate and nonprofit events, as well as curated private group trips, during quarantine we decided to flex our creative muscles," explained owner Tarin Wilson, who typically plans gatherings for clients such as Venice Community Housing, Guild Hall, and YPO. "We designed some looks that could translate to our clients' smaller functions like board meetings, corporate retreats, and investor dinners."
For the photo shoot, Wilson drew inspiration from her own travels and designed the tablescapes using many items from around her home (with some additional rentals from Premiere Party Rents). For small events, she suggested getting inspired by your own personal items. "Look around at what you own and view your items with a fresh perspective," Wilson said. "The table doesn't have to be perfect, but it will feel personal and authentic if you share your own pieces."
And remember that for any gathering right now—including small dinners—the first step is to communicate a thorough health and safety plan to your attendees to ensure they feel safe and comfortable. "Make sure to have an assigned point person, whose contact information is shared, should there be any questions or concerns," she suggested.
Even if gatherings can't be as large as you're accustomed to, remember that "with a smaller number of attendees, there is room for greater personalization of content, event materials, or gifts. Planners can also add some culinary creativity to menus and food items that may not have otherwise worked for larger groups," Wilson pointed out. "Smaller events have the ability to foster meaningful connections as guests can spend more time getting to know someone, or the group can dive deeper into a topic."
Keep scrolling to get inspired by Wilson's six elegant tablescapes, which evoked settings in Morocco, Mexico City, France's wine country, and more.
VENDORS:
Design, Rentals, Accessories: Plan A
Additional Rentals: Premiere Party Rents
Napkin Wraps: Tin Parade
Photography: Richard Luu/Capturecraft Photography