Site Inspection Checklist: 11 Things Event Planners Should Never Forget to Ask
February 27, 2013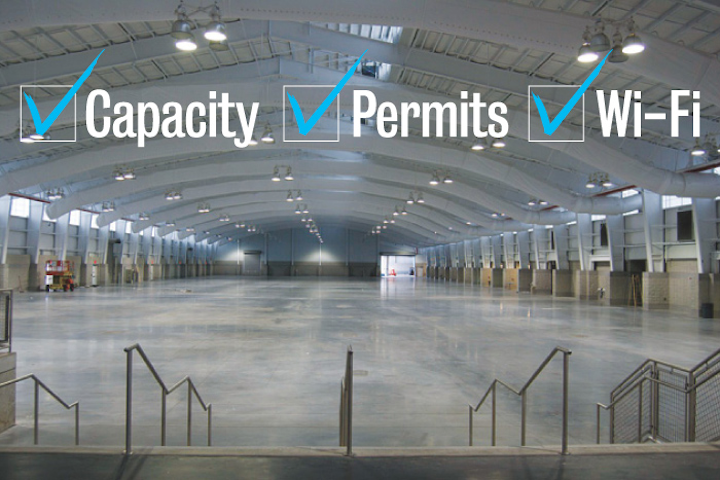 Illustration: Joey Bouchard/BizBash
When planning an event or meeting, one of the most important tasks is the site inspection. Not only can examining a venue in person help determine the best space for an event, but also the advantages and limitations of what's available. With a thorough site inspection, planning and production teams can avoid unexpected costs, last-minute changes to layouts, and even mishaps during an event.
1. What's the legal capacity?
Unless it's a private home or a temporary structure, the space will have a set maximum occupancy limit, which dictates the total number of guests that can be in a venue at any given time.
"When planning an event that is open to the public or has ticket sales involved, the max capacity of a venue is highly important. Knowing what works and what doesn't work will ensure that your attendees have the best experience in the venue you selected and your planning skills can offer," says Suzi Molak, the events director at Washington's Long View Gallery.
2. What permits are required for events?
Whether it's a permit for street activity (such as closing a street or creating a lane for drop-offs), temporary place of assembly, or building a structure inside a venue, you need to know what's required for your event. A venue will likely know the answer as well as how to procure such permits and what they typically cost.
"We once worked with a venue that needed to have a T.C.O. (temporary certificate of occupancy) for each event that was done there, and that added time and money to the equation," says Jason Harder, event director for Shiraz Events Los Angeles. Similarly, Harder suggests asking a site if it has a liquor license. "Some venues have their own, but you need to ask to make sure—especially when working on liquor marketing events."
3. Do you have exclusive or preferred vendors?
"The venue is often the first step in a search because that influences which vendors are used," says Jennifer Blumin, president of the Skylight Group, a collection of New York event venues. "At the site visit, it's important to develop a sense of the event as a totality, so it's necessary to ask questions about exclusive vendors and perhaps sample pricing from those vendors."
Caterers, lighting companies, designers, and other vendors who have experience working in a space can also help with permits and layouts, knowing what might work best, how spaces have been used before, and what issues might come up. 
4. What equipment is available on site?
Just as exclusive vendors can impact the budget, so too can the availability of in-house lighting, sound, and audiovisual gear as well as stage equipment and even furniture. Samantha Newman, event marketing manager at Univision, says to also ask about rigging points, which can be important in raw spaces or events that require extensive lighting or projection elements. Additionally, it doesn't hurt to ask if there are backup generators, especially if you want to avoid a blackout like the Super Bowl experienced this year.
5. Are there areas for storage or back-of-house operations?
Don't forget that production and planning crews will need somewhere to store equipment or set up a remote office or control room. If separate rooms for back-of-house operations aren't available, think about setting aside an area within the main space and how that might affect the layout.
6. Is there an on-site kitchen?
Not every venue has a dedicated kitchen or catering prep space, which can complicate set up for an event's caterer. Knowing what kind of area will be available for food prep—and letting the catering company know ahead of time—can limit unforeseen costs later.
7. What time can we set up and break down, and what are the rates for this time slot?
"People often forget to ask how many hours are included in the price and whether those are enough to accommodate their load-in," says Blumin. Allocating time (and a budget) can make setting up and breaking down an event faster and more efficient. Harder also suggests asking about the availability of a service or freight elevator, which can be crucial if the venue is located in a building with other tenants.
8. Is there Wi-Fi available, and how much does it cost?
Most attendees expect free Internet access at events, allowing them to post commentary to social media platforms or check emails. However, such a service is not necessarily included in a venue's rental fee, so asking about this in advance can save time and money later. (Here are six things to consider when setting up Wi-Fi.)
9. Where can vendors and attendees park?
"Parking is not often included in a venue located within D.C. proper," Molak says. Even in cities like New York, where guests are more likely to show up on foot or be dropped off by a cab, vendors and V.I.P.s still might need a place to park near the event venue.
If attendees expect parking space, Molak advises to "allocate for valet almost anywhere you go—it is a perk your guests will truly appreciate, especially at 5 p.m. on a Friday night with most female attendees wearing high heels." (Here are tips to improve the parking experience for event guests.)
10. What branding opportunities are available inside and outside the venue?
Looking to call attention to the location of an event? Ask the venue if banners, flags, decals, and other signage can be placed on the exterior or if existing structures, like a marquee or billboard, can be branded. Similarly, a venue may have access to elevator video displays, screens, and other indoor spots that can be customized for events.
11. How late can events run?
"Often the neighborhood or a noise ordinance will make this decision for the venue—it is not up to the venue itself. These factors will make the end time nonnegotiable, so if it is a deal breaker, make sure to ask before booking," Molak says.
Featured Venues/Suppliers: