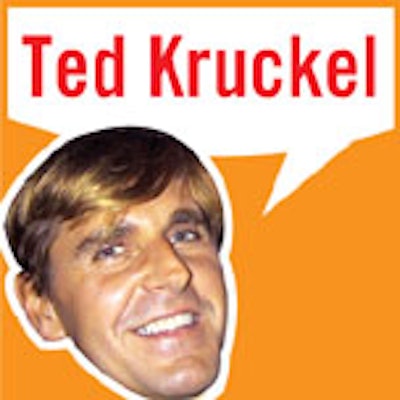 By Ted Kruckel
In case you haven't heard, the economy is up, up, up. That must mean that people are investing in entertaining again, right? Well, if the uptick hasn't reached you yet, then file this for a brighter day, because it is time to talk about my favorite topic: how to spend money. Wisely.
A word to the wise: What often happens when the purse strings get loosened after a long hiatus is impulse spending, and if your impulses are anything like mine...oh, never mind. Here's a list of things that are (and aren't) worth what they cost:
First and foremost it is
WORTH IT
to splurge on the invitation. The whole purpose of doing these events is to get some kind of message across, isn't it? Well, let's remember that way more people see the invite than your centerpieces. But spend the money on quality paper and raised lettering, not tchotchkes or other envelope litter.
It is
NOT WORTH IT
to spend a fortune on big name entertainment, like
Beyoncé
or someone. For starters, the same act that costs $500,000 can be had for a third of that through a different booker (ask me about
Barry White
). And half the time nobody listens. I saw an amazing reunion performance of the
Blues Brothers
(sans
Belushi
, R.I.P.) in a near-empty
Waldorf
ballroom. No one wanted to stay any longer. Now in this case they had donated their fee, but with all the costs of the sound and stage and lighting for a fifteen-piece band—you know what we're talking about. The exception is
Aretha
, who charges a fortune and is difficult, but delivers. I recommend bargain-basement-priced
K.C. and the Sunshine Band
, and you can skimp on the lights. (It's safer, if you've seen what K.C. looks like these days.)
When it comes to rentals, it's
WORTH IT
to get more glasses than you need, and to rent all the various shapes that correspond to what you're serving. A gin and tonic doesn't taste right in a wine glass, for example.
Air conditioning is
WORTH IT AND ESSENTIAL
, so how come there is never enough? Demand more ventilation from your miserly site. Even if the temperature is right, when you have a lot of people, air has to circulate. Heavy air makes for a dead party. This is so crucial and often overlooked.
Paying the money to bring in a professional lighting designer is usually
WORTH IT
, even when your venue tells you they have a lighting system. At the otherwise diverting
Condé Nast Traveler
Hot List party
on the new
Gansevoort Hotel
rooftop, the lights were plentiful and expensive-looking, but harsh and uneven, marring what is otherwise a prime spot with four perfect exposures. The
Chanel
girls were there scouting the joint because they're using it for the launch of their men's fragrance, Allure Homme Sport. I bet the same mistake won't happen twice.
Others may differ, but I think it is
NEVER WORTH THE AGGRAVATION
to serve coffee at evening events. There's so much gear and procedure with coffee, and now people are so neurotically proud of their particular type or serving style of caffeine (I proudly drink day-old deli coffee). You're just asking for trouble. But coffee should be available for guests who want it. You save money, unclutter tables and get people mingling if you serve coffee at a converted bar instead of passing it. If for 200 people you serve 50 cups of coffee, it will be a lot. And if you're just having a big bash, serve it out of the kitchen in plain white paper cups. People are grateful not to have to carry a saucer, and you don't have to deal with garish rental samovars or ugly stainless steel.
It is
WORTH IT
to have enough staff and space so that guests don't wait to get a drink more than one or two minutes at the absolute most. Waiting at the bar makes my mind wander, and it invariably wanders to the notion that the host was too cheap to hire an extra bartender.
Finally, when in doubt, follow this code: It is
WORTH IT
to spend money on things that keep you from lying awake at night.
WORTH IT
Canopy
Ice sculpture
Entry carpet
Gelling the restroom lighting
American paddlefish caviar
NOT WORTH IT
Iced tea (unless freshly steeped, then iced)
Custom logoed carpeting
Rain insurance
Restroom attendants (creepy, no?)
Hot dessert
Beluga caviar
Columnist Ted Kruckel is an experienced and opinionated former event and PR pro who ran events for 20 years for high-profile clients like Vanity Fair, Elle Decor, Christian Dior and Carolina Herrera. He shuttered his firm, Ted Inc., in 2003. You can email him at

[email protected]

.