Southern California's Top Sports Events 2008
March 1, 2008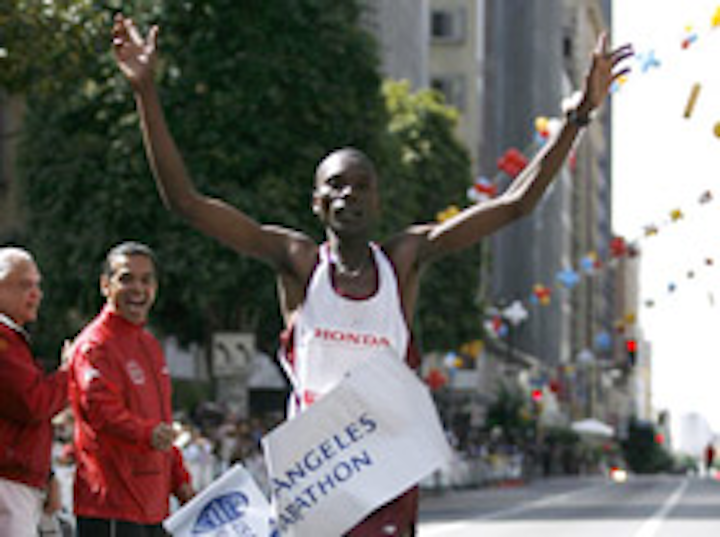 Photo: Ben Liebenberg/WireImage
1. City of Los Angeles Marathon
The 2008 race is set for March 2, with Honda as the presenting sponsor. More than a million spectators are expected to watch 25,000 runners along the course, which starts at
Universal Studios
and ends in downtown L.A. Other race-day events include the Emerald Nuts 5K Run/Walk and the Acura L.A. Bike Tour.
2. Pacific Life Open
More than 300,000 spectators turned out for this tennis event in 2007. This year's tournament is set to take place March 10 through 23, with an extra session of men's singles matches on March 13. The
Indian Wells Tennis Garden
in Coachella Valley will host the tournament in its 33rd year, with the world's top players competing for the title and grand prize.
3. Toyota Grand Prix of Long Beach
The streets of Long Beach will become the grounds for the 34th annual event in 2008, which also serves as the second round for the Champ Car World Series. World-class racers will drive around downtown Long Beach from April 18 through 20. The event will also feature concerts, a lifestyle expo focused on green living, and multiple races. The event is expected to draw 180,000 spectators.
4. Pacific Life Holiday Bowl
Qualcomm Stadium
in San Diego is home to this game, which pits a Pac-10 team against a Big 12 competitor. The 2007 bowl took place on December 27, attracting 65,000 spectators and marking the 30th anniversary of the game. A slew of related events during game week include the Port of San Diego Bay Balloon Parade.
5. Cedars-Sinai Sports Spectacular
Sports legends Muhammad Ali, Joe DiMaggio, Wayne Gretzky, and Jackie Joyner-Kersee have been honored at this award dinner, which raised $17 million for the Cedars-Sinai Medical Genetics Institute in 2007. This year's event and silent auction is tentatively set for June 1 at the
Hyatt Regency Century Plaza
.
6. Bob Hope Chrysler Classic
Now in its 49th year, this tournament took place at the Classic Club, the
La Quinta Country Club
, the PGA West-Palmer Private Course, and—new for this year—the SilverRock Resort. George Lopez hosted the activities, which benefited the Eisenhower Medical Center and a variety of local charities, from January 14 through 20.
7. Pacific Life Pac-10 Men's Basketball Tournament
More than 80,000 cheering fans crowd
Staples Center
for this annual event. The arena will host this year's competition from March 12 through 15. Participating teams compete for an automatic berth in the NCAA tournament. Fox Sports will cover the majority of the tournament, and CBS will televise the championship game.
8. Frank Sinatra Countrywide Celebrity Golf Tournament
Joe Mantegna and Robert Wagner were among the celebrities who competed in this tournament, at the
Indian Wells Country Club
, from February 21 through 24. Events surrounding this year's 20th anniversary tournament included a concert, live auction, fashion show, and black-tie gala.
Featured Venues/Suppliers: