Southern California's Top Entertainment Industry Events 2008
March 1, 2008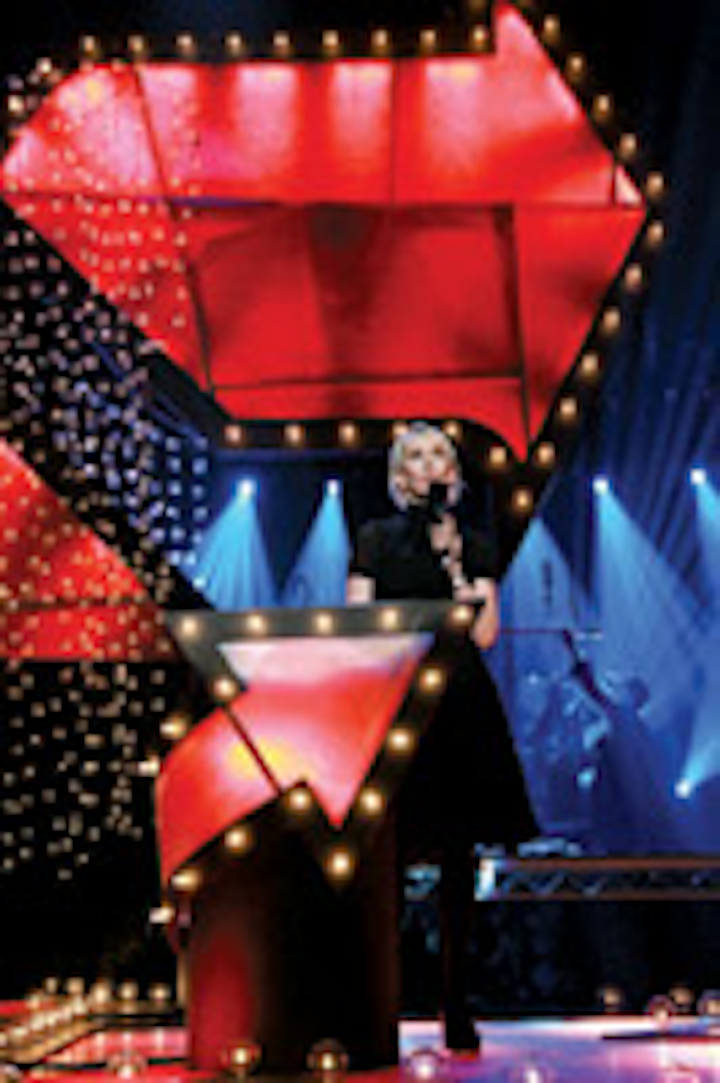 Photo: Alex Berliner/Berliner Studios/BEImages
1. Academy Awards
The most ballyhooed shindig of the entertainment year, the Academy of Motion Pictures Arts & Sciences' Oscars take place at the
Kodak Theatre
.
Vanity Fair
generally has a lock on the most coveted after-party, but the magazine
canceled its 2008 event
in the wake of the Writers Guild strike, leaving
Elton John's AIDS fund-raiser
as this year's most high-profile Oscar bash.
Sequoia Productions
is the longtime producer of the academy's official
Governors Ball
. The 80th annual show was held on February 24.
2. Golden Globe Awards
Although this year's ceremony was scrapped at the last minute on account of the Writers Guild of America strike, the lavish event should be back next year undaunted at the Beverly Hilton's International Ballroom. All the major after-parties are at the
Beverly Hilton
as well (to get the broadcast's live feed), packing in famous TV and movie faces and traffic. The 2008 ceremony was replaced by an
NBC news conference
on January 13.
3. Primetime Emmy Awards
The Emmy party landscape has been getting more crowded, with recent entries like DirecTV finding a tasty opportunity for even marketing. It's also a big night for media that mainline TV stars, such as
People
magazine and
Entertainment Tonight
, which got away from the pack in September 2007 with a
joint party
at the iconic
Walt Disney Concert Hall
. This year's show will take place September 21.
4. Grammy Awards
The Grammys may be less driven by tradition than their counterparts: The after-parties both break new ground (as Warner Brothers did in 2007 with its
bash at Vibiana
) and play by the rules (as Sony did with
its fete
at the
Beverly Hills Hotel
). The 50th annual awards took place on February 10 at
Staples Center
.
5. Film Independent's Spirit Awards
Befitting the town that gave you
Beach Blanket Bingo
, this relatively casual ceremony is held during the day under a beachfront tent in Santa Monica. The Oscars-eve happening can also be naughtier than that bigger, better-known spectacle. Witness its choice of Sarah Silverman as a past host. This year's awards took place on February 23.
6. Screen Actors Guild Awards
This ever-growing award show at the
Shrine Auditorium
takes the form of a seated dinner. The after-party is
People's
biggest chance of the year to show off its event stuff, because—unlike the mag's Emmy bash—it has this party next to the Shrine all to itself. The
2008 ceremony
took place on January 27.
7. AFI Fest
Los Angeles's longest-running film festival spans 10 days in November, bringing a tasty brew of film premieres, international competitions, and screenings. Since 2005, the American Film Institute has hosted a festival hub atop the
ArcLight Cinemas
parking structure: Rooftop Village includes hospitality pavilions, a centralized box office, an exclusive lounge, and an event space for parties, receptions, and meetings.
8. Environmental Media Awards
As the green movement has moved toward center stage in the public consciousness, the Environmental Media Association's annual fall event, long sponsored by Toyota, has grown. For the second year, the
award ceremony and after-party
at the
Ebell Club of Los Angeles
has been telecast on E! Vice president Patie Maloney steers the event.
9. AFI Lifetime Achievement Awards
Only the biggest stars get an entire evening dedicated to their fabulousness, so this event, which has the imprimatur of the highly regarded American Film Institute, packs a prestigious punch. Warren Beatty will be the honoree at the 35th annual award ceremony on June 12, which special events director Tess Csiszar will coordinate.
10. Coachella Valley Music and Arts Festival
This booming late-April festival, which
expanded to three days in 2007
, has engendered a piggyback festival of branding events featuring pool parties, screenings, barbecues, and swag-orama. Goldenvoice has been the Los Angeles-based organizer for the event, which takes over the
Empire Polo Field
to showcase bands on five stages. This year's festival will take place April 25 through 27.
11. Women in Film's Crystal & Lucy Awards
Founded 35 years ago as an alternative to the old boys' club, Women in Film has mushroomed in importance along with its members, whose (financial) clout has lured quite a posse of brands, including Max Mara and Kodak, to sponsor individual awards. The festivities take place in June.
12. Bafta Cunard Brittania Awards
Awards bestowed by the British Academy of Film and Television Arts' L.A. branch may not pack the punch of that other academy, but the proceedings still draw some of the biggest stars in town as presenters and honorees. Reese Witherspoon and Jodie Foster turned out for their good buds Kate Winslet and Denzel Washington at the October 2007 awards at the
Century Plaza
.
13. American Cinematheque Gala Tribute
This annual fund-raiser at the
Beverly Hilton
is a big lovefest, with no losers and just one honoree—usually a particularly cuddly Hollywood star, like Julia Roberts (honored in October 2007) or predecessors George Clooney and Jamie Foxx. Aired on AMC, the
show
supports film preservation.
14. The Los Angeles Times Festival of Books
Despite Los Angeles's undeserved reputation for vacuousness, it's one of the biggest book markets in the country. And for one weekend in April, this festival draws crowds of 130,000 attendees, more than 400 authors, and 300 exhibitors to the UCLA campus. The next festival kicks off on April 25.
15. Los Angeles Film Festival
Film Independent's other big event sprawls over 20 venues in and around UCLA over 10 days in June. The 2007 series featured such indie darlings as guest director Curtis Hanson and Spirit of Independence award winner Clint Eastwood. The L.A.F.F. director is Richard Raddon; Julie Siegel is the in-house publicity manager.
16. American Music Awards
In terms of sheer size, the American Music Awards, newly under the direction of
Dick Clark Productions
owner Daniel Snyder, dwarfs most of its counterparts. More than 7,000 people descended on downtown's new
Nokia Theatre
in November for the
35th annual event
, which drew performers such as Celine Dion, Rihanna, and Mary J. Blige.
17. Glaad Media Awards
The entertainment industry listens when the Gay & Lesbian Alliance Against Defamation speaks. Over the past 18 years, the organization's event has grown to encompass ceremonies with different honorees in four cities, including Los Angeles. (New York, Miami, and San Francisco are the other locations.) The 2008 Los Angeles award show is set to take place on April 26 at the
Kodak Theatre
.
18. NAACP Image Awards
The National Association for the Advancement of Colored People has been honoring people of color in the film, television, literature, and music industries since 1969, making this event one of the earlier entrants in the now-packed award show field. The ceremony has been televised nationally since 1974, and this year's 39th annual awards on February 14 were shown on Fox.
19. People's Choice Awards
The People's Choice Awards have invited audience participation for 34 years, long predating the current boom in interactive entertainment. For
last year's after-party
, the
Shrine's
expo hall was transformed into an English manor, complete with a double-decker bus. The award organization's supervising producer, Peter Demas, and event manager Megan Green did the honors. Though the 2008 award ceremony was canceled due to the writers strike, Queen Latifah announced the winners in a taped special that aired on CBS on January 8.
20. Hollywood Film Festival
Despite its relative youth, the Hollywood Film Festival's domain has given it enough panache to grow quickly over only 11 years. Covering animation, documentaries, kids' movies, horror, and more, the festival
presented by Starz
is sparkly enough to attract major stars. The next installment is scheduled for October 16 through 20.
21. BET Awards
Black Entertainment Television's awards aren't as long-running as other award shows in town, but they do bring a mighty array of
related events
and parties. After its inaugural show in Las Vegas in 2001, the awards moved to the
Kodak Theatre
in L.A., and then to the
Shrine Auditorium
in 2006. The annual award show will be held in June.
Featured Venues/Suppliers: