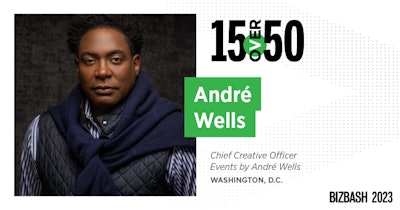 Photo: Courtesy of André Wells
André A. Wells, 53, is the chief creative officer of Events by André Wells, a full-service event planning firm based in Washington, D.C., with past clients like The Walt Disney Company, BET Networks, and Stevie Wonder. He's also the CEO of Party In A Box U.S. and All Wrapped Up.
A quote from his nomination: "There's a reason André is consistently named one of the top event designers in the country. His creativity and commitment to thoughtful, detail-oriented design never wavers, whether he's handling an annual event for a local nonprofit—or an inauguration party for President Barack Obama."
How I got here: "I have always loved two things: fashion and entertaining. The second question was how could I make this my career, and the third was how could I make this my life's journey. I started out interning in college at Bloomingdale's New York, where I worked in a number of divisions as a fashion buyer. Back then in retail, there were lots of events, from fashion shows to designer dinners. I was fortunate to wear lots of hats and got to dabble in both worlds.
After that, I went to work for PBS as a meeting planner, helping to produce events throughout the United States. I wanted to broaden my career and learn everything I could about the world of special events, so I quit my job and started volunteering throughout the event space, from staff at the convention center to working with other event producers, caterers, floral designers, lighting technicians, and more. Then, I landed a job at a catering and events company, producing events and building both their corporate and social markets.
And 20 years ago exactly, I started my company, Events by André Wells LLC. I am now blessed to have two other companies as well, All Wrapped Up (a full-service gift-wrapping and holiday decorating and delivery service company) and Party In A Box U.S. (a full-service drop-off party at your fingertips)."
Greatest career accomplishment: "I have really been blessed to be a part of many firsts and big celebrations. Some of my most memorable accomplishments are having been a part of several presidential inaugurals, the opening of the National Museum of African American History and Culture, the Martin Luther King Jr. Memorial, and working with major corporate brands."
A specific improvement I've made: "Being true to who you are and making big impacts on everything you touch. I've always helped people. In my organization, I've made sure that people have had a launching pad—a place to start their careers—and I've introduced them to our field of work. I taught them organizational skills and how to focus in on their innate talents, skill set, and abilities.
Mentorship, for me, is real and big. When I first started in this industry, it was cliques and closed. I wanted to make sure others didn't experience that treatment; I wanted to create a space where people could grow and then go out and create."
The biggest change I've observed in the industry: "I would definitely say social media has had the biggest impact on our industry! When I first started, clients really trusted our vision and allowed us to work with more autonomy. Nowadays, people are much more visual and want to see lots of things and have lots more accessible to them, from renderings to access to other events. Social media, too, gives us a wider audience, and it helps us show our business to not only our communities but to the world!"
What I do outside of work: "I love to travel the world! I also enjoy riding my bicycle, reading, playing piano, collecting Black art, and playing spades."
The career advice I'd give my younger self: "If it doesn't feel right, run—and I mean run fast. Follow your instincts and don't second-guess yourself."
Connect with Wells on LinkedIn and Instagram.
---