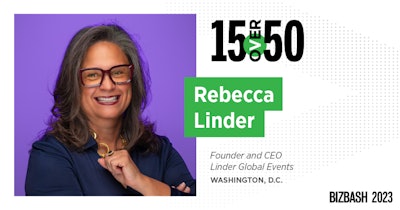 Photo: Courtesy of Rebecca Linder
Rebecca Linder, 53, is the founder and CEO of Linder Global Events, a global events agency that designs and produces events for Fortune 100 companies and leading nonprofits. She's based in Washington, D.C.
A quote from her nomination: "Rebecca is known for her professionalism, determination, and keen attention to detail. She is renowned in the event industry as a leader, innovator, advisor, and friend to both clients and vendors."
How I got here: "My journey to founding Linder Global Events is filled with epic adventures and experiences that shaped who I am today. I grew up living overseas as the daughter of a diplomat, as a guest in other cultures. I learned at an early age the importance of creating welcoming environments and building strong communities with intentionality and a strong focus on hospitality.
After graduating from Boston University with a bachelor's degree in political science and government, I took a nontraditional route into acting. Drawn to the pageantry, the art of excellent production value, and the ability to carry the audience away on a journey, the theater was a magical place for me. While this was not a lifelong career move, it has influenced how I build memorable events and experiences.
Following my foray into acting, I worked in catering. It became clear to me that a high-end event planning company was needed in D.C. and throughout the world. Building upon my deep experience in diplomacy, hospitality, production, and catering, I went on to build an events company committed to designing and implementing experiences that transform lives that sits firmly at the intersection of strategic convening and design.
Twenty-six years ago, the company started as a vision for a new event management company that moved beyond event production to provide the creative strategy, knowledge, and leadership to turn a detailed event blueprint into an inspirational reality for each client. Since incorporating in 1997, Linder has worked with internationally recognized clients as a strategic partner to develop, produce, and manage innovative and experiential."
Greatest career accomplishment: "My most significant career accomplishment is building a company that has thrived over the years, creating a path for Linder team members to grow and evolve, and cultivating and sustaining beautiful relationships over the years. We've partnered and participated in the planning and execution of some of the country's most significant events while impacting so many lives. I've had the privilege of working [with], partnering [with], and mentoring many wonderful humans and have watched them grow personally and professionally. This is the impact I want to be most known for."
A specific improvement I've made: "Staying ahead of the business and understanding that the business I am creating provides opportunities for growth has forced me (and the company) to continue to push forward, challenge ourselves, and grow in countless ways. This includes peering as far into the future as possible at all times to determine how societal and technological advancements will and should impact our company and our clients, and bring these progressive ideas to all that we do. Since our incorporation in 1997, Linder has partnered with incredible clients, helping them reach their goals through their events. We become an extension of that organization, absorbing its mission and making it ours. With the mission in clear sight, we partner with our clients to produce and manage innovative and experiential events that don't just engage—they inspire."
The biggest change I've observed in the industry: "Over the years, events have moved from parties to strategic engagements underpinned by strategy and value proposition. This idea has been at the core of everything we do at Linder from the very beginning and has always set us apart in the industry. The pandemic then turned the industry upside down—the need for strategic design in convening is now more critical than ever. I see a great need for strategic human interaction and how we purposefully come together to engage in vital conversations."
What I do outside of work: "I draw inspiration for work from everything I do—reading, exploring current trends and cultures, traveling, meditation, and cooking. Returning to my upbringing, I will always be connected to the larger world. Family will always be my top priority. I'm proud to be a mother of two wonderful children—and together, we learn, grow, and experience life together."
The career advice I'd give my younger self: "Get a mentor and ask for help. Your business is only as big as your own mind and capacity, and it can only grow to the extent that you are growing. One of the ways I grew as a leader was by focusing on conscious leadership, which is 'the process by which a leader becomes radically responsible, self-aware, and focuses on building a culture of we rather than a culture of me.'"
Connect with Linder on LinkedIn and Instagram.
---