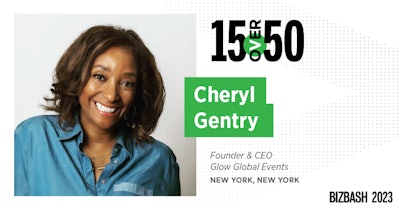 Photo: Courtesy of Cheryl Gentry
Cheryl Gentry is the founder and CEO of Glow Global Events, a full-service event agency based in New York. She's also an adjunct professor at New York University and serves on the boards of ReadWorks, Network for Teaching Entrepreneurship (NFTE), and Kigali Reads.
A quote from her nomination: "Cheryl has over 25 years of experience in the event industry, with over 100 clients from nonprofits to corporate galas. She's the face behind the lavish event."
How I got here: "Let me share with you the incredible journey of how I got 'glowing.' Growing up in the heart of Washington, D.C., folks would always say, 'Cheryl, she's got that unstoppable work ethic.' Back in high school, my sister and I saw a golden opportunity: selling printed song lyrics, believe it or not, for a crisp $5 bill per sheet. Then came the Howard University days, where dreams of becoming a doctor were dancing through my mind.
But life had different plans in store. Fate had me land a gig in the Department of Work and Family Life at none other than the prestigious Marriott Hotels Corporation. And here's the kicker—part of my gig was orchestrating their seminars, booking speakers, and traveling to the properties for these events. Boom! I had found my calling, my passion, my true groove. It was like the universe whispered in my ear, 'Cheryl, this is where you belong!'
So, 25 years ago, I became an entrepreneur and started Glow Global Events. We've had the honor of conceptualizing event campaigns and work with clients such as DuPont Lycra, Clinique, Lancôme, Anne Klein, FIFA, the PGA, United Way of New York City, and Race Forward, just to name a few."
My greatest career accomplishment: "From orchestrating monumental events to securing a spot on Inc. magazine's Fastest Growing Companies in America, my career has been a thrilling journey of accomplishments. Let's rewind to Glow Global Events' triumphant collaboration with the Kennedy Center for the momentous 25th anniversary of the First Peoples Fund. The event, 'We The Peoples Before,' paid homage to diverse cultures and traditions predating the United States, resonating deeply as I once danced at the Kennedy Center with renowned ballet companies during my youth. Hosting Indigenous tribes nationwide, the event stood as a testament to Native cultural significance on the national arts landscape.
Another pinnacle was curating an event during the World Economic Forum in Davos, Switzerland. As I navigated planning amid global leaders, the conference's mission to address pressing issues through dialogue mirrored the brilliance of the illuminated mountain backdrop.
Securing the 145th rank on Inc. magazine's Fastest Growing Companies in America list affirmed my prowess in growth and scalability. With each achievement, my passion for creating unforgettable experiences grows stronger, driving me to continually raise the bar.
From producing awe-inspiring events at Carnegie Hall and at the historic Hotel Rwanda in Kigali, my path has been defined by moments of achievement and impact. The Hotel Rwanda, a poignant symbol of resilience and hope, became the canvas for an event that transcended mere logistics. It symbolized a bridge between past and present, where the transformative power of events united cultures and rekindled the human spirit. I truly pride myself on my unwavering passion for crafting extraordinary experiences."
A specific improvement I've made: "The event industry is where creativity dances hand in hand with innovation, and we aim to generate more than just revenue—to redefine what an event can be.
At the heart of our endeavors is an unquenchable thirst for connection—the unspoken bond between attendees and the experiences we craft. We harness the power of storytelling to curate narratives that resonate. We love it when the symphony of diverse voices, perspectives, and aspirations fills our events with an electric energy, igniting conversations that transcend boundaries.
I also believe in mentoring future generations with the legacy of knowledge, passion, and my commitment to nurturing a new breed of trailblazers. As I look back on this extraordinary 25-year journey, a deep sense of awe and gratitude washes over me. I've poured my heart and soul into this career!"
The biggest change I've observed in the event industry: "It's impossible to ignore the seismic shifts that have shaped the industry since I founded Glow Global Events in 1998. When I first started, the landscape was characterized by a certain level of predictability. Industry norms were etched in stone, and the tried-and-true formulas seemed to govern every move. From groundbreaking technologies that revolutionized engagement and connectivity to the conversation around sustainability, these moments were catalysts for change. Experiential events also offered immersive journeys to define a new narrative.
If I were to announce the most important development, it would be the democratization of creativity and knowledge. The digital age has shattered barriers, empowering individuals and organizations alike to cultivate a global audience. As the industry unfurls its next chapter, one truth remains resolute—change is the heartbeat of progress."
The career advice I'd give my younger self: "If I could share one vital piece of career wisdom with my younger self, it would be to embrace the journey with an unwavering spirit of resilience and an insatiable appetite for learning. Remember that every challenge you encounter, every setback you face, and every curveball life throws your way is an opportunity for growth. Learn to seek knowledge not only within the confines of your designated field but also across diverse domains. In a world that's perpetually evolving, adaptability and versatility are your greatest assets.
Embrace the beauty of failure, for within its depths lie the seeds of innovation. Rather than shying away from risks, lean into them with courage, knowing that even if the outcome isn't what you envisioned, the insights gained are invaluable treasures that will serve you well in the future.
Never underestimate the power of resilience. Life's journey is a marathon, not a sprint, and setbacks are merely pit stops along the way. Your ability to bounce back, to persevere with determination in the face of adversity, will define your character. Embrace the journey!"
Connect with Gentry on LinkedIn, Facebook, and on her personal and business accounts on Instagram.
---