The 10 Leading Event Brands
These companies consistently leverage cutting-edge events as critical parts of their marketing mix, making them the most innovative brands doing events today.
May 11, 2011
#1 Most Innovative Brand: Target
The style-forward retailer's consistently inventive ideas and dedication to the impact of events have cemented its place among the most influential players in experiential marketing.

The Minneapolis-based retailer long ago shed any sense it was a stale and stuffy big-box chain and perpetually bolsters an inexpensive but chic image with some of the most unique and ambitious consumer marketing platforms in the U.S. Each year, Target creates, hosts, or participates in more than 300 events in bold, colorful, and almost always attention-grabbing ways, building buzz for its products, partners, and collaborators. These efforts play a large part in Target's growth: The company, ranked 30 in the Fortune 500, reported a 3.7 percent sales increase for 2010 and in January announced plans to expand to Canada.

Leading the charge is executive vice president and chief marketing officer Michael Francis, supported by an event marketing team that collaborates with the public relations and branding departments as well as external partners. The crew brainstorms tactics to set Target apart from the competition with a combination of style and substance. "While Target has clear procedures, accounting tools, and brand guidelines, they have always allowed urged us to push them in new directions," says Drew Elliott of Extra! Extra!, which has worked with Target for nine years and in March produced the five-year anniversary of the retailer's Go International line.
The retailer perfected the pop-up shop, a format used to great advantage in New York before it opened a permanent storefront in Manhattan. Case in point: More than 11,000 shoppers hit the temporary space built to sell the Liberty of London for Target collection in May 2010, buying all the merchandise and causing the store to close a day earlier than planned. Even more impressive was September's "Kaleidoscopic Fashion Spectacular," a large, logistically complex stunt that used the entire southern facade of the 337-room Standard New York hotel as an illuminated billboard.
The company is equally invested in its corporate responsibility program, donating 5 percent of its income to community projects and demonstrating its commitment through countless events. Target's advocacy of public safety is articulated in its sponsorship of the National Association of Town Watch's National Night Out, a countrywide initiative that gathered more than 37 million people in 15,110 communities last year. Its support of philanthropy was seen in a 4,000-person volunteer drive and party for the 2010 National Conference on Volunteering & Service, which produced more than 170,000 meals for hunger relief.

Underwriting education is another big campaign. In February, Target built a 25-foot-tall installation of Dr. Seuss classics on the steps of the New York Public Library as a part of its participation in the National Education Association's Read Across America drive. The books were later donated to local schools, underscoring the corporation's pledge to donate $1 billion in education-related giving by the end of 2015. —A.S.

Nike
The ultimate athletic brand engages international sports fans through innovative activations at major sporting events—whether or not it's the presenting sponsor.

Athletic tournaments are a natural fit for Nike's marketing strategy, providing an international platform to emphasize the wide reach and performance of its products. But the globally recognized sportswear brand has looked beyond traditional sponsorship and logo placement to build its image and stay visible to consumers.

When Adidas secured official sponsorship of the 2010 FIFA World Cup, Nike wasn't left in the dust. Instead, the company built a pop-up stadium in six different cities—including New York, Paris, and Tokyo—and used the temporary environments to host soccer-related events and sell goods. Additionally, a viewing party for the match between England and the U.S. drew 2,000 fans to a branded mini stadium built in New York's meatpacking district.

Nike, which has already increased revenue by 10 percent in 2011, has also produced its own competitions, including the World Basketball Festival staged at Radio City Music Hall in August. The four-day series, which included games between national teams from China, Brazil, France, Puerto Rico, and the United States, streamed live on the Web and offered an opening-night performance by Jay-Z. —J.B.

I.B.M.
The tech giant creates relevant conference content and directly engages clients through multiple channels.

I.B.M.'s event strategy is not about flashy, publicity-driven promotions. At the core of the technology company's marketing formula is an emphasis on providing relevant ideas and solutions to clients—senior business executives, IT professionals, and developers—and partners, to prove the capabilities of its software, hardware, and services. This simple premise is a key reason Big Blue recently remodeled its five largest yearly conferences with the goal of having the majority of speakers be clients. "It's a fundamental of marketing—deliver something that's very specific and targeted to an individual's needs, and they will seek it out and share it with others," says Robert Pace, vice president of marketing programs and events.

This tactic augments other event initiatives I.B.M. rolls out. Recognizing that not all clients have 
time to travel to an expo like Pulse in Las Vegas, the multinational company produces a series of events under what it calls the "comes to you" format, reusing the content and some of the speakers to create local versions of conferences. I.B.M. also pools the content from the conferences into an online portal, allowing attendees and others to access and even navigate the presentations by keyword searches.

The live-streamed presentations from the 2011 Pulse conference received more than 24,000 views from 99 countries, nearly double the number of people physically present at the February event. Moreover, almost 16,000 files were streamed and downloaded. One of the most popular was the general session talk given by client Bill Broughton, senior program director of enterprise asset management for Amtrak. —A.S.

Red Bull
The drink maker undertakes logistically wrought activations that the brand's signature, high-energy vibe and appeal to its daredevil target customer.

Red Bull, which advertises its ability to give consumers wings—or, more accurately and less poetically, loads of energy—allots about one-third of its marketing budget to events.

Austria-based Red Bull GMBH owns the global beverage, 4.2 billion cans of which were sold in 2010, for a 7.6 percent increase over sales in 2009. In the U.S. alone, the brand's sales showed an 11 percent increase from 2009 to 2010.

Overseen by several key executives including Joe Guzik, senior vice president of promotion and integrated marketing for Red Bull Records, the company produces hundreds of annual happenings. Focusing on sports and music, the events are unanimously ambitious, large, and high-energy.

The Red Bull Air Race World Series, which company reps deem the biggest event created by the brand, launched in 2003 and has taken place in countries including Brazil, Australia, Canada, and the United Arab Emirates. In June 2010, the race's New York iteration took over the waters between Liberty State Park and Battery Park, after planners surmounted some dauntingly large hurdles.

Involving a three-year planning process and permission from 16 government agencies, the two-day affair saw 12 pilots whizzing through an inflatable obstacle course at speeds that exceeded 250 miles per hour. The event drew 40,000 ticketed spectators, and earned backing from sponsors such as Volkswagen, Stoli, and Breitling.
The same month, Red Bull's Manny Mania AM Series tour, a skateboarding competition in which participants perform tricks on two wheels instead of four, expanded internationally to take place in 32 countries. On the home front, Orlando's event took place at Universal Citywalk and drew 2,000 spectators, nearly twice the size 
of the crowd at the 2009 event in Miami.

In October, the company staged a musical event for 2,000 spectators in Washington. Called Soundclash, the interactive concert pitted two bands from different musical genres against each other in a four-round competition. Held on Pennsylvania Avenue, where the Capitol became the backdrop, the event had two main stages and sponsors such as Ford Motor Company.

Apart from hosting its own activations, Red Bull is aligned with Formula One racing and is the only corporate sponsor that owns and operates its own two teams: Red Bull Racing and Torro Rosso. —J.B.

Levi's
The denim brand stages organic, relaxed events tied to pop culture and music festivals, and introduced an interactive showroom with dramatic promotional results.

The iconic apparel brand from Levi Strauss & Company netted $1.1 billion in 2010 business, and drove that revenue in part through relaxed, on-brand events. Director of brand marketing Sheri Timmons oversees the programming.

In late 2009, the brand introduced a showroom in Los Angeles where stylists can borrow clothes, and costume designers can sample product and work hands-on with Timmons. Since it opened, the brand's placements—film, TV, magazines, and celebrity seeding—have more than quadrupled, significantly increasing exposure and sales.

Among other recent programs: the Rolling Roadshow, a public tour pairing screenings of classic movies with their shooting locations; a global employee community-service day; and a gift lounge at the Ace Hotel in Palm Springs during Coachella, part of an ongoing relationship with the chain. And in 2010, Levi's launched its Pioneer Sessions, a campaign showcasing artists who embody the pioneering spirit of the brand, which invited contemporary musicians to remake the songs that inspired them. The brand filmed the in-studio recording sessions as digital content. —A.D.

Godiva
The large brand aims to feel accessible to consumers through intimate or chef-connected programming.

The chocolate purveyor is focusing its event strategy on aligning with chefs and elevating the brand through food-festival affiliations, with an eye toward keeping the large global brand feeling intimate and accessible. Director of brand and internal communications Erica Lapidus oversees 20 to 30 events per year around the country, with the largest pushes in the form of sponsorships. At the South Beach Wine & Food Festival, attended by 50,000 people, Godiva hosted eight events, and at the New York City Wine & Food Festival, there were five, including one program for 2,000. During award season in Los Angeles, its presence was felt at events including Elton John's AIDS Foundation bash, as well as In Style's Golden Globes after-party with Warner Brothers, where its lounge took the form of a sculptural, arty space, with chocolates in forms inspired by the glass art of Dale Chihuly.

A four-week Valentine's Day pop-up that transformed the retail shop on Fifth Avenue in New York generated 160 million media impressions as part of a push to kick off that busy holiday season.

And the results of recent marketing efforts are in the sales figures: The increase in sales of the company reached double digits after being acquired at the end of 2008 by Turkish group Yıldız Holding. —A.D.

Toyota
In response to considerably adversity, the brand consistently executes genre-busting event marketing ideas in the automotive industry.

Toyota's ranking on the 2010 Fortune Global 500 list was 5, up from 10 the previous year, despite a widely publicized safety recall. "[The event team was] on the front lines post-recall," says Keith Dahl, Toyota's national manager of engagement marketing, who oversees more than 300 events per year with his staff and support from Saatchi & Saatchi Los Angeles. "We reinforced our focus on safety and made it a priority to maintain owner loyalty. It was also increasingly important to get consumers back behind the wheel, and our ride-and-drive program was instrumental in doing so. We actually saw an increase in participation at these events post-recall."

Even during these tough times, Toyota's event marketing (overseen from Torrance, California-based Toyota Motor Sales U.S.A.) has included some lighthearted touches. For luxury division Lexus, the Japanese automaker last spring held a heated debate series to introduce the latest hybrid vehicle, the CT 200h: Designed to inspire a new audience, the debates were moderated by entertainment personalities, including comedians Andy Samberg and Sarah Silverman, and hosted leading environmental thinkers on both sides of the discussion. The multicity series was a particularly unusual promotion within the automotive category, changing up the industry's typically staid presentations in the show-and-tell format.

And, as a means of further engaging drivers, about 150 Prius enthusiasts celebrated the 10th anniversary of the vehicle—a 10th on 10.10.10—at an event in Malibu that honored the winner of a Facebook contest to find the most passionate Prius driver. Playing to the sensibility of the car—and its community of environmentally zealous drivers—the event housed eco-minded workshops and presenters, and the meal included products from local farmers, producers, culinary artisans, and chefs.

The brand measures event success through a variety of metrics based on the objectives for each program, including consumer requests for more information, the number of vehicle sales a program generates, measurable changes in brand opinion and consideration, and the PR and social media impact on a specific program or campaign. Looking ahead, the plan is to continue the focus on the fans and consumer experience, with an emphasis on angles like social media and new technology.

Going forward, the Toyota team faces further adversity. "The earthquake [in Japan in March] has certainly added some challenges to our event-marketing initiatives," Dahl says. "Many of the long-term effects have not been identified at this point, but in the near term, vehicle availability may impact the product mix we focus on for our events."  —A.D.

Nintendo
By building experiential promotions for younger and older consumers, the company incorporates casual gamers into its customer base.

In the fiercely competitive world of electronic games, Nintendo faces some tough rivals, but the Japanese brand stays on top by continuing to widen the target demographic for its Wii console. Just last year Nintendo produced the Wii Games, an Olympic-style match-up of more than 150 qualifying events at shopping centers and Six Flags amusement parks in 17 states. The effort went beyond targeting the traditional gamer demographic to include competitor categories for the over-55 and under-13 groups. Thousands turned out for the two-month-long contest, which culminated in 200-person final on September 3 in Redondo Beach, California.

To launch its new handheld 3D system, Nintendo staged a preview at the E3 expo in June 2010, a press conference in New York in January, a suite for editors during New York Fashion Week in February, and a four-city consumer demo tour with futuristic pods surrounding the late March release date.

Such endeavors help explain how sales of the Nintendo Wii surpassed the 35 million mark in March, making it the fastest-selling console in the U.S., and why demand for the Nintendo 3DS set a sales record for the brand.  —A.S.

American Express
The credit card issuer crafts inventive opportunities to win over customers by sponsoring major events and flaunting its insider access.

The extensive event sponsorship program from American Express is more than just a way for the financial services brand to stamp its name on signage and reinforce recognition among consumers. The high-ranking Fortune 500 company leverages its presence at key festivals, trade shows, concert tours, and sports competitions to host private experiences for card members, providing the kind of insider access that can sustain customer loyalty, while also enticing potential clients. Overseen internally by Rich Lehrfeld, the vice president of global advertising and brand marketing, American Express's long-term in-person marketing strategy is continually 
redefined to integrate new mediums for interaction.

At New York Fashion Week in February, in addition to hosting its own showcase of designers, the company held daily Twitter contests for entrance to its Skybox—a lounge where guests could view shows—and posted online video interviews with designers, stylists, and celebrities. Card member benefits at 2010's U.S. Open and P.G.A. championship included free access to CourseCast TV and radio devices, providing live telecasts, commentary, and updates of the tournaments from anywhere on the grounds. And in its second year, "Unstaged," the live music platform American Express produces in partnership with Vevo and YouTube, now allows audiences to submit photos to create an onstage art installation directed by filmmaker David Lynch and tweet questions to the performing bands.

Such incentives for its customers enabled American Express to weather the shaky economic climate, increasing revenue from $24.52 billion in 2009 to $27.82 billion in 2010. —A.S.

Coca-Cola
The iconic beverage company aligns with megawatt events to form an emotional connection with consumers across the globe, while focusing brand messaging on universal topics such as health, sustainability, and happiness.

When it comes to earning international brand recognition—the sort that would rank the world's largest beverage provider as number one on Interbrand's 2010 list of the 100 best global brands—high-stakes sporting events are pretty good places to pour marketing dollars into. The Coca-Cola Company has relied on the strategy for decades, expanding awareness and forging an emotional, national-pride-based connection with consumers in the process.

Producing hundreds of annual events, the company's internal events team includes key executives such as Scott McCune, vice president of global partnerships and experiential marketing. According to company reps, the brand measures its event success based on consumer engagement and favorability scores. And its financial stats indicate solid growth: In 2010, the company's net revenue was $35.1 billion, a 14 percent increase over its 2009 revenue.

Allied with the Olympics since 1928, Coca-Cola is the longest continuous corporate sponsor of the games. The brand's presence at the blockbuster event has taken on immersive, innovative forms that both entertain and educate.

For the 2010 Winter Olympics in Vancouver, Coca-Cola erected a pavilion that drew 275,000 visitors, offered entertainment ranging from games to acrobats, and doubled as a platform to introduce its new, fully recyclable packaging. Sustainability messaging ran throughout the 8,600-square-foot space, and staffers were on hand to teach guests about new ways to recycle.

Called Plaza Coca-Cola, another sports-related activation that began in February and will run through June targets Hispanic soccer fans. Taking over domes and stadiums in five American cities (including Atlanta, San Francisco, and Oakland), the activation celebrates the Mexican National Team's first U.S. games since the FIFA World Cup. Its centerpiece is a 25-foot replica of El Ángel—an iconic victory column from Mexico City—and activities include karaoke to popular Mexican songs.

In March, a pop-up shop on Santa Monica's Third Street Promenade underscored Diet Coke's partnership with Heart Truth and overall connection to a healthy lifestyle. Within the heavily branded space, guests could get free product samples, heart screenings and advice from registered dietitians and fitness experts.

Other health-focused activations in 2010 included Diet Coke Kitchen pop-ups in New York and Boston, which educated guests about healthy food pairings. The activation played off of Diet Coke's "Live Tastefully" campaign.  —J.B.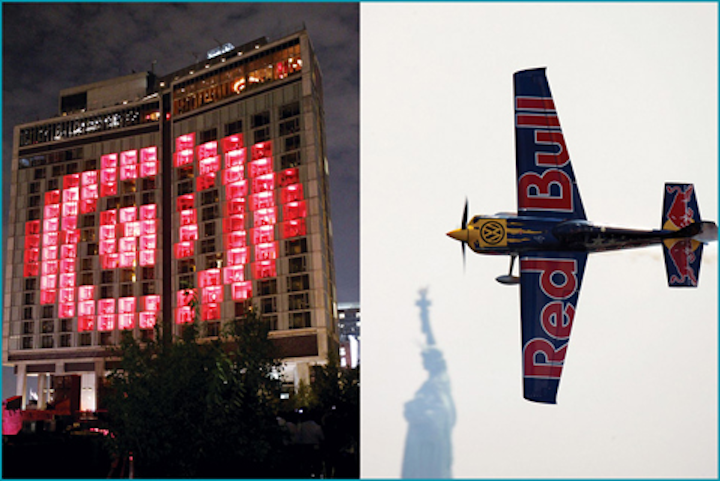 Photo: Marion Curtis/Startracksphoto.com, Dean Mouhtaropoulos/2010 Getty Images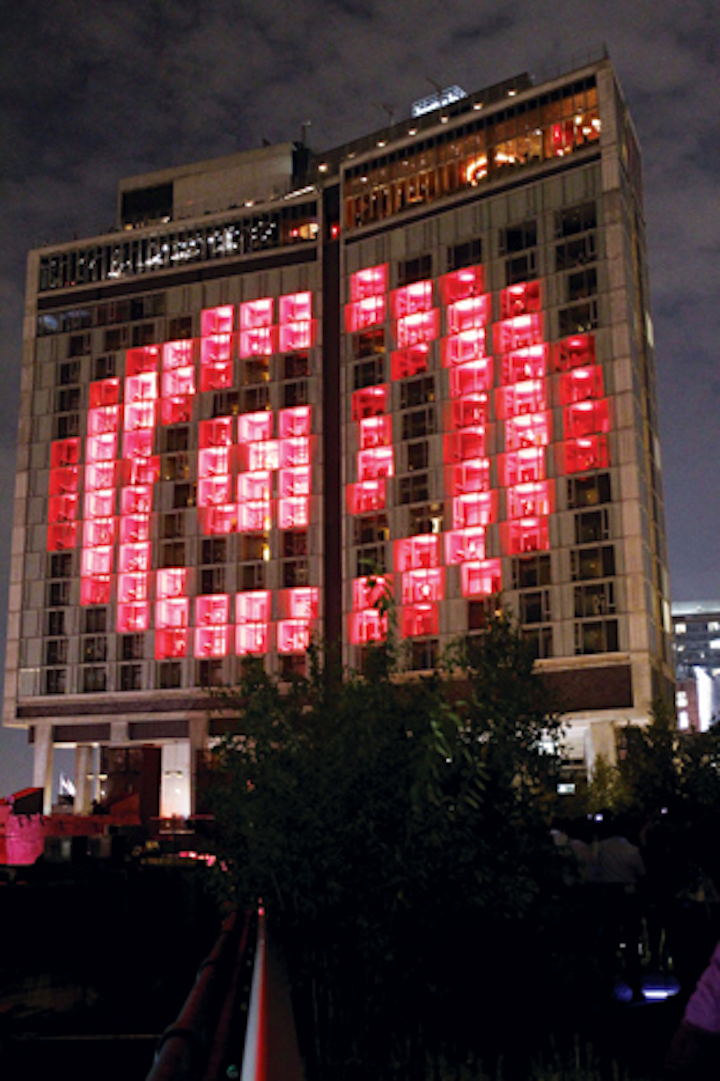 Photo: Marion Curtis/Startracksphoto.com
Photo: Sara Jaye Weiss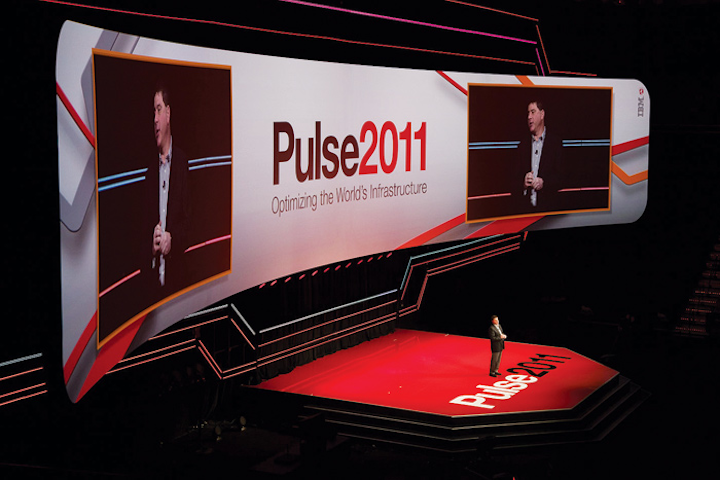 Photo: Bill Virun/Visually Attractive Inc.
Photo: Dean Mouhtaropoulos/2010 Getty Images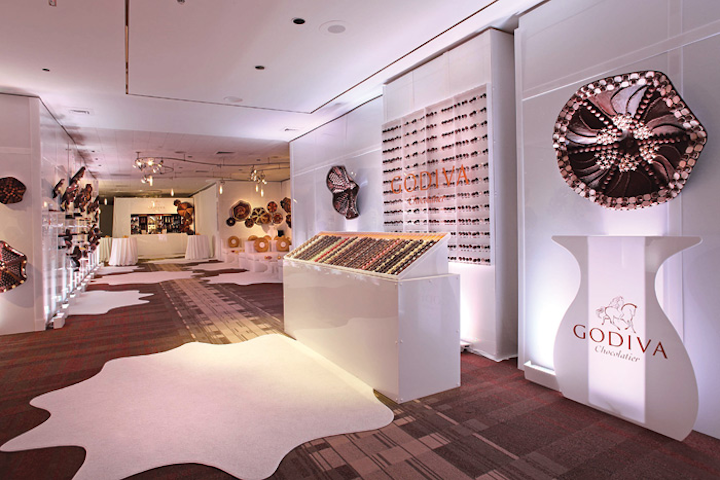 Photo: Nadine Froger Photography
Photo: NOTCOT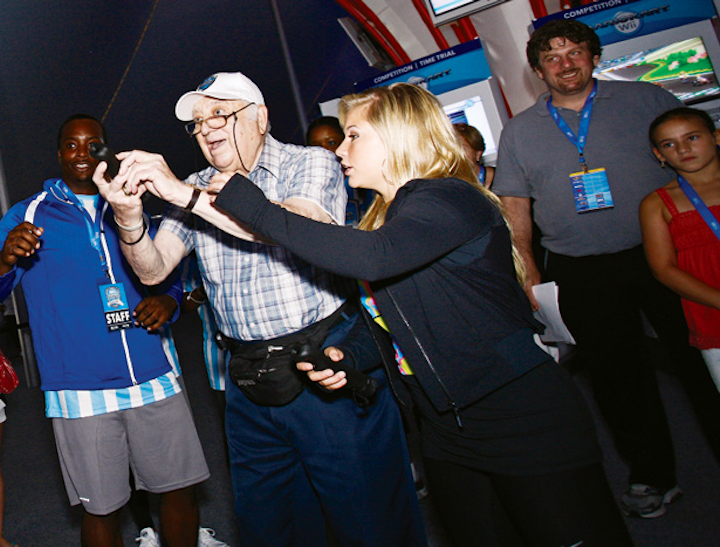 Photo: Courtesy of Nintendo of America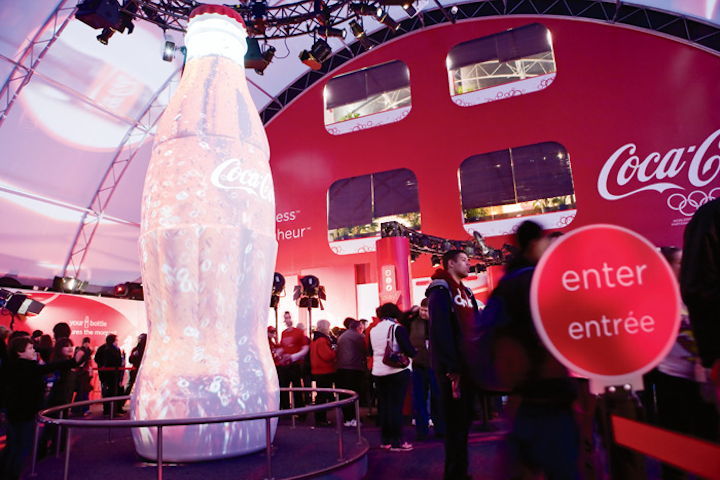 Photo: Grant Harder for BizBash
Featured Venues/Suppliers: