Most Innovative Meetings 2019: #1 IBM Think
A real-time event channel and revamped layout helped IBM's annual conference adjust to the challenges of a new host city.
November 5, 2019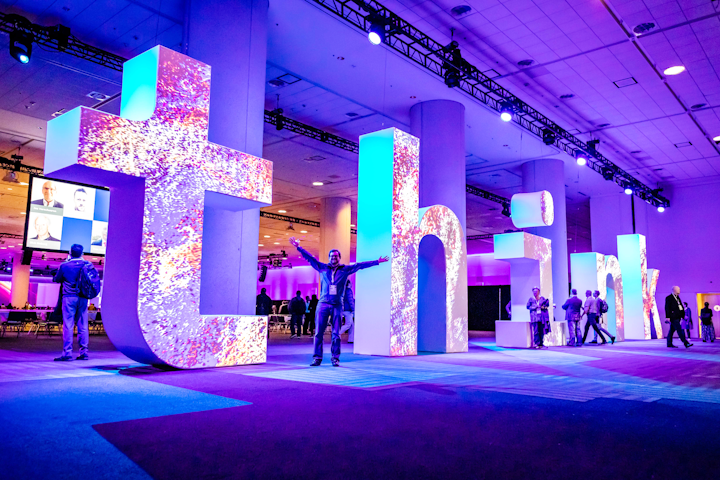 Photo: Julie Jones/Visually Attractive, Inc.
There's a reason many large-scale conferences are held in Las Vegas, where resort hotels with adjacent convention centers provide easy maneuvering for crowds. So when IBM Think, the tech brand's annual 30,000-attendee conference, made the move to San Francisco in February, organizers had to completely rethink several key aspects.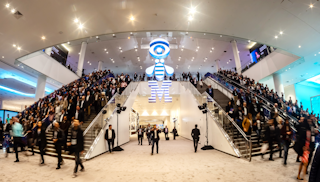 The conference, produced by IBM's event team and Drury Design, drew 30,000 people.Photo: Greg Baker/Visually Attractive Inc.
The biggest challenge, according to IBM's vice president of global conferences and events Colleen Bisconti, was keeping guests connected and informed when they were spread across the newly renovated Moscone Center and 100 different local hotels. The solution: ThinkToday, a live event channel that offered real-time information on scheduling changes, traffic and weather reports, and other breaking news.
"We have a really robust app, so we thought, How do we use that app to make people feel connected at every single touch point, whether it's at their hotel, or when they buy a cup of coffee, or when they get to the event or a session?" said Bisconti. "It was all about making this huge city of San Francisco feel like one event venue."
Chris Drury of Drury Design, who produced the conference with IBM, noted that while event broadcasts are not new, the real-time aspect—which used on-the-ground reporters and strategically placed cameras—set ThinkToday apart. "We had a team writing an up-to-the-second ticker for the bottom of the screen about which sessions were nearing capacity," he explained.
In addition to the event updates, the channel provided 26 broadcast segments, more than 12 hours of original content, and some 50 hours of guest interviews throughout the week. ThinkToday was available on the event app and aired on more than 400 digital screens at the Moscone Center and its surrounding hotels. Organizers also shut down Howard Street, the area between the north and south wings of the convention center, to create a screen-filled networking area where guests could watch the broadcast together.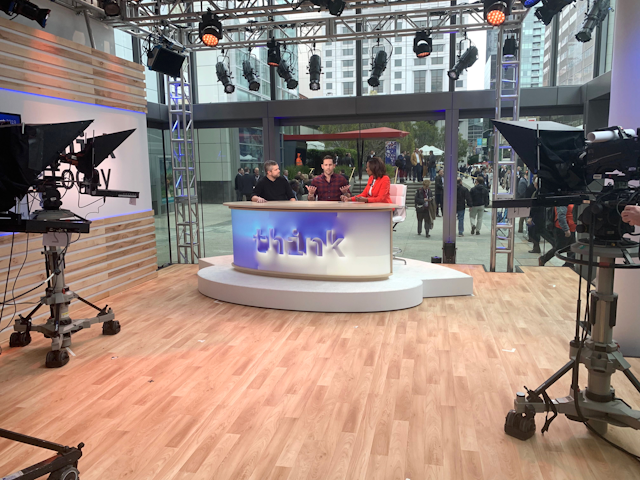 ThinkToday was a live channel that aired real-time event information plus 26 broadcast segments and some 50 hours of guest interviews.Photo: Courtesy of IBM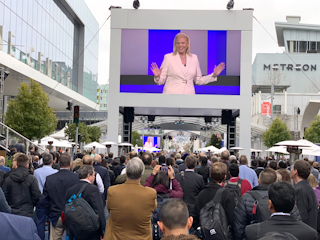 The broadcast aired on more than 400 digital screens, including on a street outside the Moscone Center that doubled as a networking space.Photo: Courtesy of IBMThinkToday was especially useful for sessions that took place outside of Moscone Center—of which there were many. The conference took a campus-inspired approach, grouping related education, products, and speakers together so attendees with specific interests could easily navigate. "The [campus layout] is a huge departure from our traditional way of thinking," explained Bisconti, who learned from attendee feedback that people wanted more ways to network and connect with subject-matter experts. "The idea was, how do you find your community in this big environment? How do you easily find what matters to you?"
Over 400 technical sessions, for example, took place at the nearby 18-screen AMC Metreon theater; Drury's team created custom laptop trays for the theater seats so attendees could have a comfortable way to participate throughout the day. Similarly, the nearby Tabletop Tap House restaurant was bought out and turned into a sort of developer playground, with games, networking opportunities, and exclusive offerings specifically for the developer community. 
But of course, it wouldn't be an IBM event without a buzzworthy moment of A.I. Like Watson, the question-answering supercomputer that memorably competed on Jeopardy!, IBM's Project Debater A.I. made its debut at Think by engaging in a live, public debate with a human. The conversation centered around subsidized preschool, and both sides were given 15 minutes to prepare. While the human did end up winning, 58 percent of event attendees said that Project Debater had enriched their knowledge of the topic—as opposed to just 20 percent who said the same about the human champion. 
"The idea was to take these amazing things that are happening in IBM research and highlight them in a meaningful way," said Bisconti.
IBM's Project Debater A.I. made its debut at Think by engaging in a live, public debate with a human.Photo: Shannon Johnson/Visually Attractive, Inc.
Next: #2 Code Conference
Back to the 15 Most Innovative Meetings 2019 list