Most Innovative Meetings 2017: #3 South by Southwest
The mammoth event created a chatbot to offer attendees on-demand assistance.
October 31, 2017
Organizers of South by Southwest work with their mobile app partner, Eventbase, each year to add new features to the SXSW Go app to improve the experience for attendees. The 10-day mix of conferences and festivals in Austin, Texas, is massive—in March 2017 it consisted of 24 tracks with 6,000 sessions at 600 venues, covering music, film, interactive technology, and gaming. In past years, the app has added personalized recommendations powered by GPS and beacons and enhanced networking via attendee matching.
This year, organizers adopted one of the top emerging event technology trends: chatbots. Dubbed "Abby," the SXSW chatbot answered more than 56,000 questions during the March event.
"It improved the overall event experience through immediacy—this concept of tapping one button and quickly asking exactly what you want to know and instantaneously getting a response," said Scott Wilcox, the festival's chief innovation officer. "When they had something very specific, they didn't have to use the search functionality or tap various elements to drill down. That's a tremendous interface for browsing, but if you want to know something very specific and get an answer instantly, you can do that with a chatbot."
Eventbase programmed the bot with information about all of the sessions, pitch events, entertainment, receptions, and more, as well as with information from help-desk staff regarding common questions from past years. Attendees could access the bot in the app and submit questions via text or voice and receive an instant response. Throughout the event, staff from SXSW and Eventbase monitored the questions being asked so they could fine-tune the answers to make them more relevant.
Wilcox said it's important to make a bot's responses sound conversational, "as if it's your best, all-knowing friend," and they must be useful. "So if you are going to say, 'I don't know the answer to that,' you still need to give them next steps. Don't lead them down a dead-end street and abandon them there," he said. "If our bot didn't know the answer to a very specific question, it might say, 'Check out this F.A.Q.,' or 'Send an email here and we'll get back to you.'"
The questions ranged from "What time is Joe Biden speaking?" to "What hip-hop artists are playing on Wednesday?" and "Where can I find tacos?" To add an element of fun, Eventbase programmed the bot to respond to certain emojis: Texting the taco emoji generated a list of places to get tacos, and texting a rainbow emoji generated a list of sessions related to diversity.
More than 16,000 unique users submitted questions. "What we're really excited to see is that people who used it a lot—the most active users—they asked a lot of questions," said Eventbase C.E.O. Jeff Sinclair. "The top 1,000 users were averaging 17 questions each, and usage grew over time, rising about 20 percent per day."
Some users interacted with the chatbot for amusement. "We did have a very long 2 a.m. drunk chat session that we had a good time unpacking," Wilcox said. "What we discovered from that is that the attendees at SXSW enjoy this playful interaction. It's not 'Tell me X and Y.' It's more they enjoyed using it and playing with it."
He said the bot will return in 2018, and as more attendees use it, it will continue to get "smarter" and more useful.
Previous: #2 Airbnb Open
Next #4 Google I/O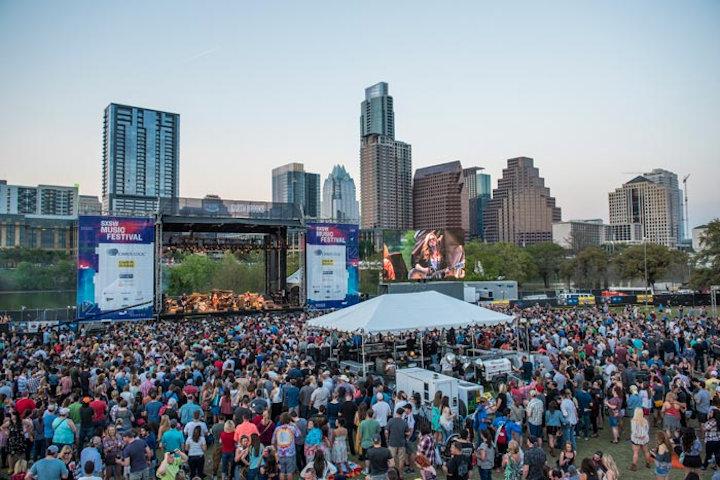 Photo: Merrick Ales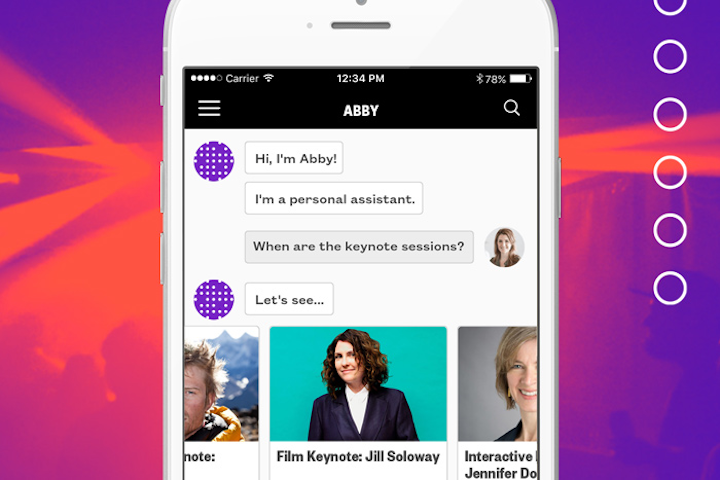 Photo: Courtesy of SXSW
Featured Venues/Suppliers: