Absolut Lights Up Downtown Buildings, Erects Art Installations for Parking Lot Party
September 14, 2010
Last summer, Absolut Vodka staged a party on the platform of an abandoned T.T.C. subway station as part of the company's ongoing advertising campaign, centred on the phrase "In an Absolut World: Opportunities Always Pop Up." On Thursday—the opening night of the Toronto International Film Festival—the brand created yet another pop-up party inspired by its "Anthem" global TV campaign.

This time around, Absolut transformed the rooftop of a downtown parking garage into a large-scale art exhibit and concert hall for a celebration of Canadian talent. Two up-and-coming Canadian visual artists, Kellen Hatanaka and Beside Herself, created art installations for the event, and a production team led by VisionCo. installed a stage for performances by Shad, Scratch Skratch Scratch, Shaun Boothe, and DJ New Money.
"Absolut has always done things differently to create an outstanding product and outstanding experiences," said Dan Cote-Rosen, senior brand manager for Absolut Vodka in Canada. "Absolut St. Art will redefine events as we know them, both in terms of physical location and visual juxtaposition. It will not only reinforce the brand's long-standing commitment to creativity, it will showcase Canadian talent in a way that is different and exceptional."
Event producer Jared Florence of VisionCo. said the first challenge was outdoing last year's fete. "Instead of going four flights below ground, this year we're nine floors up," he said. The brand's new ad campaign, based on the slogan "In an Absolut World Doing Things Differently Leads to Something Exceptional," was a guiding principle for the event, Florence said. "We wanted to do something new. Something that's never been seen before."
Choosing to host the event on the rooftop of a parkade presented a few dilemmas—not the least of which was the possibility of rain. "We were watching the Weather Network, AccuWeather, and Environment Canada. We were speaking to a pilot on a daily basis to ensure the satellite radar was looking OK. We even went as far as asking a colleague in the office if she could feel it in her knees," Florence said. "There was a 40 percent chance of less than one millimetre of rain, so we called it at 10 a.m. [on Wednesday] and said, 'Let's do it.'"

Transporting the equipment, art installations, and furnishings onto the rooftop also proved to be a challenge. "You cannot get anything bigger than a minivan into the parkade. This is a 40-year-old building. It was built before there were [sport utility vehicles]. We had to get Gators, all-terrain utility vehicles that are low and can haul 1,000 pounds, to transport the furniture, audiovisual equipment, and the lighting trusses," Florence said. "We started setting up on Tuesday night. The parking lot has been open, so we've been working around cars and we could only load in the larger items after 6 p.m."

Florence credited the production crew with pulling off the event. "We have a great group of people [working on this event]. The suppliers are having fun because they've been given the opportunity to get creative with what they do," he said. The generators were set up in an adjacent parking lot, with the cables run up the exterior wall. "We have 10 cables that we've run all the way up and over," Florence said. "I take pride in events like this. It's a lot of fun, and you're challenged to do something people haven't seen or experienced before."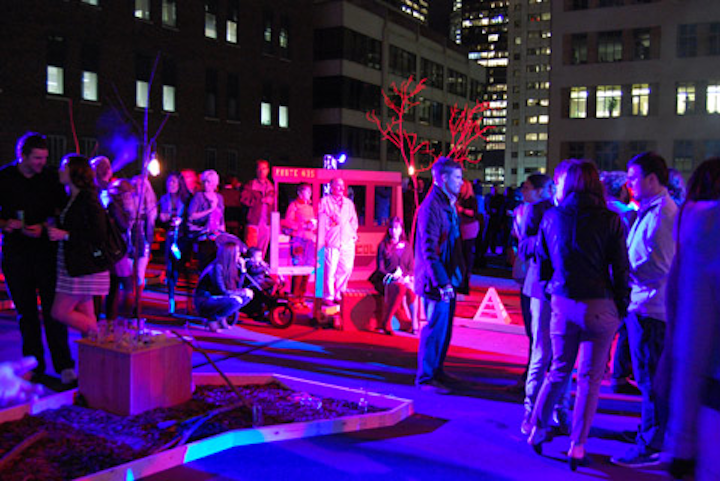 Photo: BizBash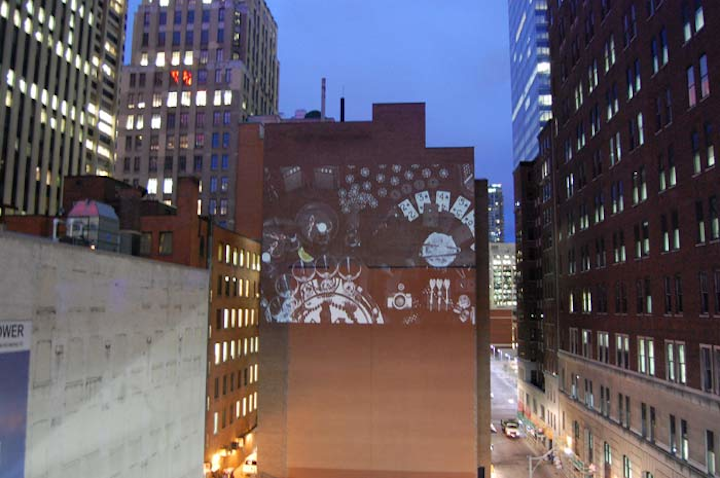 Photo: BizBash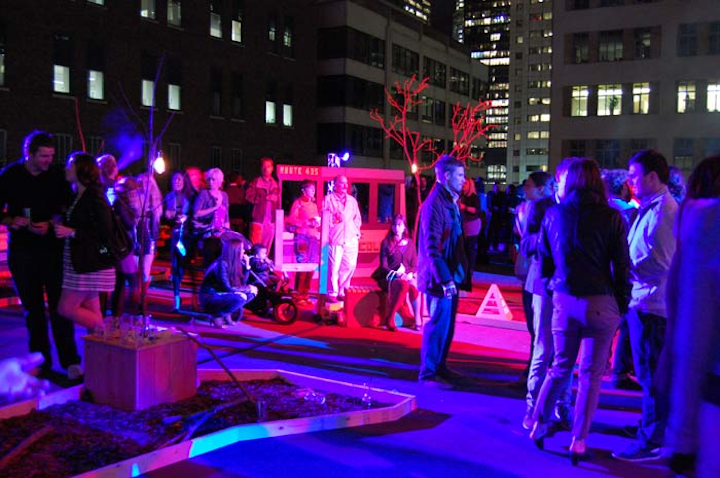 Photo: BizBash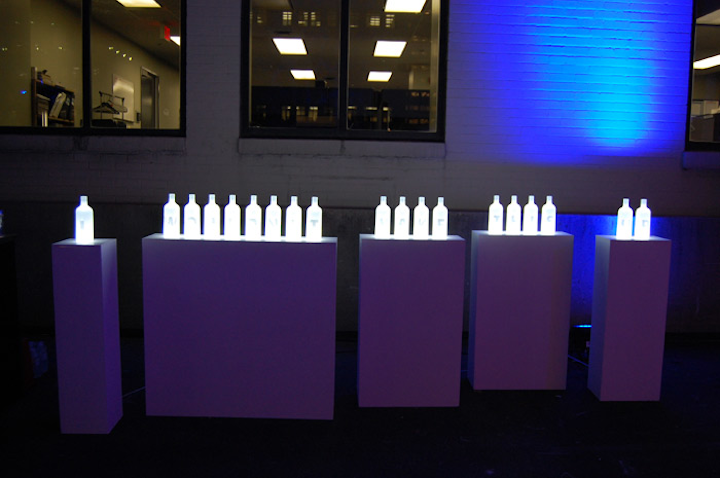 Photo: BizBash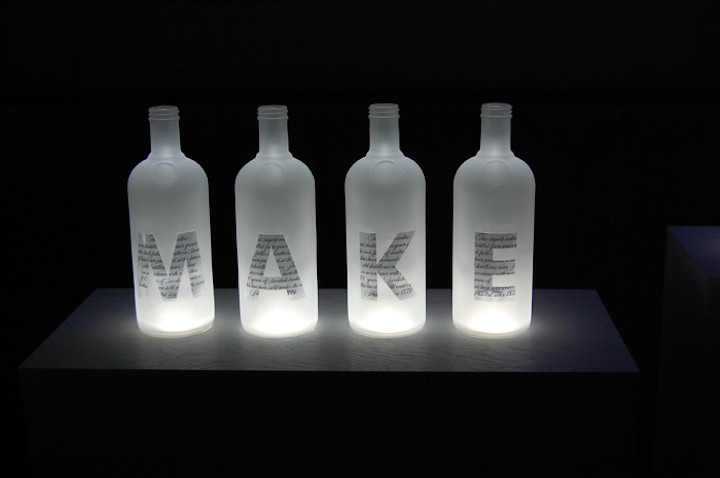 Photo: BizBash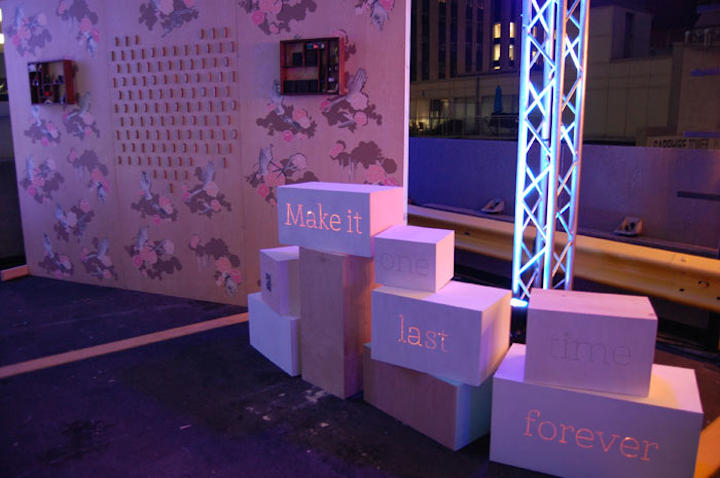 Photo: BizBash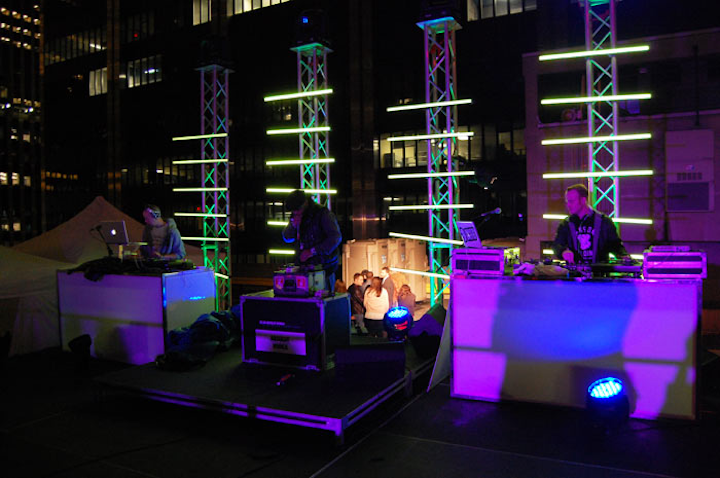 Photo: BizBash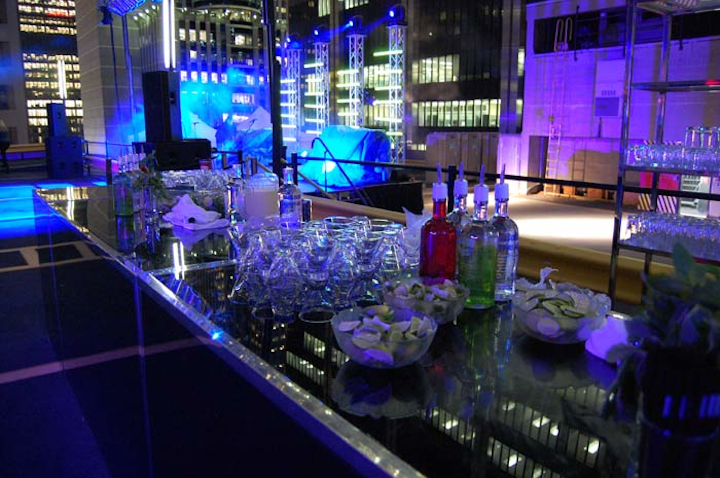 Photo: BizBash
Featured Venues/Suppliers: