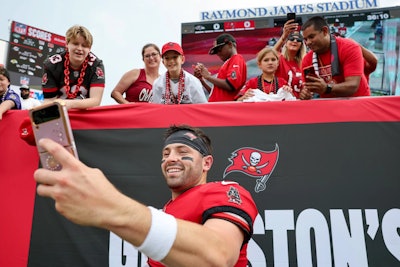 Photo: Courtesy of the Tampa Bay Buccaneers
Sign up here to get BizBash Sports delivered straight to your inbox with steal-worthy event inspiration, top takeaways from the hottest sporting events, updates about live and virtual events, and so much more.
---
As football game telecasts move from traditional cable networks to online streaming platforms like YouTube and Amazon, the NFL and its teams are embracing even more new tech—namely artificial intelligence.
For instance, Amazon is currently teaching its machine learning systems to understand how football works, so it can help viewers understand the game better during its "Prime Vision" streams of Thursday Night Football. For the new Defensive Alerts feature, a machine learning model is being trained on 35,000 plays from the last few seasons so it can automatically determine whether a defender is likely to blitz on any given play and then give viewers the heads-up on screen.
Don White, CEO of Satisfi Labs, a provider of conversational AI solutions that currently works with NFL teams including the Tampa Bay Buccaneers, said that AI can help to build stronger fan-team connections—both in the stadium and at home.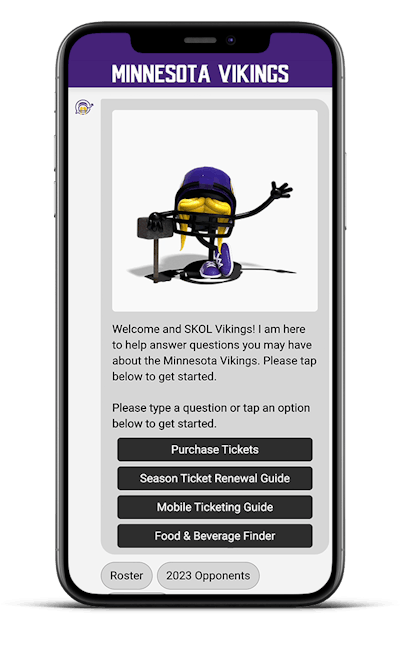 The company's AI chat allows clients to choose a welcome message, branded colors, avatars, mascots, customizable pop-up buttons, and more while gaining insights into user interactions. In 2022, the Houston Astros introduced ticket commerce functionality into their AI chat, allowing fans to buy single-game tickets directly through the digital conversation. According to Satisfi Labs, the team generated $232,000 in ticket sales and was able to save over 11,000 work hours by moving employees to other areas of the stadium.
"When incorporating AI, it is important to have a problem you want to solve," White said. "What doesn't work is theorizing about something that could or might be something, and asking AI to deliver a solution. AI is most successful when it's used for work or needs that already exist, as this makes it easier to measure success."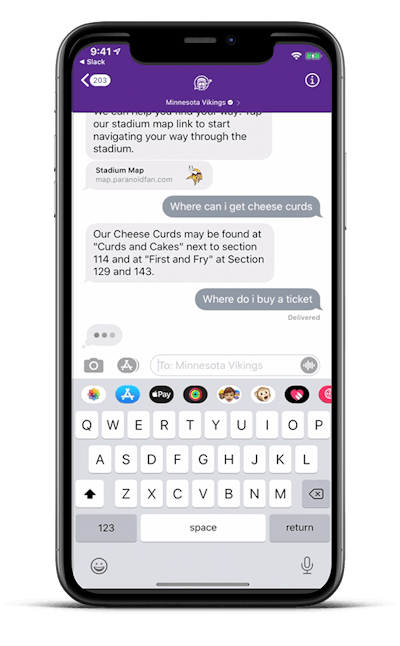 This year, Satisfi Labs has released new large language models—a computer algorithm that processes language inputs and predicts the next word based on what it's already seen, like that used by ChatGPT and Google's Bard. "This has given our product room to expand its content capabilities and provide an enhanced personal assistant experience to prior years," White said.
The Buccaneers Chat Bot Driven by Hertz, a virtual assistant that's able to answer fan inquiries through the team's mobile app, and the Atlanta Falcons' Ask Arthur can now more easily adapt to changing fan behavior. White said that both started as F&B-focused tools and "have evolved into intricate conversational search products."
Teams can then leverage the data collected with the AI tools to learn more about the preferences and behaviors of their fans, as well as encourage or persuade their actions.
"When a person asks a question or clicks on a suggestion based on their question, [the teams] are learning how to meet [the fans'] wants and needs in real time," White explained.
"The AI can respond by delivering the next list of options that may interest you, and can even promote a few things that you might not have been aware of before. You can also easily see in a conversation what things fans prioritize, where they have buying interest, and what their experience expectations are. It's like interviewing a fan in real time and then identifying a behavior pattern, which can be compared across the league or other leagues to formulate data-driven predictions."