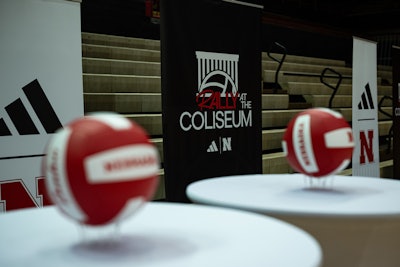 Photo: Courtesy of Adidas
Sign up here to get BizBash Sports delivered straight to your inbox with steal-worthy event inspiration, top takeaways from the hottest sporting events, updates about live and virtual events, and so much more.
LINCOLN, NEB.—They say everything's bigger in Texas, but what about Nebraska? At the end of August, the Cornhusker State set the record for the largest crowd to witness a women's sports event with what was dubbed Volleyball Day in Nebraska. On. Aug. 30, the University of Nebraska-Lincoln's Memorial Stadium welcomed 92,003 fans for a volleyball match between the university's women's volleyball team and Omaha. Nebraska swept Omaha 3-0.
Ahead of the big match, Adidas hosted the official pep rally, Rally at the Coliseum, where attendees could enjoy campus games, giveaways, and player appearances. Jeanne Schneider, director of NCAA sports marketing at Adidas, said the entire day (especially those attendance numbers) exceeded the brand's goals.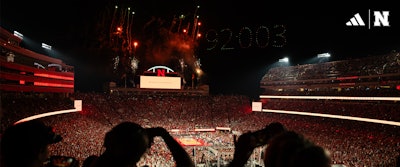 "We all knew this would be a historic event for women's sports, and there was the possibility of breaking several attendance records, but the day surpassed our expectations," she said. "Thanks to our partners at the University of Nebraska-Lincoln and their outstanding fans, skyrocketing interest in women's sports, and Nebraska being the capital of college volleyball, history was made on the global stage."
Schneider added that it was inspiring to see different generations of Husker fans come together to celebrate the team and the sport. "Fans, staff, players, and coaches were getting emotional over the magnitude of this program and event, which shows just how meaningful this moment was for the program, school, and sport overall," she said. "The Husker women's volleyball program has an impact beyond the state—it's inspiring athletes and growing women's sports around the country, around the world."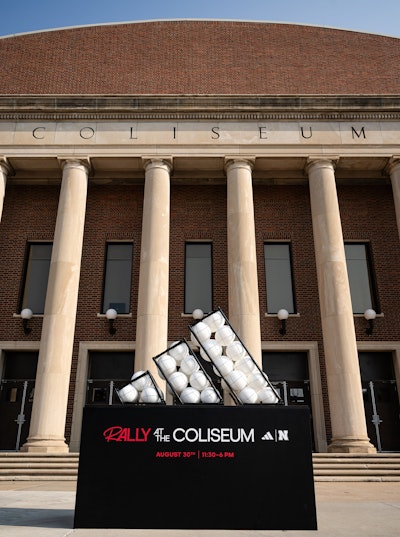 Adidas also announced the signing of Nebraska player Lexi Rodriguez to a name, image, and likeness (NIL) deal, where she'll participate in brand marketing campaigns. "Lexi's already inspiring athletes around the country, and we're so glad she's now part of the Adidas family," Schneider said.
Of course, an event of this magnitude doesn't come to fruition without challenges. Schneider said there was heavy coordination between teams at the university and across various internal Adidas teams. "Given Adidas' consistent support for women's sports, it was easy to galvanize our internal teams to bring this program together," she said. "We are so proud to work with the university for both the rally and game and look forward to more opportunities to partner with them to grow women's sports."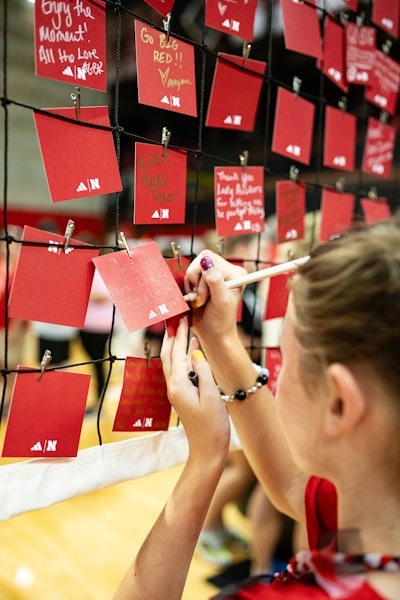 In conjunction with Volleyball Day, Adidas also dropped a new "Nebraska Rivalry" shoe right before the event and made sure the Nebraska women's volleyball team all got a pair before the launch. "There's always interest in fun product giveaways and merchandise, which is something we strive to include in fan moments," Schneider said.
Speaking of fan moments, she added that there's still built-up demand for those pre- and postgame gatherings. "After years without it due to the pandemic, fan interest in the pregame events and moments, especially those that allow them to engage with the players and teams, is at an all-time high. We're constantly looking for ways to collaborate with our university partners in creating these special touchpoints where fans feel even closer to the team."
Schneider's final piece of advice for event profs: "In case it isn't said enough, invest in women's sports. Looking to the future of sport and the next generation of athletes, each of us has a role to play in empowering all athletes, and that is the No. 1 reason why this activation was so important to the brand."