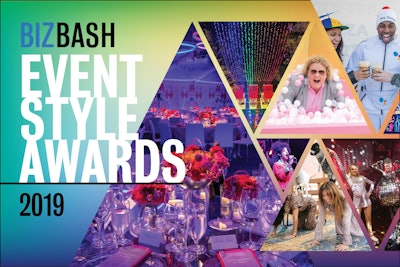 Graphic: Erica Brooks for BizBash; Photos: Courtesy of Finalists
An attention-grabbing South by Southwest activation, over-the-top hotel opening, and purposeful galas are among the finalists for the BizBash Event Style Awards. The finalists represent event work done on behalf of tech companies like YouTube, Amazon, Google, and Spotify; familiar consumer brands like Bud Light, Taco Bell, and Estée Lauder; and innovative nonprofits like Charity: Water.
Now in their seventh year, the awards honor the best ideas, strategies, and products in the industry. After considering a multitude of submissions, judges have narrowed down each category to the finalists, listed below. New this year were People's Choice categories in which the public voted on the winner. All winners will be announced at BizBash Live: New York on October 23 at the Jacob K. Javits Convention Center.
The finalists are:
Best Association Event (People's Choice)
A Celebration of Terps
Submitted by University of Maryland Alumni Association
Leading Caterers of America 3-Day Executive Summit
Submitted by 24 Carrots
U.S. Chamber of Commerce State of American Business Address
Submitted by U.S. Chamber of Commerce
Best Catering at an Event
An Evening in the Evergreens
Submitted by the Lazy Gourmet
MPAA Film Premiere Cocktail Reception
Submitted by Amphora Catering
Houston Launch Event
Submitted by Wolfgang Puck Catering
Best Conference—Fewer Than 5,000 Attendees
Snap Partner Summit 2019
Submitted by the Gathery
Taco Bell FRANMAC
Submitted by the Sheppard
Time 100 Summit 2019
Submitted by BMF

Best Conference—More than 5,000 Attendees
C2 Montréal 2019
Submitted by C2 Montréal
IBM Think 2019
Submitted by Drury Design
Walmart Associate & Shareholders Meeting 2018
Submitted by Leo Events
Best Corporate Event Concept—Budget Under $250,000
The Dodo's Best Dog Day Ever
Submitted by ProductionGlue
Estée Lauder Five-Day Seminar
Submitted by VIBE Agency
Work Hard, Play Hard
Submitted by 24 Carrots
Best Corporate Event Concept—Budget Between $250,000-$500,000
Daily Harvest: The Refueling Station
Submitted by the Gathery
Grand Opening of Four Seasons Hotel Kuala Lumpur
Submitted by the Fame Events Sdn Bhd
I Am The Night Immersive LA Premiere
Submitted by TNT, WarnerMedia, Little Cinema
Best Corporate Event Concept—Budget Over $500,000
SAP Sapphire Now
Submitted by SAP
The Studio by HBO
Submitted by the Gathery

Virgin Voyages #ShipTease: The Dining Experience Reveal
Submitted by C3 Experiential
Best Event Decor—Budget Under $250,000
Asolo Repertory Theatre's Season Celebration on Stage
Submitted by Asolo Repertory Theatre
Klarna Smoooth Sessions NYC
Submitted by Sequence
Spotify Holiday Party
Submitted by Tinsel Experiential Design
Best Event Decor—Budget Over $250,000
"Flower Power" Philadelphia Flower Show
Submitted by GMR Design

John Muir Health Gala
Submitted by Blueprint Studios

Sotheby's 2019 Global Networking Event
Submitted by Sotheby's International Realty Affiliates

Best Event Lighting Design
Asian Art Museum Gala
Submitted by Got Light
HP Reinvent Evening Celebration
Submitted by Kindle Communications
Miles of Pride
Submitted by Pacific Event Services
Best Event Entertainment Act
Concert at The Kennedy Center: An Evening of Music
Submitted by Bravo Entertainment
I Am The Night Emmys F.Y.C.
Submitted by Little Cinema
New England Furniture Company 100th Anniversary Celebration
Submitted by Corinthian Events
Best Event Technology Solution
Bizzabo Event Success Platform
Submitted by Bizzabo
GES Project Central
Submitted by GES
LED Pixel Video Balls
Submitted by Got Light

Best Fair or Festival
Essence Beauty Carnival
Submitted by Mark Stephen Experiential Agency
Miami Open
Submitted by Hard Rock Stadium
Skookum Festival
Submitted by Skookum Festival / BrandLive
Best Floral Design for an Event or Meeting (People's Choice)

Campo Viejo Governor's Ball Taxi Activation
Submitted by B Floral: Event Design & Production
Evine After Dark Vagina Wall
Submitted by Patrick J Clayton Productions
Wedding
Submitted by Birch Event Design
Best Guerrilla Marketing Initiative/Marketing Campaign
Amazon Prime Video's Good Omens at SXSW – The Garden of Earthly Delights
Submitted by Amazon Prime Video
Bud Light Cleveland Browns Victory Fridge
Submitted by Fusion Marketing / Endeavor Global Marketing
Taco Bell 2032
Submitted by Cyrano Rox
Best Incentive Program
The 2019 Masters Circle
Submitted by CSI DMC
2019 Diamond Club Scotland
Submitted by East West Connection
Live the Difference: Pura Vida
Submitted by CTC Events and Productions
Best Influencer Event
Big Little Lies: Amabella's Birthday Party
Submitted by HBO
Taco Bell Friendsgiving
Submitted by Cyrano Rox
YouTube's Top Creator Summit
Submitted by MAS Event & Design
Best Nonprofit Event Concept—Budget Under $250,000
An Artist at the Table: 10 Years
Submitted by Sundance Institute
Art Alive 2019 Premiere Dinner
Submitted by the San Diego Museum of Art
Blue Marble Benefit
Submitted by McCalls Catering & Events
Best Nonprofit Event Concept—Budget Over $250,000
Charity: Ball 2018
Submitted by Trademark, Bodega, and Charity: Water
21st Annual Discovery Ball
Submitted by California Science Center Foundation
Jackson Memorial Foundation Golden Angels Gala
Submitted by Wow MKTG
Best Product Launch
BMW Vision iNEXT World Flight
Submitted by Vok Dams
Evian Drip Drop
Submitted by Evian / Small Girls PR
Nissan's 50th Anniversary Celebration
Submitted by George P. Johnson Experience Marketing
Best Social Event
An Adventure
Submitted by Events Man
Georgella 50th Birthday Party
Submitted by Zetta Live / Danielle Nay
When Literature and Classical Music Come To Life
Submitted by Kristin Banta Events
Best Sponsor Activation at an Event
Audi & AFI Film Festival Projections
Submitted by BartKresa Studio
Dell Den at Sundance Film Festival
Submitted by Lacy Maxwell Experiential
Google Aspen
Submitted by Advoc8
Best Staging and Set Design
Aligning The Stars: Celebrating the First 20 Years of North Star Academy
Submitted by Eventique
MILUX Beach House
Submitted by the Gathery
Walmart Associate & Shareholders Meeting 2018
Submitted by Leo Events
Best Sustainability/Corporate Social Responsibility Program
Bacardí Beach Clean-Up in Piñones
Submitted by Harrison & Shriftman
HP Reinvent Evening Celebration
Submitted by Kindle Communications
Skookum Sustainability: Protecting our Coastal Home
Submitted by Skookum Festival / BrandLive
Best Tabletop Design
Bare Minerals
Submitted by East of Ellie
Super Bowl Spectacular
Submitted by Bold Catering & Design
Torno Subito by Massimo Bottura for W Dubai The Palm
Submitted by the Gathery
Best Teambulding Activity
The Elevator Pitch at Cisco GSX Hub 2018
Submitted by George P. Johnson Experience Marketing
Extra Credit
Submitted by Mystery Trip
John Hancock Block Party
Submitted by CSI DMC
Best Trade or Consumer Show
2019 New York International Auto Show
Submitted by Greater New York Automobile Dealers Association
Snap Partner Summit 2019
Submitted by the Gathery
Unveiled: The Ultimate Wedding Planning Event
Submitted by the Wedding Guys
Best Trade Show Booth
Fortnite at E3
Submitted by FGPG, Epic Games, The Shop @ Show Ready
Google Assistant at CES
Submitted by Google & Sparks
MAC Cosmetics Booth at ULTA Beauty 2019
Submitted by JJLA
Best Video Capture of an Event
Dell Experience & The Alienware Outpost
Submitted by Lacy Maxwell Experiential
Extreme Block Party
Submitted by Access Destination Services—Nashville
Power Design Halloween Party
Submitted by Power Design
Best Use of Event Technology
Jays Curve Ball Gala 2018
Submitted by FMAV
Watson the Superfan: How AI is Changing the Game
Submitted by George P. Johnson Experience Marketing
Walmart Associate & Shareholders Meeting 2018
Submitted by Leo Events

Best Use of Special Effects at Events
Preston Bailey's 70th Birthday
Submitted by Lytehouse Studio
Sviatovid @ ISE
Submitted by BartKresa Studio
UCLA Institute of Environmental Sciences
Submitted by Megavision Arts
Best Use of Video at an Event
BeMatrix
Submitted by Steelhead Productions
Las Vegas Ballpark Opening Night
Submitted by 4th Floor Agency
Think Today Broadcast at IBM Think 2019
Submitted by Drury Design