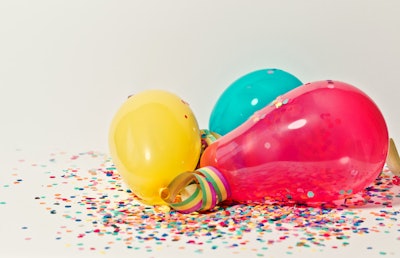 Photo: Ylanite Koppens/Pexels
Now that plastic straws, utensils, and bags are experiencing widespread bans due to sustainability concerns, environmentalists may be shifting their focus to another popular event staple: balloons.
Nothing says "party" quite like a balloon, ranging from kids' birthdays to high-end events with colorful balloon arches and installations. But in recent years, event venues and planners have started questioning the environmental impact of the popular decor choice, both due to diminishing helium and concerns about the impact on landfills and wildlife.
Some children's museums and other venues have already banned balloons at events. In a more extreme example, the small Rhode Island town of New Shoreham banned balloons entirely in 2018. To learn more about both sides of the debate, BizBash spoke to some balloon suppliers, event producers, and environmental activists.
So, are balloons ever an environmentally-friendly choice?
Sometimes. When sourced, handled, and disposed of properly, many event professionals argue that balloons can still be a responsible decor option. In fact, some balloon designers, such as Balloonzilla in Orange County, California, devote entire sections of their websites to educating consumers on sustainability.
"A latex balloon decomposes at the same rate as an oak leaf—[but] even considering how well they decompose, we still do our best to prevent littering and to make sure our clients understand good practices," explains Balloonzilla's Sasha Hild. The company only uses balloons made from rubber trees located in plantations that are Rainforest Alliance Certified, and ensures that all helium-filled balloons are securely tied during the event and properly disposed of afterward.
"We often have clients who are concerned about whether or not balloons are eco-friendly, and we love it," Hild continues. "We always encourage our clients to consider caring for the earth—and when they show concern we simply present them with the facts so they can feel more confident in their choice."
Balloons United, based in Germany, uses similar practices. "Each year, thousands of trees are planted mainly for latex production," explains the company's Jan Dijkman. "Those trees don't need to be cut down for the production. The juice of the rubber tree is harvested through harmless cuts in the bark."
Balloons United does suggest avoiding mylar balloons, which are non-biodegradable and contribute to oceanic waste. When shipping balloons, the company also uses as little packaging as possible, using reusable zip-top bags and 100-percent recyclable boxes and envelopes.
Beyond the balloon itself, it's also important to consider the string holding it down. Balloons United discourages the use of polyester or plastic strings, instead opting for strings made with cotton or cardboard. Meanwhile, Brooklyn Balloon Company in New York uses paper strings when possible; when nylon and tulle ribbons are used, they're later donated to local elementary school art classes.
"Everyone appears to be becoming more and more environmentally conscious, especially corporate [clients]," notes Alexa LeClaire, a sales manager for Access Destination Services who works with a lot of planners and venues. She predicts that balloon companies who openly acknowledge these concerns may actually see an increase in business, since clients will know they're committed to eco-friendly practices. "I think planners appreciate being educated on the topic as it often aligns with some of their—or their clients'—company values and missions."
What about balloon releases?
While still a staple at certain events such as the Indianapolis 500's opening ceremony, producers and suppliers alike agree that balloon releases are a bad idea. Released balloons can travel thousands of miles and are hazardous to wildlife if consumed; they also often become entangled in power lines, leading to outages or even fires. Balloonzilla and Balloons United both discourage the practice.
"Balloons will never come down in the correct trash can," says Dijkman. "They end up in our environment where they can cause damages until they are completely decomposed."
Florida-based nonprofit organization Balloons Blow has dedicated itself to providing education on the impacts of balloon releases; in fact, co-founder Danielle Vosburgh memorably rented a billboard before this year's Indy 500 explaining the hazards.
"Event planners can have a huge role in curbing balloon pollution, and waste in general," says Vosburgh, who argues that even latex balloons can be hazardous to animals. "It's all about sustainable living, in all capacities—even with our parties."
Balloon releases are actually illegal in five states—California, Connecticut, Florida, Tennessee, and Virginia—and other states and towns have introduced similar bills. The issue has even led some venues, such as the waterfront Terranea Resort in Southern California, to ban balloons entirely to avoid having them end up in the ocean.
Are event balloons to blame for the current helium shortage?
When Party City announced that it would shutter 45 of its 870 stores this year, many blamed the helium shortage—though a spokesperson for the company denied that claim to in a New York Times article in May.
But there's no denying that the lack of helium is a very real concern: According to the same New York Times article, we're in the midst of the third global helium shortage in the last 14 years. Event producers are already feeling the effects, according to the team at Los Angeles-based experiential agency Mirrored Media.
"Recently, [a client in Las Vegas] wanted to do these really fun balloons, but we literally couldn't source enough helium to do the project," recalls founder and C.E.O. Justin Lefkovitch, whose team called every helium distributor within a 500-mile radius but was not able to secure the necessary materials.
"We have come to communicate with our clients that when it comes to balloons, we will do everything we can—but at the end of the day, helium is extremely unreliable right now and we source alternative options," he says.
While many experts agree that event balloons are likely not the main source of the helium shortage, it's certainly an extra consideration when weighing decor options.
"Even if balloons are not the primary cause of helium shortages, using them in nonessential applications is analogous to watering your lawn in a drought," notes Brett Blumberg, the senior manager of sustainable development for San Diego-based Kilowatt Events. "It may offer an aesthetic you are targeting, but there are so many other eye-catching and less impactful options to help you stand out to your attendees."
What are some of those options?
When balloons aren't feasible, Blumberg suggests trying reusable or rented decor elements such as bubble machines that use organic, biodegradable soap. "If pockets are a bit deeper, events can explore custom projection mapping shows or a collaboration with local artists to create a striking art piece," he adds.
LeClaire, meanwhile, suggests using recyclable paper to create eye-catching decor. "I am loving all the options we have with tissue paper," she says, citing "honeycomb" arches, tassels, paper chains, and pom-poms.
"Event professionals are a creative bunch," Blumberg points out. "Use that creativity to raise your sustainability credentials."