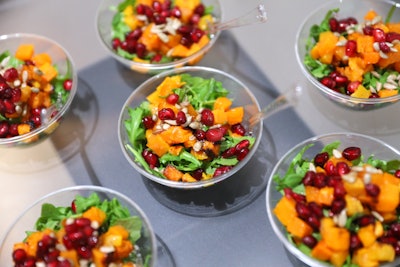 LOS ANGELES—The 62nd Grammy Awards take place this Sunday, and with them will come the regular opulent after-parties around town. But the first stop of the evening for many A-listers is the Recording Academy's official after-party, known as the Grammy Celebration. Held at the Los Angeles Convention Center immediately following the award show, the 5,000-attendee event is produced by Branden Chapman, executive in charge of production and chief business development officer of the Recording Academy.
While last year's event had a European, modern masquerade ball theme, this year's celebration is inspired by North Africa; it will feature Moorish architectural details and a Morocco-inspired menu. "I often draw inspiration from my own travels and elements of pop culture," explains Chapman. "This year, I really wanted to transport guests to an exotic locale that would be filled with rich history, colorful flourishes, and unique performances. Marrying Morocco's traditions with the cinematic influences of the film Casablanca proved to be an amazing design opportunity."
Like last year's three-part theme, Chapman says the decor will evolve throughout the evening. "We like to take guests on a journey, so many elements evolve and change throughout the evening," he says. "This year, we will start with a more formal look and feel to the costuming and ambient performances inspired by the 1940s feel of Casablanca, then evolve into a more risqué nightlife as the evening progresses with more authentic present-day costumes and performers."
The event's menu comes from Top Chef winner Joe Flamm, the former executive chef of Spiaggia and Cafe Spiaggia who is opening his debut restaurant in Chicago this summer. In partnership with Levy Restaurants, Flamm has created four North Africa-inspired food stations. "The theme this year really drove the unique direction of the menu," notes Chapman. "While we offer something for every taste, this year's menu is inspired from a region and culture that has some of the most unique spices, dishes, and tastes that the world has to offer."
Performances will come from rock band Cheap Trick and Grammy-winner Gloria Gaynor; current Grammy nominee Sara Gazarek will perform in an on-site jazz lounge, and Hollywood favorite Michelle Pesce will DJ. MasterCard is sponsoring the performances, while Absolut will create signature cocktails. Other sponsors include Bulova, Delta Air Lines, Google Pixel, Hilton, I.B.M., JBL by Harman, Lincoln, People magazine, and Triller.
Chapman says he and his team typically come up with the theme a full year in advance and always aim to make it a true departure from the year before. "I firmly believe [the guests] want to see, hear, and taste something unique," he says. "This is an opportunity to not only celebrate the industry and the year in music, but also a time to conclude Grammy Week on a high note. For any special event, people want to escape the mundane and experience something jaw-dropping."
The Academy is working with Musically Fed to repurpose unused catering from the Grammy Celebration and several other Grammy Week events. The nonprofit works to mobilize the music industry in the fight against hunger.
The Recording Academy and Levy Restaurants have also released details about catering for the award show itself. The Staples Center is hosting the Grammys for the 19th time, and its in-house catering team, led by executive chef Manny Slomovitz, is creating an eclectic menu that ranges from casual snacks to more high-end steaks. "From last year to this year, we found that people want food to snack on—but they also want healthy [options]," said Slomovitz during a media preview on Tuesday morning.
In keeping with a recent award-season trend, there will be an increase in vegan and vegetarian options, noted the chef. Highlights include a zen garden crudité made with pumpernickel dust, edamame Boursin mousse, and baby market vegetables; plus a dish called "Dr. Feelgood Superfood Greens" featuring shredded kale, cabbage, carrots, cilantro, green beans, green onions, and carrots ginger dressing. ("It's my tribute to Mötley Crüe," laughed Slomovitz.) In total, more than one ton of vegan and vegetarian options will be served.
The event will have plenty of options for meat-eaters, though, including a Tomahawk and roasted cauliflower steak duo board, served with Himalayan sea salt-encrusted mashed potatoes, for V.I.P. guests. Cheddar-stuffed pretzel poppers will be served with candied bacon, and mini Hoagie bites will include hand-shaved beef and pimento beer cheese spread.
The award-show menu took five months of development, and more than 1,500 hours will be spent cooking leading up to the event. Some other fun facts: More than 2,000 bottles of champagne will be served, 12,500 ounces of Tomahawk steak will be carved, and a whopping 20,000 gummy bears will be eaten.
Scroll down for a peek at dishes for the Grammy Celebration after-party, and the award show itself.
The 62nd annual Grammy Awards will take place on January 26. Alicia Keys returns as host, and Lizzo, Billie Eilish, and Lil Nas X lead in nominations. In a last-minute shakeup, Recording Academy president Deborah Dugan was placed on administrative leave on January 16; Dugan, in turn, filed a lawsuit on January 21 claiming she was sexually harassed by the general counsel to the Academy, among other claims. The Academy has launched an independent investigation.
Grammy Celebration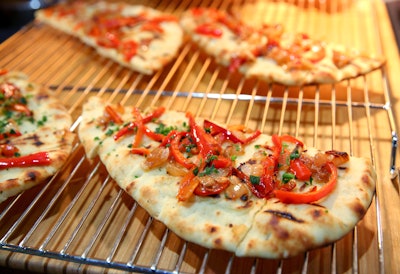 Photo: Rebecca Sapp/Getty Images for the Recording Academy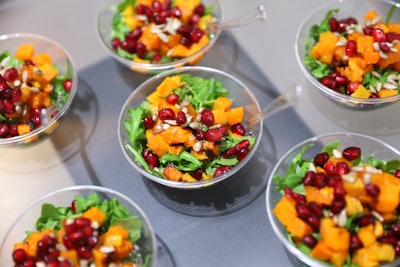 Photo: Rebecca Sapp/Getty Images for the Recording Academy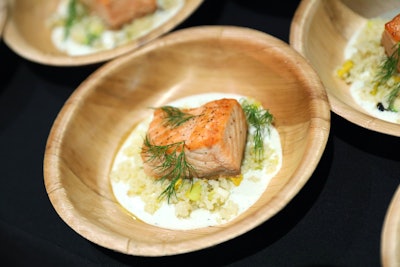 Photo: Rebecca Sapp/Getty Images for the Recording Academy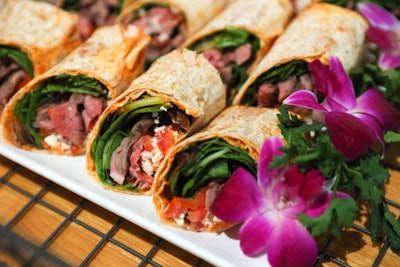 Photo: Rebecca Sapp/Getty Images for the Recording Academy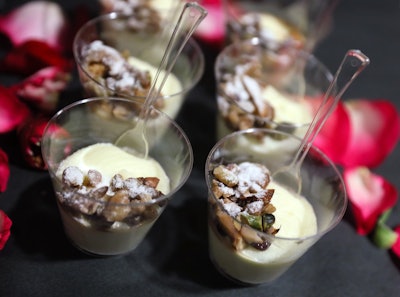 Photo: Rebecca Sapp/Getty Images for the Recording Academy
Grammy Awards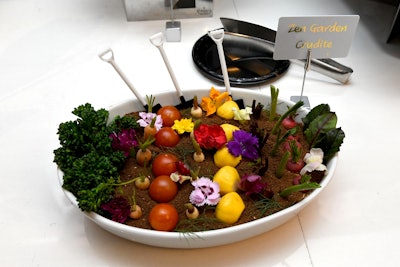 Photo: Evan Gole/Staples Center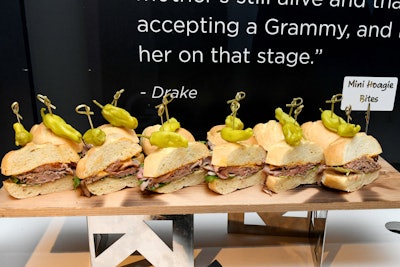 Photo: Evan Gole/Staples Center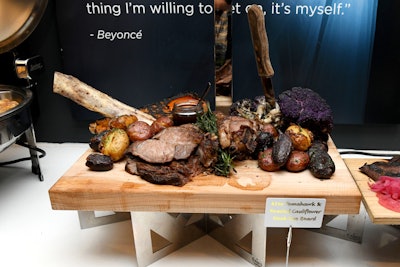 Photo: Evan Gole/Staples Center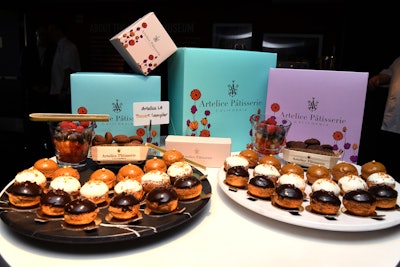 Photo: Evan Gole/Staples Center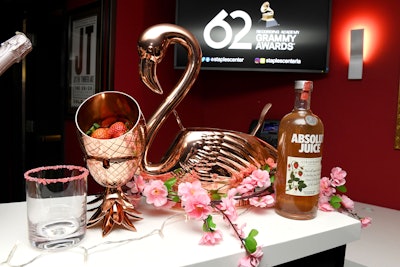 Photo: Evan Gole/Staples Center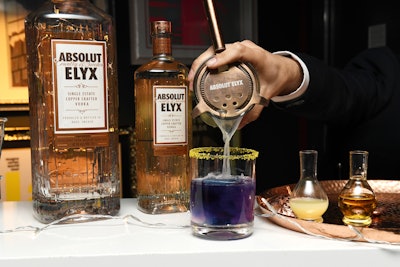 Photo: Evan Gole/Staples Center