Event Innovators 2014: Ryan Hutchmacher
The owner of Centered Chef believes that food is medicine, and uses his cooking to inspire wellness.
June 17, 2014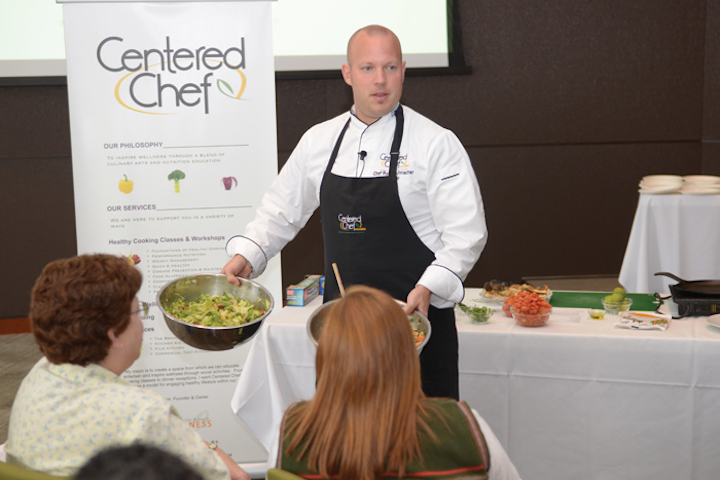 Photo: Courtesy of The Centered Chef
Ryan Hutmacher, owner of the Centered Chef culinary studio in Chicago, doesn't just aim to keep event guests happy and fed: he seeks to improve their health. Hutmacher, 35, has "always loved food—to excess," he says. But his passion didn't become his career before a wake-up call.
After working long, stressful hours at a sales job in 2001, Hutmacher found himself overweight and exhausted. His doctor at the time tried to lift his ailments by prescribing everything from high-cholesterol pills to depression meds, but Hutmacher ultimately found his own cure in the kitchen.
Looking to spend his time on something he loved, he enrolled in culinary school at Chicago's Kendall College and "began to connect to food as an inspirational art form." During a six-month apprenticeship for a chef in France shortly thereafter, Hutmacher jogged daily, learned to cook with clean, seasonal foods, and lost 40 pounds without ever skipping dessert. "I began to see food as my medicine," he says. "It incubated the idea that I could reinvent my health and eventually help others to do the same."
In 2005, Hutmacher and a partner founded the Culinary Chef. The business started as a health-conscious catering firm and personal chef company but lost traction when the recession hit. "This was mostly because we were now categorized as a luxury item, and partially because we were ahead of the curve, in terms of personal chef services becoming mainstream," Hutmacher says.
Despite setbacks, he continued on with the business alone and shifted its focus to achieve a singular mission: "to educate, entertain, and inspire wellness." Hutmacher found investors and built a culinary studio in Chicago's West Loop neighborhood "from which I would integrate healthy eating into social and educational platforms." The venue grew into a full-service event space and interactive cooking school that now hosts everything from meetings (with food-centric breakout sessions) to weddings. Hutmacher and his team also teach healthy-cooking classes off site.
When he set out to create his space, Hutmacher says there was no comparable business model. "To this day," he says, "I still believe Centered Chef stands alone in its concept."
In February, Hutmacher was named the first-ever Weight Watchers chef and was awarded a one-year consulting contract with the company. While he continues his work with Centered Chef, he will develop special recipes for the popular weight-loss system. 
Featured Venues/Suppliers: