A Spectacle Indeed
Redmoon Theater's \"Spectacle Lunatique\" fund-raiser filled the MCA Warehouse with whimsical performers and surreal vignettes.
March 21, 2008
No one has ever accused Chicago's Redmoon Theater of being a wallflower. Known for its highly original brand of theater that incorporates pageantry, puppetry, mechanical objects, physical movement, and special effects, Redmoon has become one of the city's most eclectic theater groups since its inception in 1989. For its annual fund-raiser, the aptly named Spectacle Lunatique, this year Redmoon chose a new venue—the decidedly raw
MCA Warehouse
—to embody its trademark act of transformation.
"This is a very Redmoon-y space," said Michaela Murphy, the theater company's marketing director, on the night of the event, March 7. She was referring to the MCA Warehouse's various open spaces, with plenty of twists and turns among them, that allowed Redmoon to set up several offbeat installations throughout the space. The theater's set designers and 37 performers led the event's more than 650 attendees through inventive visual displays."Our jumping-off point was the space itself," said Vanessa Stalling, Redmoon's artistic associate. "We envisioned everything unfolding as the evening progressed." Stalling also spoke of the event's long planning period. "About six months out, we begin thinking about concepts, and our art staff brainstorms an outline," she said. "Then we start scouting for new artists to work with. We're always looking for new artists and performers." The staff found 10 of the evening's performers through auditions.
The assault on the senses began as soon as guests hit the multitiered staircase. A trio featuring local musician Shu Shabbat played ethereal music while rose petals fell from above. Guests then roamed through a room hung with several glittering chandeliers and featuring costumed performers holding briefcases filled with sweet treats and science-class-type curiosities.
These novelties played a large part in the party decor—apothecary jars held menageries of fake insects, doll heads, butterflies, and flowers. One display even offered
Alice in Wonderland
-esque magnifying glasses to get a better look. A garden-themed room featured multicolored lighting designed by Redmoon artist Jared Moore and provided by
Sound Investment Ltd.
(which often mimicked dappled sunlight as guests' children danced in the rays), plus a performer adorned in roses sitting atop a ladder. Neon green blowup chairs and Astroturf rugs sat alongside ebony Victorian couches and gilded tables, adding to the surreal vibe. "We always want to layer in continuous elements of surprise and performance," Stalling said.
Servers passed trays of hors d'oeuvres, such as spicy vegetable empanadas and pork tacos in asiago shells, before the buffet supper, which featured seared pistachio-crusted salmon, crown roast of pork, and tandoori chicken from
Taste America Catering
. The dessert display offered mini lavender crème brûlée cups, lemon tarts, and carrot cake and red velvet cupcakes. Ornate chafing dishes from
Hall's Rentals
filled the long buffet tables.
Spectacle Lunatique's mission was twofold: to raise funds for Redmoon Theater and to showcase the group's Redmoon for Hire services, which offer site installations, inventive servers, and innovative contraptions to hire for other events. Both objectives met the mark, as the silent auction—which featured artists creating works on site and M.C. Seth Bockley dressed as a cross between Adam Ant and Prince—was a hit, as were the traveling troupes of performers. A playfully aggressive team of photographers wandered the space with a backdrop, while three princesses, in exaggerated makeup and curled ringlets, sang a version of "Happy Birthday" to guests of their choosing. Meanwhile, DJ Mother Hubbard spun an upbeat mix featuring everything from Prince's "Pussy Control" to "Smile" by Lily Allen.
Correction: This story has been updated to credit Sound Investment as the provider of the lighting installations.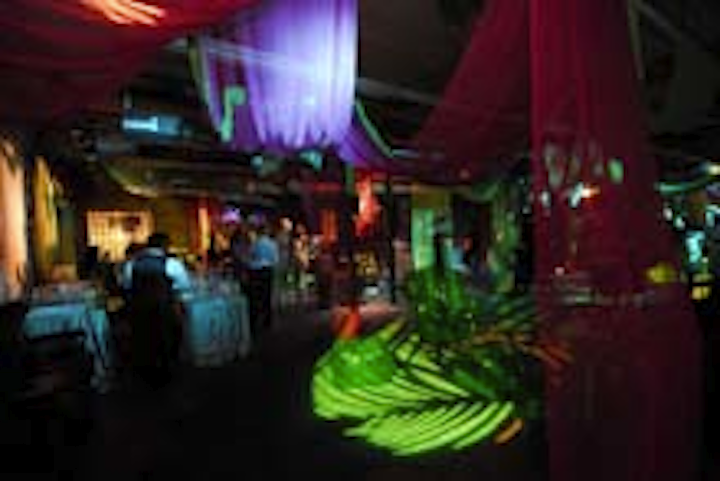 Photo: Eric Craig for BizBash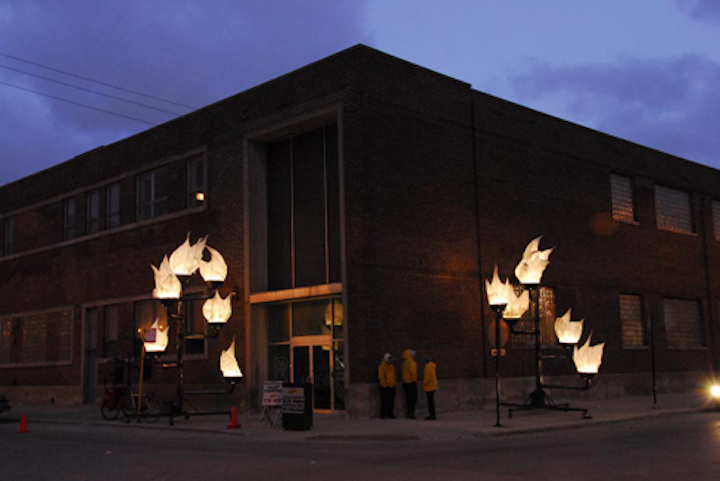 Photo: Eric Craig for BizBash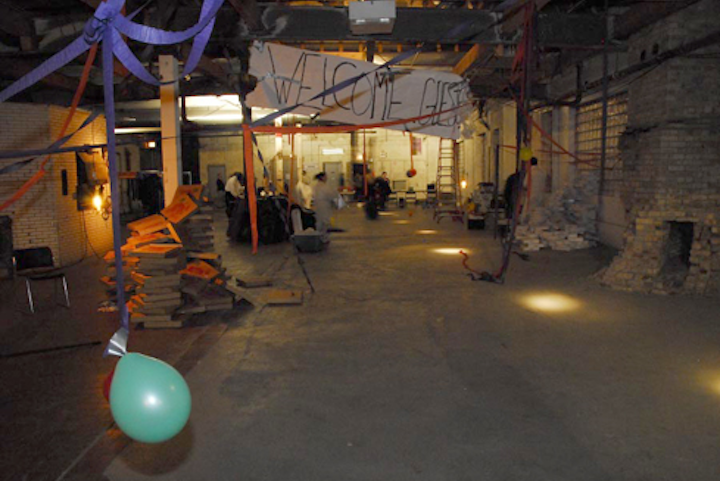 Photo: Eric Craig for BizBash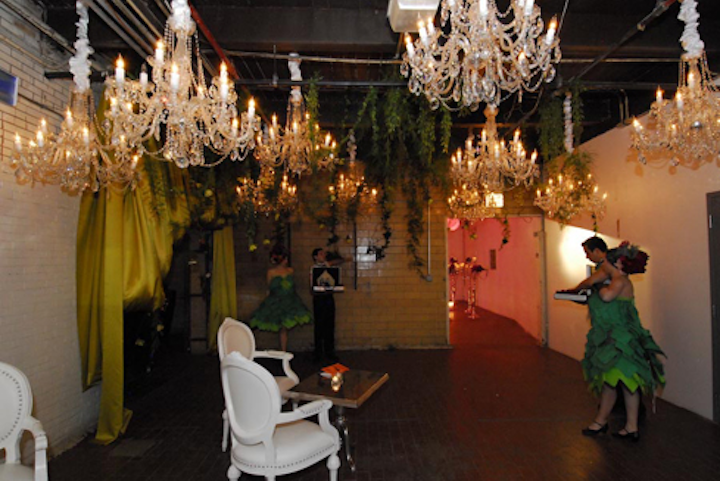 Photo: Eric Craig for BizBash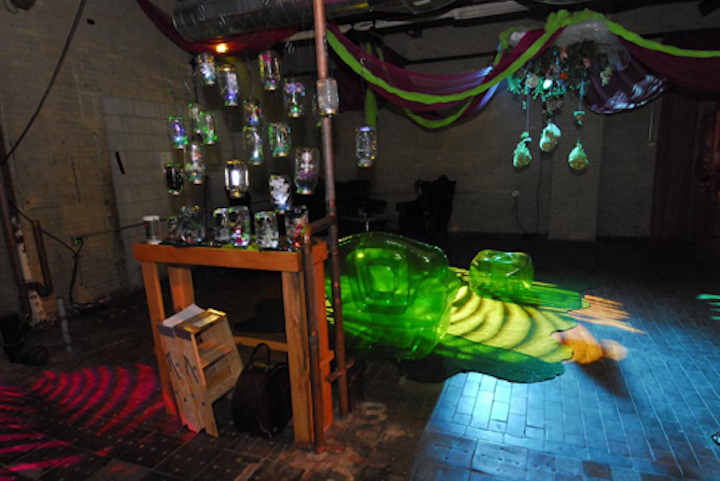 Photo: Eric Craig for BizBash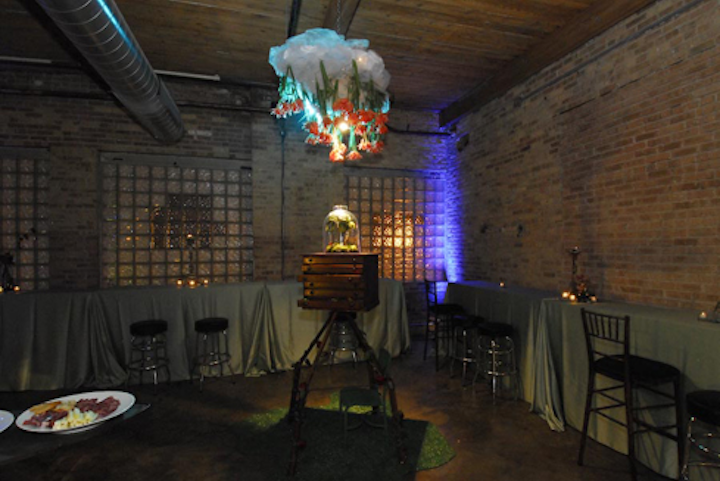 Photo: Eric Craig for BizBash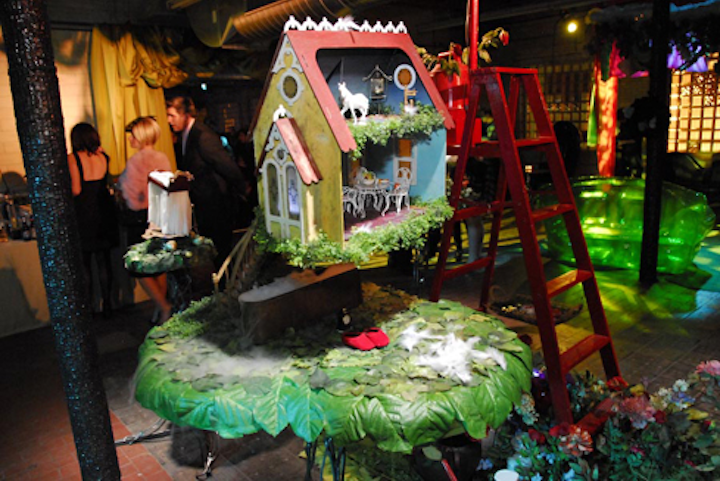 Photo: Eric Craig for BizBash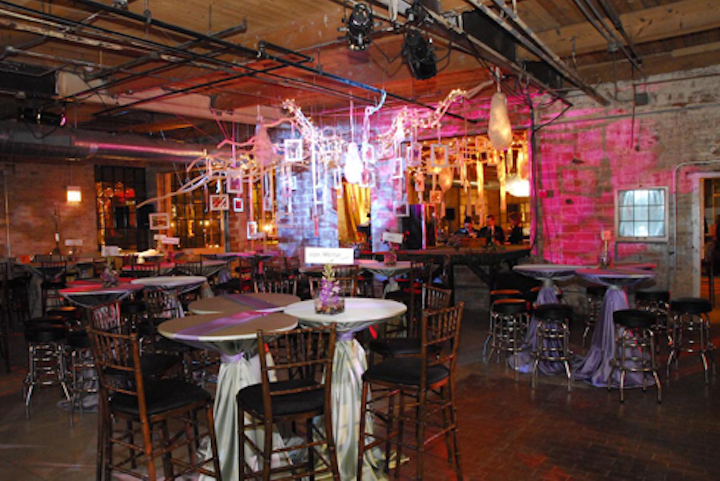 Photo: Eric Craig for BizBash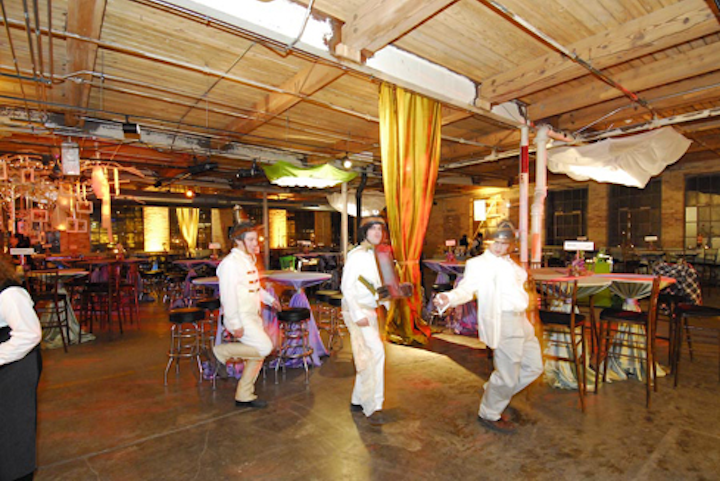 Photo: Eric Craig for BizBash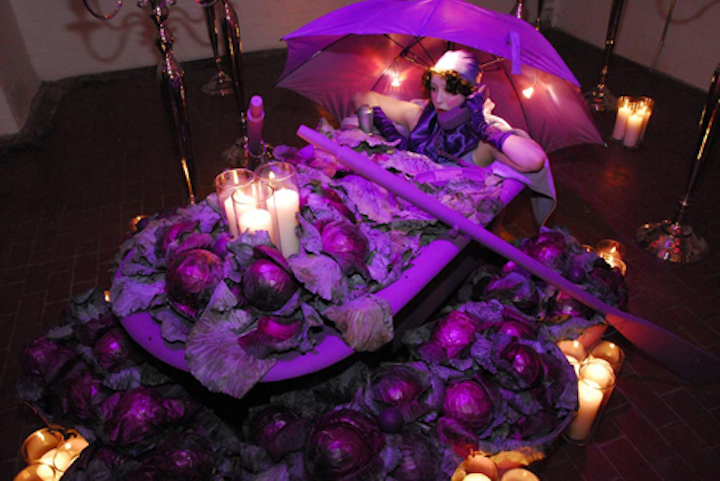 Photo: Eric Craig for BizBash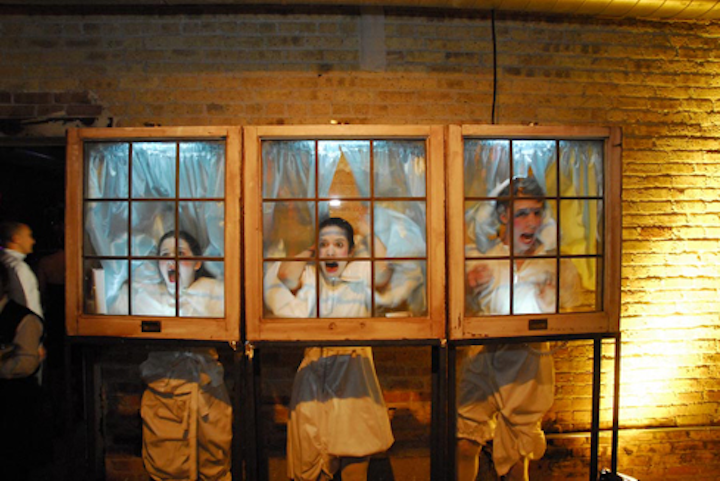 Photo: Eric Craig for BizBash
Featured Venues/Suppliers: