See a Modern Take on the 'West Side Story' Event Theme
March 14, 2013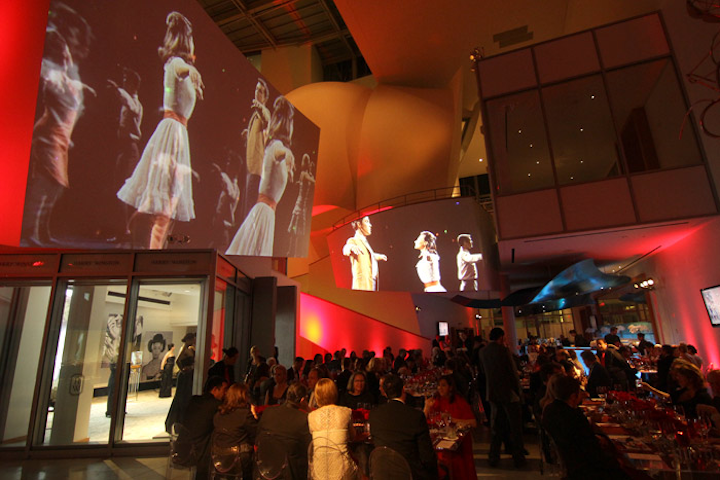 Photo: World Red Eye Productions
A classic Broadway musical underwent a very modern makeover for the New World Symphony's 25th anniversary gala in Miami last month, as scenes from West Side Story were mapped onto the unique architecture of the Frank Gehry-designed New World Center.
The event, produced by Studio HS, entertained the 600 guests with video projections created with a technique called rotoscoping that could isolate and animate characters. After obtaining usage rights to the original film, Studio HS prepared the video clips and mapped them to the building's curves.
As guests arrived, video from the film's opening scene—the snapping fingers of rival gangs the Jets and the Sharks—played large on the building's façade. For cocktails in the atrium, guests were surrounded by animated images of the New York skyline. For dinner, they split into three rooms that each had a theme based on an iconic song—"Mambo," "Tonight," and "I Feel Pretty"—with custom projections and decor that complemented the tone of each scene.
"Combining the animation techniques and projections onto amazing structural surfaces and really clean lines gave the traditional film this whole new contemporary feel," said Ryan Jordan, creative director and vice president at Studio HS. "At one moment we had 10 Marias spinning on the curved wall."
Focusing on the technical aspects of decor was a new direction for the symphony gala, according to Iva Kosovic, the symphony's director of development of special events. And she said it paid off. "There was a big 'wow' factor there," Kosovic said. "It almost felt like the building was coming alive."
Watch the video below to see the projections in action.