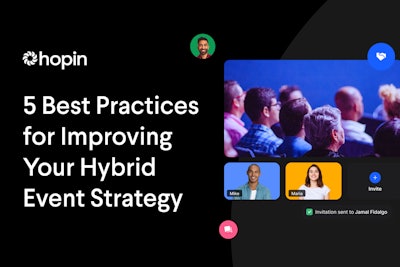 It's no secret why event professionals are increasingly incorporating hybrid or immersive, shared experiences into their overall event strategy. The last 18 months have intensified the value of coming together as part of a community and the importance of human connection, and hybrid events have given organizers and attendees the opportunity to have both.
Hopin, a leading all-in-one event management platform, recognized the universal need we all have to feel closer to one another—and the communities to which we belong—early on and purpose-built its platform to help foster experiences aimed at human connection. Catering to both planners and attendees, Hopin's event technology is used by today's top organizations, agencies and organizers to help them foster a seamless, memorable and shared event experience for audiences across the globe.
Though hybrid events certainly provide unique benefits that in-person-only gatherings can't offer, the concept, while not new, is relatively fresh in its popularity, and there are new dynamics worth considering. To help planners more easily navigate the world of hybrid events, Hopin offers five key best practices and tips for event professionals when building a hybrid event strategy:
1. Plan equally engaging experiences for both in-person and online audiences. Whether it's their programming, schedule, speakers, sponsors or partners, event professionals should look to anchor their experience in the value they create for their attendees, and ensure they incorporate equally worthwhile elements into their hybrid events, so that in-person and virtual attendees both walk away from the experience feeling seen, heard and valued.
The last thing you want as an organizer is for your virtual attendees to feel like second-class citizens. Both sets of audiences should feel like they're sitting in first-class for the entire experience. (Yes, this means that simply live streaming an in-person event does not make it a truly interactive, shared experience!)
One way to make sure you're meeting the needs of all your attendees? Have staff reserved on-site to facilitate the in-person experience, as well as team members dedicated to managing online components, such as moderating questions from virtual attendees who want to have a more immersive experience with a speaker. Speakers are one of the most important aspects of an event, as they are the ones that bring your content and topics to life for your attendee audiences. Luckily, going hybrid now allows for speakers, who may be otherwise limited by travel restrictions, scheduling conflicts or the like, to present and interact right from their own homes—ultimately opening up more opportunities for planners to secure top in-demand speakers.
Additionally, integrating exclusive content, mailed swag or other similar experiences for your attendees participating at home can go a long way toward making them feel more included and valued. Given both groups should always maintain equitable priority, many companies are also now looking to apply tiered ticketing strategies, charging extra for premium, VIP or even attending experiences on-site.
2. Leverage pre-event promotional opportunities for your event audiences. With a virtual component to your event, you can go global. So, it's best to keep this top of mind when planning and executing your marketing campaign to drive registrations and attendance for your event. Social media posts and invite emails, for example, should be timed accordingly so you can reach multiple time zones. This is also true when planning your event schedule. Pushing back the deadline for registration for virtual attendees, for example, is a great way to further expand your audience. Not only does this allow online attendees to register at the last minute, or even on-demand, it also eliminates the worry about needing to travel to attend. For both online and on-site audiences, pre-event swag has become a popular way of engaging guests before the event even begins.
3. Select the right space and the right event platform for your event. The same way finding the right venue (remember: having a good, on-site Wi-Fi connection is a must) can make, or break, the event, so too can having the right event platform to support your success. All-in-one event platforms, like Hopin, which support professional-grade live streaming encourage engagement and connections across online and on-site audiences, while also ensuring both your organization and your sponsors see a return on investment.
Wondering where to get started when choosing an event platform? Knowing the purpose of your event can help you pick the right partner. For instance, if hosting a fundraiser, make sure your tech partner has fundraising integrations already included in the platform, like Hopin does. Platforms that allow attendees to network with one another, as well as engage with speakers should be a priority for any event. In-app customization capabilities give event professionals the ability to truly brand the experience, and built-in platform analytics make it easier to access event data and glean insights that are more impactful than ever before.
4. Engagement is the key to fostering community and forging connections. Regardless of whether your guests are attending in-person or from the comfort of their living room, making sure to keep them engaged can bridge the distance and create a true sense of community. Leveraging breakouts with speakers, providing networking opportunities and incorporating live chats into your event experience can keep attendees interested and involved. Q&As, polls, gamification and contests are all also great ways to keep up attendee engagement across all mediums.
Additionally, support staff, emcees and moderators can help ensure that everything runs smoothly, both technically speaking and within the general program. Shared experiential experiences can also create ways for people to connect, including through tangible deliverables, like mailed cocktail kits. The same goes with event merchandise and meal deliveries. The more you can do to make your guests feel involved and engaged in your attendee community will make your event a success.
5. Keep engagement going even after the event is over to extend its value. If you partner with the right event management platform, the best practice of extending the life of your event isn't as difficult as it may seem. Host smaller virtual events throughout the year to continue building a community, post new or on-demand content to your event platform over time so that attendees can continue engaging in your event community, and give your attendees a chance to connect with vendors and sponsors through virtual booths even after the event is over. One of the most important things you can do post-event is utilize your event analytics to get a better picture of your audience, including what they liked, what worked, what didn't—all so you can better customize your next event and really cater to your audience and their distinct needs and desires.
Shared, immersive experiences are here to stay. Today, anyone can attend an event from anywhere in the world. The flexibility of the hybrid format has given event professionals global reach, and who would want to come back from that?
Want to learn more about how to execute successful hybrid shows? Download Hopin's hybrid event playbook with step-by-step planning tips and actionable strategies, or get in touch with one of Hopin's hybrid conference experts to find out more about Hopin's all-in-one event management platform.