Why Spain Is Taking Olive Oil on a World Tour
Olive Oils From Spain recently launched a three-year marketing campaign that targets international travelers and cooking enthusiasts, with olive oil-theme pop-ups in airports and transit centers in the United States, Europe, and Asia.
July 23, 2018
Globally, the United States is the third-largest consumer of olive oil, an ingredient that is a staple for both amateur and professional cooks. Building on the ingredient's popularity in North America, Olive Oils From Spain—the promotional brand of the Spanish Olive Oil Interprofessional—and the European Union recently launched the Olive Oil World Tour.
The three-year, multichannel global campaign, which debuted in May, targets cooking enthusiasts and world travelers and aims to promote a Mediterranean diet and European lifestyle.
"Our goal is to encourage the consumption of European and Spanish olive oils throughout the world. But when launching a global campaign like this one—with activations in the United States, Europe, and Asia—it is essential to choose a strategy that can work anywhere in the world," said Pedro Barato, president of Spanish Olive Oil Interprofessional. "We know that those who travel have a strong desire to have new experiences, especially around food and ways to cook healthier in their kitchens, for themselves and their families. They tend to feel comfortable anywhere, finding joy in adventure and the unfamiliar, and seeking out what is distinctive and original in global gastronomic trends and flavors."
Barato noted that Olive Oils From Spain has been carrying out promotional campaigns for close to a decade—in 2016 it launched a campaign featuring tennis player Rafael Nadal—but that the experiential tour this year was possible because of the brand's partnership with the European Union. 
The experiential component of the campaign, popping up at airports, seaports, and rail stations, is the Olive Oil Lounge. The lounges, which are produced by advertising and communications agency Tactics Europe, offer express tastings, a relaxation area, a kids area, Wi-Fi hotspots, and consumer information about the olive oil categories recognized by the European Union.
The lounge popped up at Adolfo Suárez Madrid-Barajas International Airport in June, and came to John F. Kennedy International Airport earlier this month. Additional campaign initiatives include wrapping Iberia airplanes with campaign graphics and the tour's own Spotify playlist.
"We chose large transportation hubs, allowing us to reach millions of people by optimizing our resources," Barato said. "In order to appeal to those millions of consumers, we created an impact motto. The campaign title we chose is 'Let's Make a Tastier World.'" 
The campaign officially kicked off its United States presence with an invite-only celebration on July 12 at the Cervantes Institute in New York, attended by Consul General of Spain in New York Rafael Conde De Saro. The event featured chef and cookbook author Seamus Mullen, who created dishes with olive oil and lead a cooking demo using olive oil. The event also served olive oil-infused cocktails, tapas from Mullen's Spanish eatery El Colmado, and had an olive oil tasting station.
Barato said in September, campaign graphics will appear at the Transbay Transit Center in San Francisco and the Port of Miami, while the Olive Oil Lounge will pop up at Miami International Airport in October. Before the tour ends in December 2020, the lounges will also appear at the Los Angeles, Chicago, and San Francisco airports.
Outside of the U.S. and Spain, the tour will go to Germany, the United Kingdom, Belgium, the Netherlands, China, Japan, and Taiwan.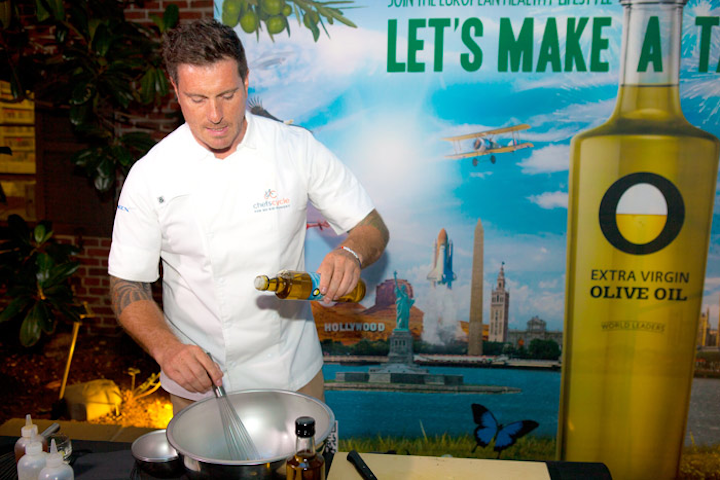 Photo: Rina Oh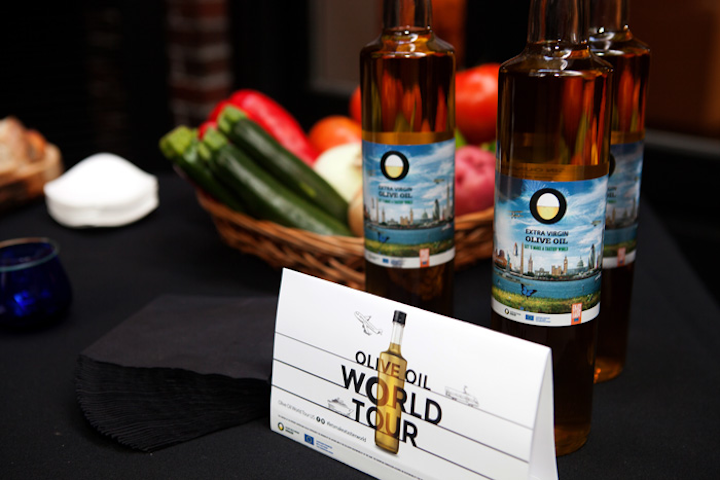 Photo: Rina Oh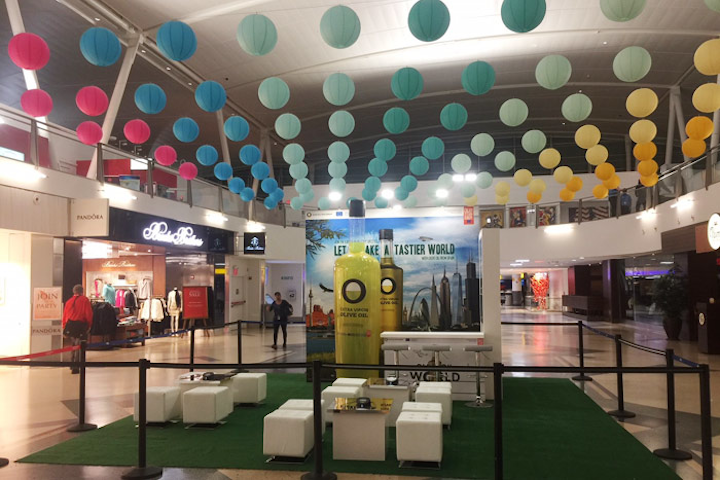 Photo: Courtesy of Olive Oils from Spain
Featured Venues/Suppliers: