This Week in Los Angeles: the Golden Globes' All-Vegan Menu, the Rose Parade's 18 Million Flowers, Yahoo Mail's Interactive Pop-Up
West Coast editor Claire Hoffman covers the week's biggest event news.
January 3, 2020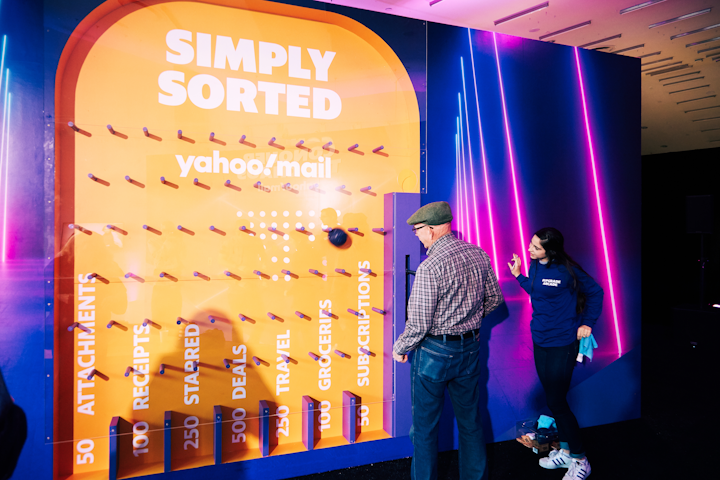 Photo: Courtesy of Verizon Media
LOS ANGELES—Welcome to BizBash's Los Angeles-based column, where West Coast editor Claire Hoffman recaps the week's biggest local news. Got a tip? Get in touch!
Moves & Milestones
PR Dept has promoted Michelle Rodriguez to the role of vice president. Rodriguez joined the boutique communications firm in 2015. 
In Case You Missed It
Earlier this week, we rounded up BizBash's 25 most-viewed stories from 2019. From Coachella to Comic-Con, event design trends to over-the-top wedding cakes, check out what readers wanted to know about this year.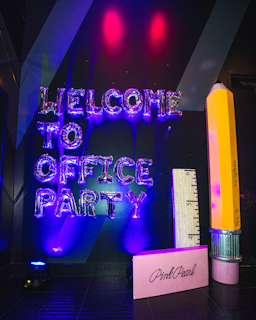 The W Hollywood's Office PartyPhoto: Courtesy of W Hollywood
Spotlight On
Last month, the W Hollywood hosted its inaugural Office Party, a new event series the property hopes to host annually during the holiday season. The free, public event featured on-theme details such as water coolers filled with jungle juice, spiked coffee and doughnuts, and oversize office props. There was also music by DJ Mayer Hawthorne and Matt Suave, plus a photo booth, a ping-pong table, and a cash bar. 
In the News
This year's Golden Globes will serve an entirely vegan menu for the first time. The Hollywood Reporter: "As part of its sustainability efforts, the Hollywood Foreign Press Association will be serving a plant-based meal at the Golden Globes on January 5, making it likely the first major awards show to go all vegan. The menu is a last-minute change from a menu previewed in December that included fish. ... The HFPA is also planning to reuse this year's new red carpet at other events and, to reduce plastic waste, has a partnership with Icelandic Glacial to serve water in glass bottles."
Wednesday's 131st annual Rose Parade had an increased focus on diversity. Los Angeles Times: "This year's parade ... [was] overseen by Laura Farber, the first Latina president of the Tournament of Roses Association and an immigrant from Argentina. The parade also had three Latina grand marshals... A float by the Sikh American Float Foundation featured a colorful tree made of walnut powder, lemon seeds, coffee, and coconut powder, as well as a huge figure of Bhai Ghaneya Singh Ji, a devout Sikh known for giving water to wounded soldiers on both sides of an armed conflict. Marching bands from Japan, Puerto Rico, Costa Rica, El Salvador, and Mexico performed, and a group called Helsingør Pigegarde from Denmark made a statement by being the only all-female marching band in the parade."
Adrian Maher, a former Los Angeles Times reporter, has released a book called Uninvited: Confessions of a Hollywood Party Crasher discussing his time sneaking into high-profile award shows and galas. Los Angeles Magazine: "With awards season upon us, we asked the now-retired crasher to share a few tricks of the trade. … 'The toughest are the Globes and the Oscars, of course. But nothing is impossible. The first time I crashed the Globes, in 2003, it was only 16 months after 9/11 and security was intense. There were snipers on the roof of the Beverly Hilton, plus tons of FBI agents, police, and Homeland Security.'"
Surprise Metric of the Week
18 million: the number of flowers that decorated the more than 40 Rose Parade floats on Wednesday. According to L.A. Weekly, the floats "took 80,000 hours and 935 volunteers to decorate." 
Venue Buzz
The owners of the Woodman and Jalapeño Pete's have opened Berkshire House on La Brea's restaurant row. The bi-level restaurant has communal tables and tufted couches in jewel tones, plus 30 flat-screen televisions and garage-style front doors that can be raised for indoor-outdoor seating. A second-story lounge has a private bar and space for 80 standing guests. 
Chef Jason Neroni plans to open a new eatery in the former A-Frame space. Eater: "Reps say it's all coming together quickly, with hopes of opening by the end of 2020. ... Sunday evening was the final night of service for A-Frame, which held on for just under a decade on the Westside. The Roy Choi and Reiss Co. restaurant turned out a variety of Hawaiian, Korean, classic American, and all-around-LA dishes over the years."
Overheard
"Within the [wellness] category, we're witnessing a shift from a focus on physical health to questions about mental health like, 'How do I manage anxiety?' Brands are catching on and creating space to help their audiences navigate these tough questions with sound baths, meditation spaces, and self-reflection chambers. The brands getting the most traction, though, are the ones who show up authentically and truly add value to the conversation."
—Experiential marketing firm AGENC in a recent blog post of 2020 predictions. 
On the Scene
For a corporate holiday party at City Market Social House, Wild Child Party created an eye-catching balloon installation above the dance floor. The event was produced by Orange Blossom Special Events. 
What's Next
This year's jam-packed award season will be busier—and shorter—than ever due to the Academy Awards' February 9 date. First up: The 77th annual Golden Globes, to be hosted by Ricky Gervais and produced by Dick Clark Productions, on Sunday night.
The highest-profile after-parties will once again blanket the Beverly Hilton the night of the show; the Walt Disney Company will take over the roof deck, Amazon Studios in the penthouse, Warner Bros. and InStyle in the Oasis Courtyard, and WarnerMedia and HBO in the Circa 55 restaurant and pool. Netflix will once again have a custom-built space in the adjacent parking lot, while NBCUniversal will take over Jean-Georges Restaurant at the nearby Waldorf Astoria Beverly Hills.
Other Globes events throughout the weekend include the Bafta Tea Party at the Four Seasons, plus Vanity Fair, Amazon Studios, and Audi's joint bash at San Vicente Bungalows; both events take place on Saturday. Also on Saturday night is the Art of Elysium's 13th annual Heaven Gala, honoring Ashley and Topher Grace.