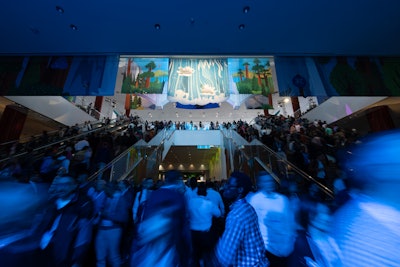 Photo: Courtesy of Salesforce
SAN FRANCISCO—With AI at the forefront of many conversations this year, how would a major tech company like Salesforce address it at its annual event? Attendees of Dreamforce, the company's largest consumer-facing yearly event, got their answer Sept. 12-14. Held in San Francisco at the Moscone Center, Dreamforce welcomed 43,000 people for in-depth conversations around AI, with hundreds of sessions and talks from more than 70 AI researchers, innovators, ethics experts, and thought leaders. High-profile speakers included Matthew McConaughey, Rainn Wilson, and San Francisco Mayor London Breed.
The event was produced again by experiential marketing and design company George P. Johnson (GPJ), which was tasked with designing a 2023 show focused on AI.
"We had to get incredibly strategic and thoughtful about how to tell the strongest, clearest, most trusted message," said Katherine Pettit, executive creative director for GPJ. "We also had to tell this story in layers, from the novice having their first introduction, to hands-on AI, to the fluent early adopter."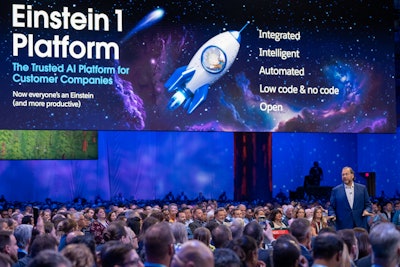 This year's conference featured custom, eye-catching activations that immersed attendees of all levels into AI technology and expanded lounges and networking spaces. "The campus was redesigned with the objective of creating a more natural, cohesive journey for product introductions; community-centric destinations; and an organic opportunity for shared learning, engagement, and connections," said Matt Brotze, GPJ vice president and account lead.
When it came to AI, attendees could engage with the AI Basics Zone, where GPJ "ideated around simple metaphors and truths to design beautiful, hands-on mechanisms in order to explain the fundamental concepts of AI," Pettit said. This included a trivia game with shadow boxes that held inside them "once new" technologies (like the first personal computer and the telephone). "This was to communicate the trepidation and lack of trust that went into adopting the technology at the time, as a proof point that AI is a technology we should embrace, not fear," Pettit added.
Oakland artist Swilk was on hand to build a sculptural work featuring colored string over the course of the three-day event. The final product resembled a neuron, serving as a metaphor for a large language model and "how the connection points and possibilities expand with inputs, time, and information," Pettit said.
GPJ also partnered with Groove Jones to build a custom surfing simulator game called Brainwaves, where attendees were able to use a surfboard to "ride the metaphorical AI wave, collecting data points and learning new facts about the technologies as they aimed for the highest score," Pettit said. She added that the activation, like the entire Dreamforce event, was designed to be inclusive and accessible and was enjoyed by attendees who use a wheelchair or other mobility devices.
AI proved to be "a challenging concept to bring to life at an in-person event," Pettit said, "and we got very creative in how we told that story and how we allowed the user to be hands-on and involved in this learning—not simply staring at a screen."
Anna Swanson, GPJ senior account director and project lead, concurred, as AI is still very new to the general public. "It required integrating experts in the field of AI into the event planning process and ensuring that messaging was crystal clear," she said.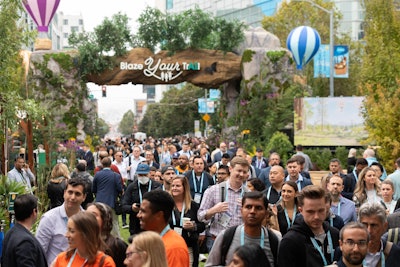 When it comes to keeping an annual event fresh year after year, Brotze encouraged other event profs to "always be thinking from the audience perspective as you develop your event strategy, considering the value takeaway of each engagement and technology solutions that incorporate personalization into the experience, creating memorable touchpoints and a bond between your brand and attendees." Earlier collaboration is also key, he said, and "tends to uncover fresh ideas, new approaches, improved efficiencies, overall elevated performance, and tighter working relationships."
Pettit added, "Don't be afraid to reuse and reskin structures, elements, and technologies from previous years to tell a new story. Just like the products and technologies we discuss at our event, experiences build and evolve upon themselves—that sense of familiarity mixed with newness and fresh messaging makes for a stronger and more connected brand story for an attendee. Plus, it's a far more sustainable approach."