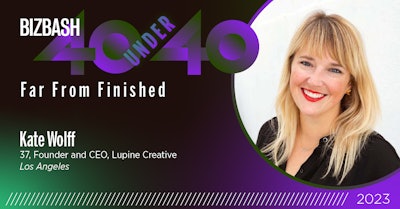 Kate Wolff is the 37-year-old founder and CEO of bespoke marketing and experiential agency Lupine Creative. She's based in Los Angeles.
My career journey:
My Nana, Janet L. Wolff, is the first woman vice president inducted to the AAF (American Advertising Federation) Hall of Fame—which is one heck of an origin story, professionally.
But my first "real job" was when I was 11 years old at the Edgartown Cinema. I lied about my age and said I was 15 years old. I was in charge of cleaning the theaters after a film. By the time I was 12, I ran the projector.
I then went on to start several companies. The first was Kate Trix Trick Sticks, devil stick toys that I made and sold in the summer on Martha's Vineyard.
Then I started collegesitters.com; there was no website and I was not in college, but I did have a babysitter service comprising five amazing 20-somethings. I found them work, got them CPR-certified, and transported them to jobs. Bevans Home Brewed Shoes was next—a shoe company I founded alongside my friend in college, creating hand-painted shoes for people in the early 2000s.
I always wanted to be in marketing and advertising, inspired by the deep roots in my family. I've always loved the thrill of a creative puzzle. The difference between advertising and art is: one of them needs to work. I like to make things work.
What my day-to-day looks like:
As lead across all business at Lupine, I have the daily pleasure of being able to see the work come in real-time, and then come to life in the hands of our teams. From high-level leadership to micro-level creative stewardship, I appreciate the privilege of picking and choosing where to be, and where we'll go together.
I also lead new business development outside of our existing client base, as I take meetings with cultural stewards and partners to bring new information and stimulus to our pack. What that looks like in terms of a calendar schedule…
Wake up, Slack, coffee, meetings, coffee, meetings, coffee, meetings, maybe a martini, emails, and then sleep.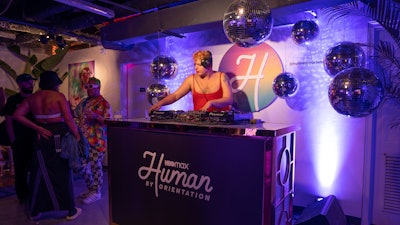 My greatest career accomplishment:
Maintaining and continuously celebrating my loving marriage while also building Lupine.
My most memorable event:
This experience was a doozy and so fulfilling: HBO Human By Orientation, Pride 2020.
We launched HBO's first-ever digital Pride celebration on HumanByOrientation.com. The site, which our team built from scratch, hosted daily virtual events from June 18-June 28, 2020. Our 11-day schedule incorporated programming that aimed to engage the entire spectrum of the LGBTQIA+ community, including musical headliners, drag brunch, underground DJ sets, queer comedy night and more—all free to attend. Headliners included Janelle Monáe, Kim Petras, and Todrick Hall.
We built an interactive community functionality into the site, allowing people to create a profile upon log-in and sync it with their Instagram account to connect with other community members and celebrate Pride together, virtually. Once logged in, consumers could RSVP for any and all events that peaked their interest. They could save programming in their calendar, sign up for event reminders, and send events to their friends and family. When a program went live, they would receive a notification to enter the site. Then they just had to click a button to watch the event live with the larger community.
In addition to the live digital events, the site included various elements to keep the audience engaged—including a "Get Involved" page that encouraged viewers to donate to our partner organizations that fight for queer social justice.
This was the first major event we created as Lupine, as the entire world learned and reinvented how to create experiences safely during a pandemic. The work was a challenge and an honor.
A time I averted a complete event disaster:
A few years ago, we pitched an event that ran five consecutive days in New York with a load-in and breakdown for each. The event was centered around photo capabilities, and served as a roaming epic photo moment throughout each night. The event was IRL, but required a custom mobile app that allowed any phone to operate like our camera. But the night prior to launch, the app broke down.
Stress levels were high as an exhausted team troubleshot the app to find the bugs. We took sleep shifts before opening day and the following day—and were able to launch on time with a functioning app. Staying calm and kind helped us all through the stress and tension. Reminding ourselves that the common enemy was time (and not each other), we made it through. Though I will never do a five night event like that again.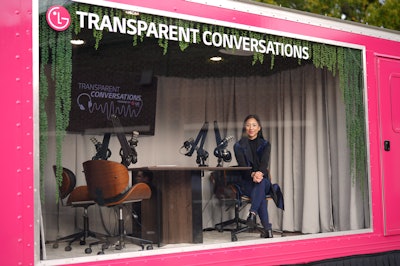 What inspires me:
Snacks. Compliments. A goooooood martini. My pugs, my wife, and my friends. Deep cuts in culture and mainstream folly. I am curious about what makes others passionate.
My leadership style:
​​My leadership tenets are kindness, clarity, and curiosity.
I put those tenets into practice by making sure everyone has a seat at the table. I truly subscribe to the "lift as you rise" mentality.
Teachable moments are important to me. I like asking hard questions, but I also like to ensure that everyone has a brave space to learn and grow. I'm never done learning, and I don't believe anyone else is either, so I like to ensure there is alway space for silly goose behavior.
The advice I would give my younger self:
Check the server and file drive!
The archives present a wealth of historical information on projects and moments that you can learn from and then leverage for future work. Find ways to seek out this sort of inspiration and information without being told. Use your creative brain to make yourself stronger alongside the work.
My ideal day OOO:
Piña coladas while learning something new. Education is just better when it tastes tropical.
What's next for me:
I don't know. And it's the not knowing that keeps me going.
Still, I hope that what's next is a nap!
---
BizBash's 2023 40 Under 40 list is sponsored by VDA, a Massachusetts-based experiential marketing and event design agency that specializes in custom live, hybrid, and virtual experiences designed to drive business growth through client collaboration and creative thinking.