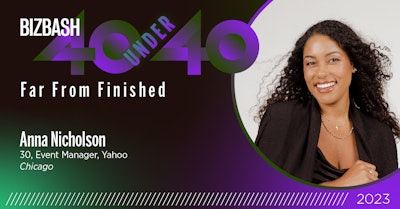 Anna Nicholson is the 30-year-old event manager at Yahoo. She's based in Chicago.
My career journey:
I was fortunate enough to have four event planning internships throughout my college career, which solidified my passion and interest in this industry. After college, I was the operations and events manager for a company in the optometry and ophthalmology realm. For 4.5 years, I was the sole event manager and planned various events, including trade shows, client networking events, and multi-day user conferences for more than 1,500 clients. Fast forward to 2019, I landed my current role with Yahoo (formerly known as Verizon Media). Throughout these last three years, I've had incredible opportunities to grow my career in ways I never thought possible through planning B2B, B2C, and employee engagement experiences globally.
My greatest career accomplishment:
My greatest career accomplishment to date is receiving Event Marketer's Experiential in Color award in 2021. The award was given to 10 BIPOC rising stars in the experiential marketing industry who are striving to create a diverse and equitable future by driving meaningful impact in the DEI space. DEI is a huge passion of mine and is something that I incorporate into every single event I plan—to drive the needle and help elevate minority voices and businesses. I'm a firm believer that representation matters, and it's my hope that my work continues to inspire those around me and the next generations.
What my day-to-day looks like:
Every day looks just a bit different! Regardless, I start with a cup of coffee and clear out my inbox. From there, I create my to-do list and start the day. My calls and meetings throughout the day are structured around what projects I'm working on at the moment.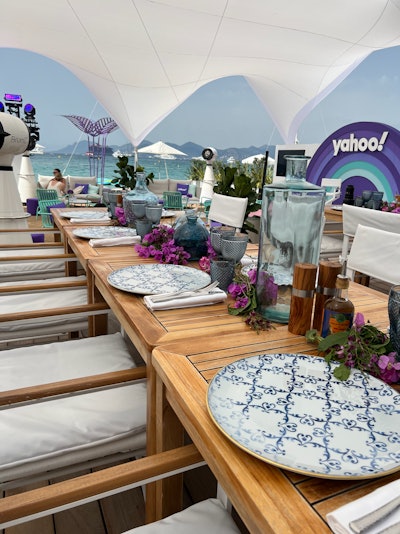 My most memorable event:
My most memorable event was planning Yahoo's Marketing Meet-Up. In November of last year, more than 100 B2B marketers came together in San Diego from around the globe. It was such a joy planning the three-day conference and bringing our entire department together, face to face, for the first time.
Some impressive stats I'm responsible for:
I led Yahoo's activation at NBA All-Star Weekend in February 2022, where 6,000-plus fans engaged with the immersive activation, with an average dwell time of six minutes. About 2,500 swag items were distributed, and more than 32,000 attendees saw Yahoo Sports branding throughout the auditorium.
I also hosted client programs for the Cannes Lions Festival of Creativity in June 2022, where 17 VIP clients were hosted throughout the week for an unforgettable experience resulting in 4.9/5 overall satisfaction rating, 4.8/5 on content usefulness, and 4.6/5 that they would recommend Yahoo and adopt our solutions.
In July 2022, I led Yahoo For You, a proprietary event unlike any other including 39 agency partners in attendance, with 96% feeling like they are a valued partner of Yahoo and 92% overall satisfactory rating.
Then, the Marketing Meet-Up took place in November 2022, a momentous gathering for our department that resulted in 15 countries represented in attendance. Guests gave it a 9.4/10 rating for overall experience, and 76% of our speakers were diverse, ensuring DEI was at the forefront of this event.
Finally, I led IAB ALM in January 2023, starting the new year off with a huge success—48 client meetings were hosted in the space, four diverse vendors were tapped, and client feedback received a 4.9/5 on Yahoo's overall presence.
What inspires me:
Inspiring other people to be their best selves inspires me. My personal north star is "the highest human act is to inspire," quoted by the late, great Nipsey Hussle. What fuels me is seeing others tap into and own their greatness.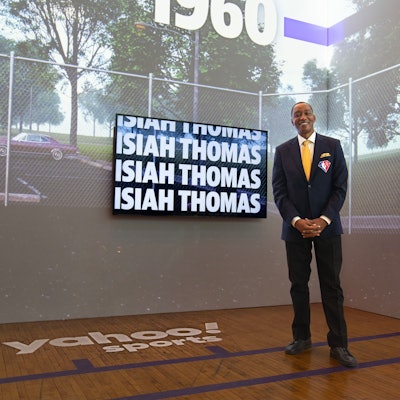 A time I averted a complete event disaster:
I believe one of my superpowers is remaining calm under pressure. Last year, I had to make the call to reschedule and postpone one of our proprietary events less than five days out from the original scheduled date. It was a tough call, but due to low attendance, a major last-minute speaker cancellation, and the resurgence of COVID in NYC, it was the right call. Pivoting last minute included extreme compassion, organization, and solution oriented conversations. The event was held later in the summer and was incredibly well received by clients, resulting in a huge win for the team.
The advice I would give my younger self:
Ask all the questions, be a sponge!
I think what makes people successful in this industry is continued learning. The more you learn, the more opportunities you have to evolve personally and professionally. Another quick tip is don't be afraid to show your creativity even at an entry-level position. Innovation is at the forefront of every memorable experience—the earlier you begin to put that into practice, the better.
What's next for me:
I am excited to step into this next chapter of my career journey after a recent promotion to event manager. I'm looking forward to taking on more responsibilities, planning larger experiences, and celebrating my wins throughout the process. On a personal note, within the last year I relocated to Chicago and I'm pumped to make this city feel more like home in the coming years.
My ideal day OOO:
An ideal day off would truly allow me to unplug from my computer and phone. Anything that involves travel, sun, music, and family and friends is a win for me!
---
BizBash's 2023 40 Under 40 list is sponsored by VDA, a Massachusetts-based experiential marketing and event design agency that specializes in custom live, hybrid, and virtual experiences designed to drive business growth through client collaboration and creative thinking.