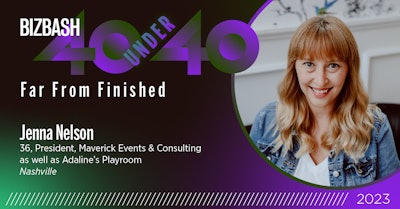 Jenna Nelson, 36, is the president of full-service event production company Maverick Events & Consulting as well as Adaline's Playroom, a rental and planning company for children. She's based in Nashville.
My career journey:
It's pretty linear and I'm proud of that. I majored in event management at the University of Central Florida, and knew while I was still in college that corporate events were my lane. I went right into the DMC world, where I held three positions over 10 years before becoming a director of events for a private company. I grew that event program exponentially—doubling the number of annual events and growing the revenue from a "marketing cost" to a multi-million dollar revenue stream. In 2022, I formally launched Maverick Events & Consulting, which is a business and marketing consultancy with a specific focus on creating high-impact brand events. At the same time, I launched a children's events company focused on luxury play rentals and planning services.
What my day-to-day looks like:
My favorite part about my life is that my days rarely look the same. I own and operate two businesses, and despite both being event-focused, they are wildly different! On any given day you might find me in my home office consulting a client, running a showfloor load-in at a trade show, writing an article, overseeing a brand photo shoot, or literally testing out bounce houses. It keeps me active and creatively engaged, which I love, and I am able to do focused work when I'm at my best.
My leadership style:
I try to lead by example. I love what I do and I'm passionate about it, and I think it shows in the way I show up every day.
My greatest career accomplishment:
Starting Maverick Events & Consulting. Not only am I supporting business owners, but I'm helping them see the value of events and all of the great things the event industry can offer has been so rewarding.
What inspires me:
Professionally, I truly love to see businesses and business owners grow. Helping them create events that are part of a strategic marketing strategy and will bring awareness to their brand is the part that really energizes me.
Personally, my four-year-old twins, Adaline and Maverick. My businesses are named for them and we're a team. Watching these businesses grow with their names on them is a major mom win for me.
My most memorable event:
I ran a results viewing party for a political candidate in D.C. several years ago in a private airplane hangar! Trying to plan an event with multiple potential outcomes—a win, a loss, or no definitive outcome—is a unique experience! Talk about contingency planning!
The advice I would give my younger self:
This industry, like no other, will embrace you with open arms. Join all of the networking organizations. Attend all the conferences. What you put into this industry it will give back to you back tenfold. Lean in and enjoy the ride.
Some impressive stats I'm responsible for:
I've planned and executed more than 200 events. Also, I've grown a client's event program from a marketing cost to a $2.5 million-a-year profit stream. The number of these events also increased from 19 per year to 38 per year. In addition, I've launched and scaled more than 10 businesses from idea to multiple seven-figure businesses.
What's next for me:
Fully launching Adaline's Playroom this spring in the Nashville market, and growing Maverick Events & Consulting so that we can help more businesses grow and thrive as a result of running live event programs.
My ideal day OOO:
A warm-weather football game or spending the day on my boat on the lake with my twins and our friends.
---
BizBash's 2023 40 Under 40 list is sponsored by VDA, a Massachusetts-based experiential marketing and event design agency that specializes in custom live, hybrid, and virtual experiences designed to drive business growth through client collaboration and creative thinking.